Welcome to the Pride Summer Fun issue of Las Vegas PRIDE Magazine. Pride month in Las Vegas is shaping up to be one for the books and we are excited to celebrate it with you.
As we partake in the annual celebrations leading up to the month-end anniversary of the Stonewall Riots, I encourage you to reflect on the origins of our movement. Consider where we have been, the challenges we have faced and most importantly, where we can go together.
The 2021 theme for the Las Vegas PRIDE festival and parade is Together Again. Let that sink in. We will celebrate PRIDE together, in-person after months apart. This moment in our history presents us with great opportunity. We can learn from the past without letting it limit our future growth. We can celebrate our histories while we look to the future and we can emerge from our most challenging moments united and strong.
PRIDE was not born out of celebration. In fact, the origins of our movement were a response to oppression and violence against us. Over time we have learned the power of unity but there is still work to be done. So, as we gather once again to revel in the beauty of our family of diverse identities, we must renew our commitment to one another. Only then can we truly be Together Again.
Happy PRIDE Month!
In Pride,
Joslyn Hatfield
Editor, Las Vegas PRIDE Magazine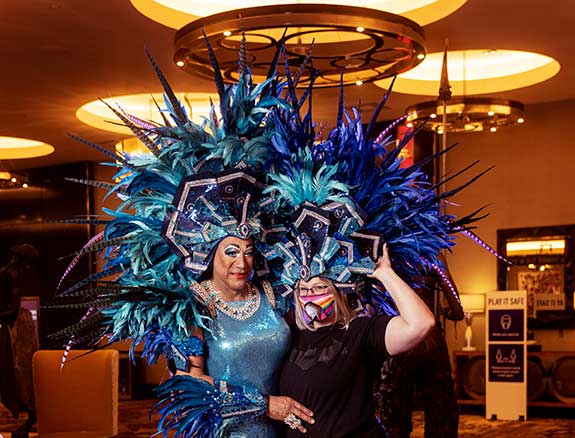 Miss Las Vegas PRIDE 2021, Midori Ice with Joslyn Hatfield