PRIDE OUTside Hikes Kraft Mountain Loop
Las Vegas PRIDE OUTside hosts monthly hikes all around the valley. These events are free to attend, open to all, and a nice way to get a little exercise and time in the great OUTdoors.
The Kraft Mountain Loop trail is located in the Calico Basin community, just east of the entrance to the Red Rock National Park and visitor center (if you're paying to go in that's not where this hike is located). Wind your way past the Red Springs picnic area, all the way to the dead end at the base of Kraft Mountain and park in the parking lot.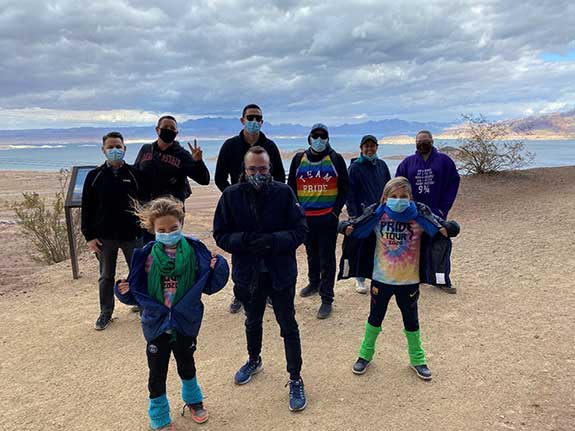 Our trail will lead around the base of the mountain. Deep red soil lines the path at the start, and alongside the path are some popular spots for "bouldering". From there, we make our way to the riverbed and up into the canyon. In the canyon, it's easy to appreciate the diversity of rock, terrain, wildlife, and the beauty of the desert. Its possible to catch climbers rappelling on the canyon walls too!
There is a little bit of scrambling that happens along the path, with one large rock to climb up and another slight squeeze (think hopping over a fence waist high). As we leave the riverbed, we make a climb over the ridge from which we can see into the Calico Tanks and the Red Rock National Parks area in the distance, and finally the descent back to the parking area.
This is one of the more challenging trails, but it's great fun and certainly feels like a good workout and a nice achievement. The beauty of the trail and a quick achievement always leaves me feeling great.
If you plan to attend a hike, please take some precautions with appropriate footwear and clothing. Wear sunscreen and bring snacks and plenty of water! If you have any questions or would like to connect with Brady, please email Hike@lasvegaspride.org
April 9, 2023 & May 14, 2023
(Second Sundays Monthly)
Meet at 10 am
(hike until roughly 2 pm)
Kraft Mountain Loop Info
Intermediate/Strenuous in some spots; loop is 3.2 miles; terrain is mixed with some riverbed, scrambles, and rocks to climb over; fixed-leashed pets are welcome; all-ages welcome.
PRIDE OUTside Hikes are a FREE monthly event that are available in a variety of locations and difficulties throughout the year. Mark your calendars!