Please Note: The information on this page is for the 2018 PRIDE Festival and will be updated to include 2019 information as soon as it is made available.
Celebrate Diversity at the Las Vegas PRIDE Festival where everyone is welcome. GLBT families, couples, and singles along with their friends and straight allies come together for an entire day of fabulous fun at Sunset Park (at the corner of Sunset Rd. and Eastern Ave.).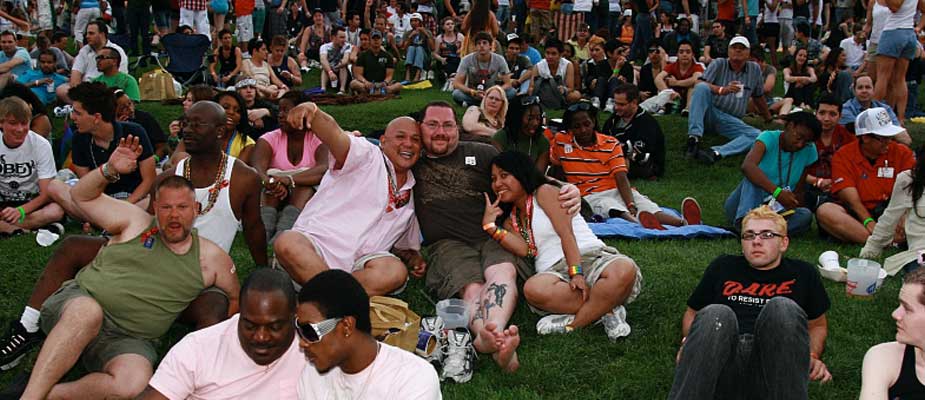 Sunset Park (the location for the Las Vegas PRIDE Festival) will feature a beautiful outdoor stage surrounded by soft, cool grass, plus a food court and convenient drink stations. There will be more than 100 exhibitors on site. You can relax on the lawn as you are entertained by the festival's featured performers, as well as great local talent.
This year, Las Vegas PRIDE is PET FRIENDLY and has combined with Las Vegas PRIDE Pets.  For more information about Las Vegas PRIDE Pets, visit the event page.
Bartenders from local LGBT bars will be will be serving water, soda, Bud/Bud Light, wine, and mixed drinks to whet your thirst. We are working to bring you a delicious food court this year so you will have even more great food from which to choose.
Las Vegas PRIDE is proud to continue its green efforts following the success of last year's recycle program. As in previous years, RENUoil will be donating the labor hours of a team of their employees that will work with their portable sorting table. All bags of trash will be collected and then sorted by RENUoil's Recycle Team. They will recycle all of our plastic water, beer, and soda bottles as well as all aluminum, paper and cooking oil from our food vendors. This will prevent potentially thousands of pounds of recyclable materials from ever hitting the Las Vegas Landfill. Southern Nevada Association of PRIDE, Inc is proud of their continued quest to become a more environmentally responsible PRIDE. Go ahead and throw all your recyclable materials in any of our trash receptacles. We'll do the recycling for you!
The PRIDE Festival is open to the public from noon to 10pm on Saturday, October 20th and from Noon to 8pm on Sunday, October 21st.
PLEASE NOTE: Appropriate attire is required. All clothing, costumes or other apparel worn at the Festival must comply with the Obscenity Statutes of the State of Nevada and Clark County. Genitals (and nipples if female or female identified) must be fully covered. It is a crime in Nevada for a person to make "any open and indecent or obscene exposure of his/her person, or of another person." This typically refers to exposure of genitalia, backside, and/or a woman's breasts. Wearing of only underwear as an outer garment is not permitted.
PLEASE NOTE: You may NOT bring coolers, food or beverages of any kind into the festival grounds. Blankets to sit on the grass and enjoy the entertainment are permitted. Exceptions for medical reasons may be requested by writing to secretary@lasvegaspride.org.
Disabled persons may notify the PRIDE committee in advance of any special assistance requests by writing to: secretary@lasvegaspride.org.
The Las Vegas PRIDE Festival entertainment lineup may contain material which may be offensive to some attendees or inappropriate for children. Evening entertainment is intended for mature audiences and may not be suitable for children. Parental discretion is advised.
The opinions expressed by performers do not necessarily reflect the views of Southern Nevada Association of PRIDE, Inc., Las Vegas PRIDE, or its affiliates.
When you enter the Las Vegas PRIDE Festival, you enter an area where photography, audio, and video recording may occur.
By entering the event premises, you consent to photography, audio recording, video recording and its/their release, publication, exhibition, or reproduction to be used for news, web casts, promotional purposes, telecasts, advertising, inclusion on websites, social media, or any other purpose by Las Vegas PRIDE and its affiliates and representatives.
Images, photos and/or videos may be used to promote similar Las Vegas PRIDE events in the future, highlight the event and exhibit the capabilities of Las Vegas PRIDE. You release Las Vegas PRIDE, its officers and employees, and each and all persons involved from any liability connected with the taking, recording, digitizing, or publication and use of interviews, photographs, computer images, video and/or or sound recordings.
By entering the event premises, you waive all rights you may have to any claims for payment or royalties in connection with any use, exhibition, streaming, web casting, televising, or other publication of these materials, regardless of the purpose or sponsoring of such use, exhibiting, broadcasting, web casting, or other publication irrespective of whether a fee for admission or sponsorship is charged. You also waive any right to inspect or approve any photo, video, or audio recording taken by Las Vegas PRIDE or the person or entity designated to do so by Las Vegas PRIDE. You have been fully informed of your consent, waiver of liability, and release before entering the event.
Photos from past Las Vegas PRIDE Festivals
Sunset Park
2601 E Sunset Rd
Las Vegas, NV 89120
Additional Parking Information
With the move of the Las Vegas PRIDE Festival to Sunset Park this year, we are no longer forced to utilize off-site parking.  Sunset Park has over 2,000 parking spaces and several parking lots.  Most lots will be open for Las Vegas PRIDE general parking at no extra charge.