PLEASE NOTE: Las Vegas PRIDE Family Bingo events have been canceled until further notice. We hope that you will join us for Las Vegas PRIDE Online! and stay safe during the COVID-19 Pandemic.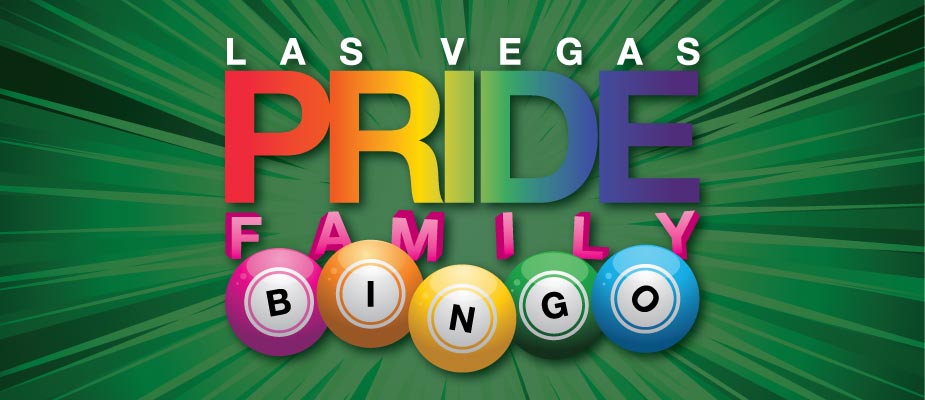 PRIDE Family Bingo originated in 2005 at Hamburger Mary's Las Vegas as a monthly fundraiser to help build the general fund for the Las Vegas PRIDE Festival. With the help of Hamburger Mary's owner's Andy Barret and James Healey, BINGO Chairman Ernie Yuen and the entire Las Vegas PRIDE Board helped the PRIDE Family BINGO event grow to become one of the most popular monthly LGBT community events in Las Vegas. Hosted by many community entertainers like Mary's Michelle Holiday, people looked forward to the monthly gathering, fun themes, great prizes and drink specials.  Everyone had a great time and looked forward to the next month's event.  Bingo events were put on hold when Hamburger Mary's closed until a new home could be located.
In March 2012 Las Vegas PRIDE Family Bingo was back with a new home on the Las Vegas strip at Circus Circus and we were ready to have fun and raise money for our community.  Bingo Chairman Ernie Yuen headed the team and was excited for the new venue and to return the once loved monthly event to our Las Vegas LGBT Community. Bingo stayed at Circus until the end of 2013 for a 21-month run.
In May of 2014 Las Vegas PRIDE teamed up with The Center and found a new home. With this new location, there were some new rules, the main one was a new age requirement of 21 and over similar to the rules at Hamburger Mary's, where no one under 21 could be on the main floor where Bingo was played (they had to stay upstairs on the restaurant side of the building). Circus Circus is a casino, so they have their own set of rules in the banquet area. At The Center, with gaming and regulations surrounding the hosting of a bar, there could not be anyone under the age of 21 in the area where Bingo was being played.
Welcome back to Hamburger Mary's!
With the reopening of Hamburger Mary's in August of 2018 Las Vegas PRIDE Family Bingo has returned a new home on the first Wednesday of every month at the beautiful Hamburger Mary's Las Vegas on Flamingo and Spencer. Attendees are invited to come early for our signature "Power Happy Hour" from 3-6pm half off all drinks with great food and beverage specials. There will be a special Hamburger Mary's Bingo Menu. Bingo begins promptly at 6:30 pm so don't be late. With our new location, we are also excited to be able to welcome families and youth to the event, and we are 100% smoke free.
We are continuing to have our favorites like "shots when O-69 is called", some of the old Bingo Games and great raffle prizes. Please be careful when calling out "BINGO" as Chubby Bunny is here to stay.
Join Las Vegas PRIDE at Hamburger Mary's Las Vegas at 1700 E Flamingo Rd, Las Vegas, NV 89119 for what promises to be a wild and crazy night. Las Vegas PRIDE Family Bingo begins at 6:30 p.m. on the first Wednesday of every month. Please come early, seating and dining service with special bingo menus in Mary's Cabaret (where bingo is held) begins at 5:00pm, seating is first come first serve and there are no saving chairs. Everyone in your party must be present at seating. Full menus will be offered in the Hamburger Mary's dining area from 11:00am to 11:00pm. Bingo packets (11 games including cover all) are $10 at the door. Raffle tickets are 10 for $5.00.
Las Vegas PRIDE Family Bingo seating for dinning and bingo starts at 5:00pm in the Mary's Cabaret dining area. Only complete parties will be seated.  There is no reserving seating for Bingo. Seating will be based on a first come first serve basis.
No outside food or beverage will be allowed in Hamburger Mary's Las Vegas during Las Vegas PRIDE Family Bingo. Only service animals will be permitted in the dinning area.
PRIDE Family Bingo Photo Galleries
BINGO Location Information
Hamburger Mary's | 1700 E Flamingo Rd | Las Vegas, NV 89119  |  (702) 733-8787
Getting to Hamburger Mary's is easy… and there is ample FREE parking on-site!
PRIDE Family Bingo Sponsors