Las Vegas LGBT-Friendly Accomodations
The city of Las Vegas has been home to LGBT-friendly hotels and resorts for many years. In recent years many of the mega-resorts on the Las Vegas Strip have begun marketing directly to the LGBT community and many are involved in some manner with Las Vegas PRIDE.  Las Vegas even has its own LGBT focused web page: LasVegas.com/gaytravel.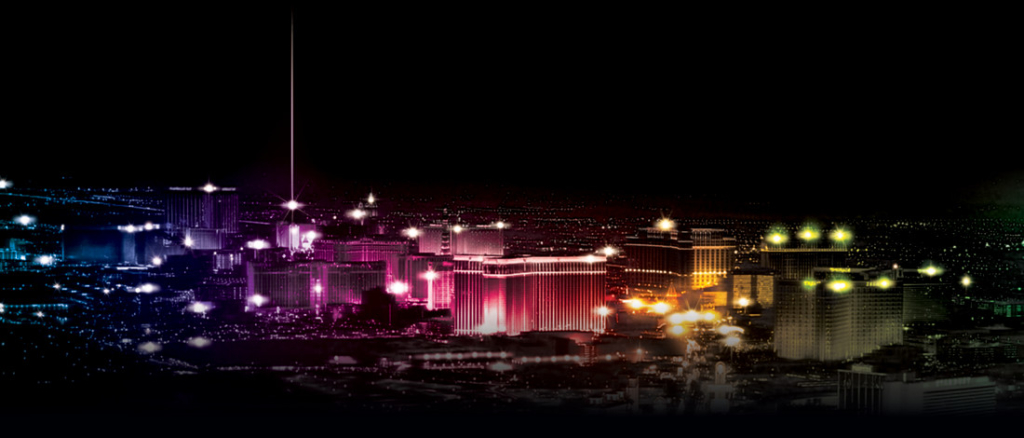 Las Vegas Hotels with PRIDE!
Listed below are some of the hotels that support PRIDE events both during the annual Las Vegas PRIDE Celebration and throughout the year.  Jump directly to each of the following hotel's information by clicking on the buttons below:

Luxor Hotel & Casino
3900 Las Vegas Blvd. South
Las Vegas, NV 89119
Website: Luxor.com/LGBT
Phone: (800) 876-0006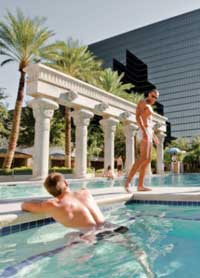 Welcome to Luxor, where dynamic nightlife, world-renowned dining and star studded entertainment have transformed Las Vegas into the ultimate destination for the LGBT crowd. The Luxor pyramid with its beam of light provides a striking visual even on the overtly glamorous Las Vegas Strip. One of the most recognizable structures in Las Vegas, the 30-story architectural wonder invites curiosity, while the inside rewards visitors with equal parts excitement, mystery and intrigue.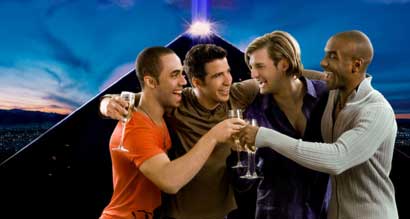 A magnificent lobby greets guests, drawing eyes upward to one of the world's largest atriums and then inward where the action awaits. With a 120,000-square-foot gaming area, delectable dining, stimulating nightlife and top-notch entertainment, Luxor is an unparalleled travel destination.
Luxor's restaurant scene includes Tender steak & seafood, T&T Mexican Restaurant, and Rice & Company Asian bistro as well as a scrumptious buffet, café, deli, and various fast food outlets.
A variety of gay-welcoming nightlife options include LAX Nightclub, Liquidity center lounge, Aurora Lounge, and Cathouse Boutique Nightclub with its enticing Boi Buffet every Sunday afternoon.
Few resorts anywhere offer entertainment as diverse Luxor, where you can experience the haunting, surreal mind trip of master illusionist in CRISS ANGEL® Believe™ by Cirque du Soleil®; laugh out loud at the award-winning prop comedy and observational humor of Carrot Top; or arouse your senses with the beautiful dancers in Fantasy, the Strip's hottest tease.
Temptation Sundays, the Strip's original and hottest LGBT Pool Party makes a splash every summer between May and September, with host J.Son of sincitytimes.com, hot music, and even hotter boys and girls sunning themselves on our expansive deck. Cabanas, daybeds, and VIP seating are available along with a variety of drink specials. Voted Best Gay Event, Temptation Sundays is the place to see and be seen.