'20&21 Honorarium
Article by Las Vegas PRIDE Magazine Staff
The LGBTQ Center of Southern Nevada announced its annual benefit, '20 & 21 Honorarium, to be held on October 1, 2021, under the stars at Caesars Palace Neptune Pool.
Since the 2020 Honorarium was canceled due to COVID-19 restrictions, The Center will honor double the honorees to celebrate LGBTQ+ advocates from 2020 and 2021. The theme of the event is Remembering the Past, Acknowledging the Present & Reimagining the Future.
The '20 & 21 Honorarium will recognize:
Person of the Year – Michael Schulman, philanthropist, writer, artist, and pop culture expert, and Sean McBurney, Regional President of Caesars Entertainment Las Vegas Operations.
Lanny D. Love Hero Award – Tony Gladney, Vice President of National Diversity Relations, Corporate Diversity, and Community Engagement at MGM Resorts International, and Alan Kaplan, a person who serves at Opportunity Village and member of the Trans community.
Legacy Awards – Jan Jones Blackhurst, board member at Caesars Entertainment, and Raymond Wilmer, Vice President, Sr. Client Services Team Manager, Bank of America.
Proceeds from the '20 & 21 Honorarium will support services and programming for LGBTQ+ youth, adults, families, seniors, vets, people with disabilities, those living with HIV, and underserved populations.
The Center's '20 & 21 Honorarium will take place on October 1, 2021, starting at 5:30 pm at Caesars Palace Las Vegas, under the stars at the Neptune Pool. For tickets, sponsorship opportunities, and more information, visit: thecenterlv.org/honorarium/2021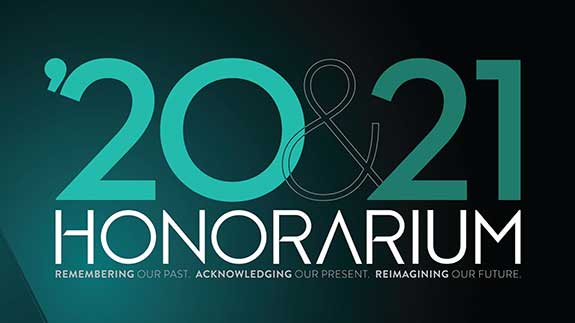 About The LGBTQ+ Community Center of Southern Nevada (The Center)
For over 25 years, The Center has cared for, championed, and celebrated LGBTQ+ individuals and underserved populations in Nevada. We function as the heart and home of the LGBTQ+ community by making connections, delivering programs, and providing a safe space for health and wellness, social services, arts and culture, advocacy, and community building. Ongoing Center programs support LGBTQ+ youth, adults, families, seniors, vets, people with disabilities, those living with HIV, and underserved populations. Additionally, we are proud to offer the Center Advocacy Network, the first nationally accredited program of its kind, focusing on LGBTQ issues for victim advocacy. For more information on how The Center empowers everyone to thrive in Nevada, please visit thecenterlv.org