The Equality Act
What You Need to Know
Human Rights Campaign Las Vegas Steering Committee is proud to celebrate the passage of the Equality Act in the House of Representatives. The federal legislation would guarantee explicit, permanent protections for LGBTQ people under our nation's existing civil rights laws. It would provide clear, and permanent protections under federal law for all Americans in vital areas of life such as, housing, access to public spaces, access to credit, education, jury service and federally funded programs.
Achieving LGBTQ equality is a central, unifying issue for our nation. While President Biden's Executive Order implementing the Supreme Court's Bostock ruling was a crucial step in addressing discrimination against LGBTQ people, it's still vital that the Senate passes the Equality Act now to codify the Bostock decision and ensure protection in key areas including instances when existing civil rights laws do not provide protections on the basis of sex.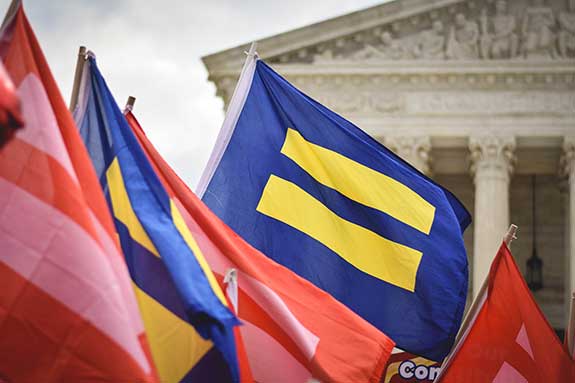 Photo courtesy of Matt Popovich
"The Human Rights Campaign thanks Speaker Pelosi, Congressman David Cicilline, Senators Jeff Merkley, Tammy Baldwin, and Cory Booker for prioritizing LGBTQ equality and for taking this crucial step forward on behalf of all Americans," said Bridget Sharpe, Nevada State Director for HRC.
The Equality Act has unprecedented support from the majority of voters, the business community and major statewide and national organizations. According to polls analyzed by FiveThirtyEight, President Biden's most popular executive order thus far was his order prohibiting discrimination based on sexual orientation and gender identity earning 83% in support. Currently, only twenty-two states and more than 125 cities have adopted common-sense, inclusive and comprehensive protections for LGBTQ people.
The Equality Act also has unprecedented support from the business community: Over 335 major corporations have joined HRC's Business Coalition for the Equality Act. While the overwhelming majority of America's leading businesses have already started addressing workplace fairness for LGBTQ employees, these major employers know how important the need is for a federal standard that treats all employees the same no matter which state they live in. The slate of companies endorsing the Equality Act have combined operations in all 50 states, headquarters spanning 33 states, and collectively generate $5.7 trillion in revenue. In total, these companies employ more than 12.4 million people across the United States.
The Equality Act is supported by hundreds of Members of Congress, including Nevada Representatives Dina Titus (D-01), Susie Lee (D-03), and Steven Hartsford (D-04). We now need our U.S. Senators from Nevada to vote for the bill when it is introduced in the Senate.
Nevadans can take action to support the Equality Act right now–just visit www.hrc.org/campaigns/equality-act. There, Nevadans can:
Become a Community Co-Sponsor. The Equality Act is a landmark piece of civil rights legislation. Help fight discrimination. *Text COSPONSOR to 472472
Call your Members of Congress. Join HRC in ensuring your Members of Congress support this critical bill by contacting them directly. Your voice matters and will make all the difference, so call your member of Congress today!
Email your Members of Congress. Join HRC in ensuring your members of Congress support this critical bill by sending a letter to them directly.
Share your Story. HRC is looking for LGBTQ Americans who are willing to share their personal experiences with discrimination.