Gay Tripping
Valley of Fire State Park
Article and Photos by Lupie Janos
We have endured a year spent largely in our homes that included virtual happy hours, furloughs (or worse, unemployment), social distancing, virtual holidays, and worst of all, no PRIDE festivals. As positivity rates decline and vaccination rates rise, opportunities to get out of the house are increasing.
While we await our new normal to materialize and the return of live events, there are still ways and reasons to get out of the house. While social distancing, masking up, and not socializing in large groups is still needed to curb coronavirus's spread, it is possible to get out of the house, breathe fresh air, see something new, connect with nature and spend time outdoors safely.
Join us in exploring a series of local adventures, both in and out of town! We are Gay Tripping, come on, ride the train.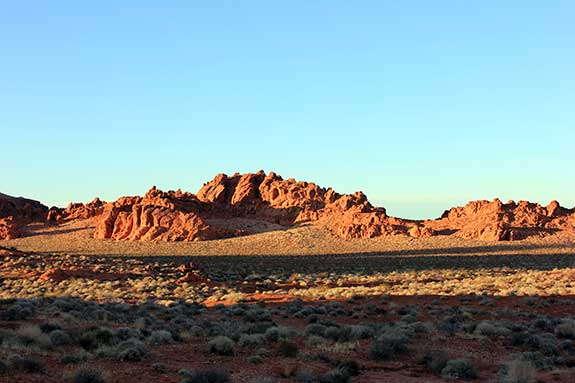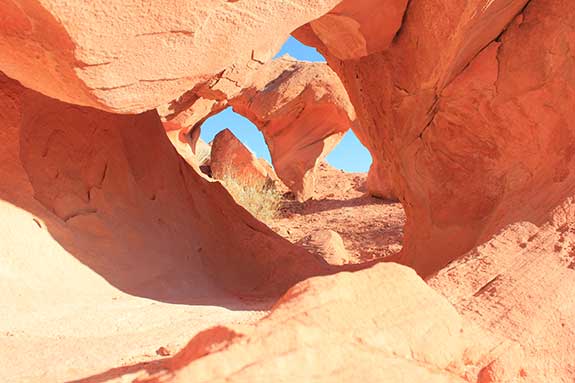 Pack a cooler, plenty of water, make a lunch, grab a friend, pick-up some subs, brews, wine, snacks, bug out bag; whatever you might want or need for a gay outing, and hit the road. Your destination: Valley of Fire State Park. Established in 1935 as Nevada's first state park, it is located just 40 minutes from the strip. The park is 40,000 acres of open space where beehive rock formations, natural arches, fire waves, rainbow vistas, remnants of cabins, and miles of trails await you.
Bring your fur baby because they are allowed in the park (as long as they are kept on a leash). Gorgeous bright red Aztec sandstone outcrops set against gray and tan limestone create amazing backdrops, especially at dawn and dusk. In fact, the view of the rocks at sunset is how the valley was named. Think of Red Rock on steroids, and as a bonus, you do not need a reservation to visit.
Heading north on I-15, about 15 minutes past downtown, the casinos, crowded housing tracks, and most signs of civilization disappear. Once you pass the prison and the speedway, the horizon becomes a desert landscape of bushes and hills.
TIP: Use the restroom or grab extra water at the gas station next to the Paiute Casino. There are no other services or restrooms until you get through the entry gate, well into the park.
From the casino, travel east 12 miles on a two-lane road at a slight incline through open land with small hills. Be sure to adhere to the speed limit as the road is on the Moapa Band of Paiute Indian land and is policed by tribal authorities. Low-lying peaks and soon open up to the valley you came to see. Stop at the west entrance station, pay the $10 per vehicle entry fee, grab a park map and start your adventure.
Your visit is what you make of it. Most of the traffic centers around the visitor's center as well as on the scenic drive along White Dome Road. You can stay in your car and drive the scenic road from the west entrance station to the east entrance and get your money's worth.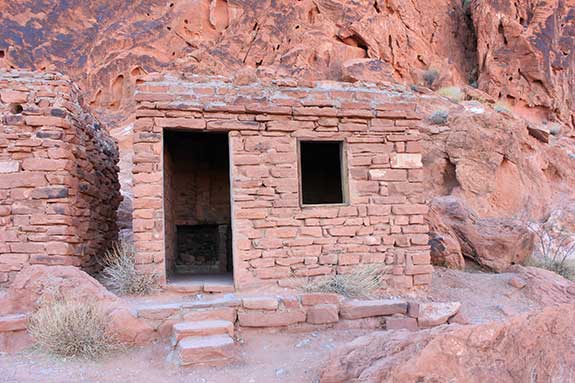 But the park has so much more to offer. Suggested must-dos for the park include checking out the two first-come, first-served campgrounds and their attached back-road scenic drive, as well as stopping at Atlatl Rock to view the 2,000-year-old petroglyphs. You may even overhear a five-year-old ask her parent while referring to the petroglyphs, "why didn't they just take a picture?" There may be signs of wildlife, like various birds, lizards, big horn sheep, or those rare desert tortoises if you are lucky.
While on White Dome Road, be sure to check out the often-overlooked Fire Canyon Road and get out of your car for the full experience. The east side of the park is far less busy than White Dome Road, and people density decreases immensely after 2:00 pm. Plan a picnic at the Seven Sisters rock formation or the Cabins, built in 1933 by the Civilian Conservation.
Before you reach the east entrance station, you can stop and view the marker commemorating the rough road built through the park in 1912 as part of the Arrowhead Trail. This trail connected Salt Lake City to Los Angeles and was the precursor to Interstate 15. This area of the park is very open and is spotted with a variety of hiking trails as well as an equestrian trail.
From the east entrance station, you can either backtrack the way you came through the park or continue east to Lake Mead National Recreation Area. This does require a separate entrance fee, but the road winds through the national park on a scenic drive and will dump you in either east Las Vegas or Henderson.
Try to stay for dusk and watch the rock formations ignite and come alive. Feel the breeze on your face, take the landscape in and connect with your environment. Some would say being here has healing properties, rejuvenates your mind, and feeds your soul. Be aware the park closes at sunset, and when the sun descends in the sky, temperatures drop, and the desert becomes very dark, so be prepared.