I had the pleasure of visiting with the current president of the Las Vegas PFLAG (Parents and Friends of Lesbians and Gays) chapter, which has been active in the community for over 20 years. Annie Clancy has been the president for more than two years. Annie's involvement with PFLAG came about in a unique way; she identifies as Bisexual, and, in the day, when a new episode of Queer as Folk came out at the local Blockbuster, she and her friends would rush down to get it. She was exposed to PFLAG by Debbie Novotny, played by Sharon Gless, who was a proud supportive PFLAG mother.
Annie became even more involved with the community when her sister-in-law identified as Transgender. Her siblings became her support group, which deepened Annie's commitment. She discovered PFLAG as a great resource for support and recommendations for doctors, The Center, and other support facilities and locations. Thus, her affiliation became stronger, with her next step being to help the local chapter as a member and then president.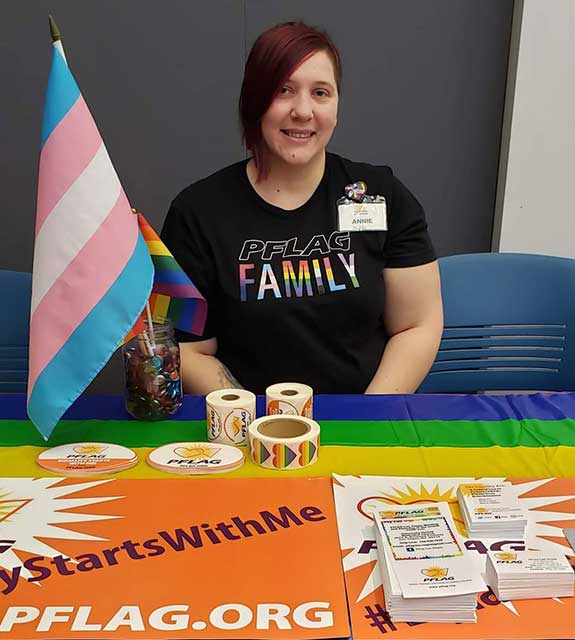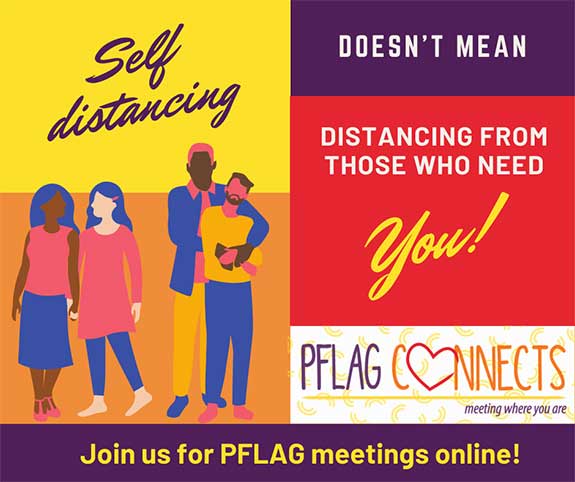 Even with the pandemic we are currently living through, PFLAG keeps the group together through Zoom meetings, and PFLAG connects. Prior to the pandemic, they met on the 2nd Saturday of the month at The Center. Now, those meetings continue on the same dates only through Zoom. They have been involved in many events where they can get their information to the public and have marched in the PRIDE parade for many years.
PFLAG is extremely active in providing support, education, and advocacy to LGBTQ+ people, their parents and families, and allies. Chapters are in communities in all 50 states, the District of Columbia, and Puerto Rico. With 200,000+ members and supporters, PFLAG has been saving lives, strengthening families, and changing hearts, minds, and laws since 1972.
Annie stated, "PFLAG is often the last step for parents and/or siblings to reach out for help and answers on how to address their LGBTQ+ children's concerns." The pandemic has escalated some of these issues with children now doing virtual learning from home and not having the support of peers or groups at school or other outlets. They are sometimes coming out earlier, which can make it difficult for their parents. Children send their parents to PFLAG for help and information as they are sometimes the only conduit between parent and child, and often the children are too embarrassed to talk to their parents. There is a Help Line, email address, and thorough website to help guide any helping, concerned, and supportive individual with resources and help. The helpline is operated 24 hours a day by two individuals, usually moms, and offers individuals anonymous support whenever needed.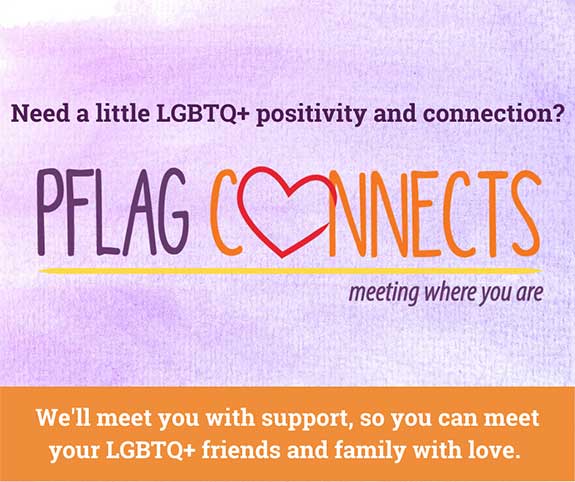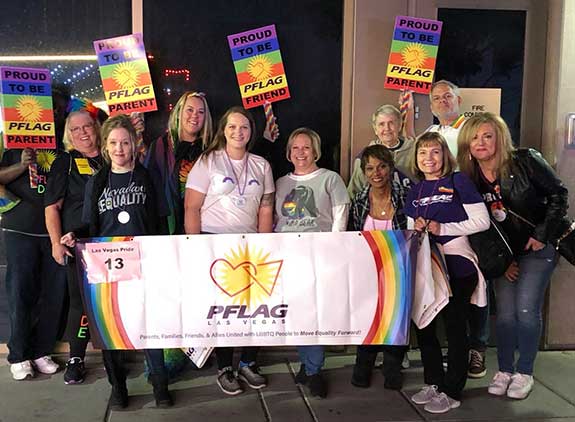 The local chapter of PFLAG is composed of mostly mothers of LGBTQ+ children or family members. Still, any parent, family member, or ally is welcome to join if they are looking for information or help. The chapter is trying to grow its volunteer base to accomplish additional outreach, training, and advocacy. Sometimes the only outlet for support is the local PFLAG chapter.
For additional information and involvement, contact PFLAG at:
HelpLine: 702-438-7838
Email: pflag.las.vegas@gmail.com
National website: www.pflag.org
There is also a chapter in Carson City:
Phone: 775-600-2905
Email: pflagcarson@gmail.com
PFLAG's Vision and Mission are as follows:
Vision: PFLAG envisions a world where diversity is celebrated, and all people are respected, valued, and affirmed, inclusive of their sexual orientation, gender identity, and gender expression.
Mission: Our mission is to build on a foundation of loving families united with LGBTQ people and allies who support one another, and to educate ourselves and our communities to speak up as advocates until all hearts and minds respect, value, and affirm LGBTQ people.
Contact your local chapter or visit their extensive website to find out all about PFLAG and how you can be involved.