The AREA15 Experience
Immersive Art and Entertainment Like You've Never Seen Before—Trust Us.
AREA15 is the world's first purpose-built experiential art, entertainment, and event complex offering live performances, immersive activations, monumental art installations, extraordinary design elements, unique retail, ground-breaking technology, bars and eateries and so much more.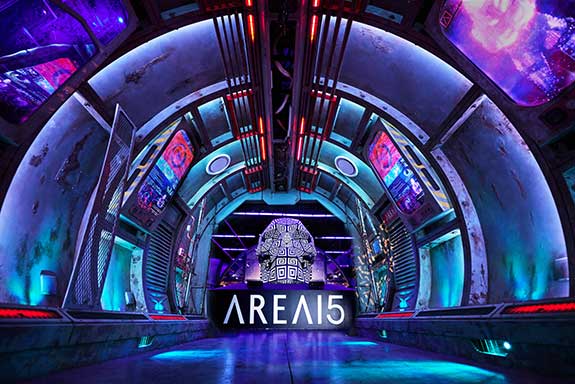 Vortex at AREA15, Photo by Laurent Velazquez
AREA15 can only be described as out of this world. The venue is a 200,000 SF feast for the senses located just minutes from the Las Vegas Strip off of the I-15 freeway. An ever-expanding list of dynamic destinations includes everything from bars and live entertainment to a dimension defying grocery store in Meow Wolf's Omega Mart. Ready for a delightful (albeit completely lucid) trip down the rabbit hole? AREA 15 has you covered from A-Z and everything in between.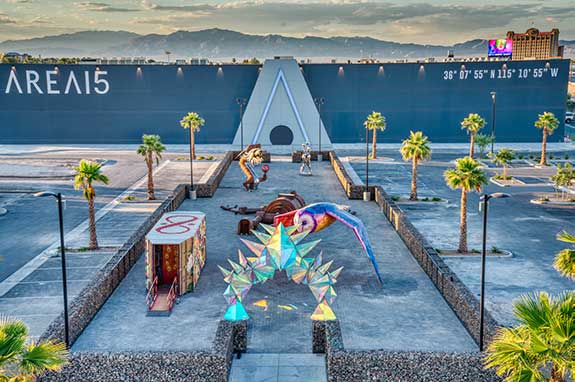 Art Island at AREA15, Photo by Peter Ruprecht
Art Island
The first-ever permanent gallery for the exhibition of large-scale, commercially available, festival-inspired artwork. The installation featuring original pieces by international art stars such as Michael Benisty, Davis McCarty, and Ivan McLean. All artwork is three-dimensional, monumental in scale and may be viewed as sculpture-in-the-round by visitors in search of the perfect Instagram photo.
Lost Spirits Distillery
Described by Smithsonian Magazine as "a high-end Willy Wonka experience for adults and a Disneyland for drinkers," Lost Spirits is one of the world's top distilleries. The distillery also houses a tiny restaurant that rivals some of the world's top dining experiences. Visitors to the new Lost Spirits experience can expect a dreamscape of whiskey and rum tastings, boat rides, under sea train rides, and holograms paired with exceptional fine dining and world-class whiskey and rum.
Meow Wolf Omega Mart
The Santa Fe based arts and entertainment company Meow Wolf will unlock the doors to Omega Mart, a one-of-a-kind supermarket store experience and portal to the otherworldly that will anchor AREA15. With elevated narrative and tech elements, Omega Mart is the work of hundreds of creatives on staff and more than 50 collaborating visual and musical artists from all over the world.
Museum Fiasco
Museum Fiasco showcases futuristic exhibits, audio-visual experiences, art and hospitality in a space that fosters a sense of connectivity for visitors. Located on the mezzanine of AREA15, the 5,000-square-foot gallery was conceptualized and designed by Corner Bar Management founder, Ryan Doherty.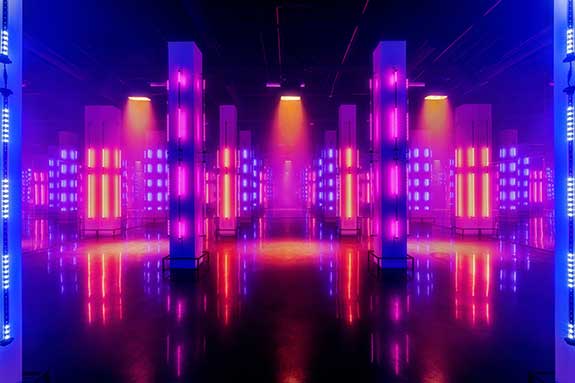 Museum Fiasco at AREA15, Photo by Anthony Mair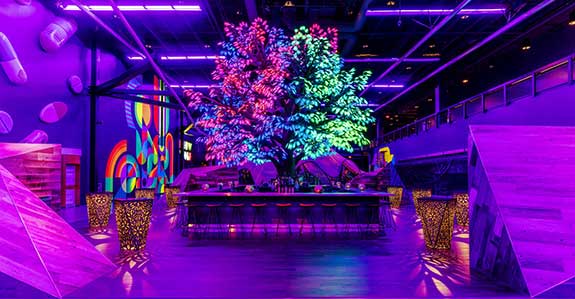 Oddwood at AREA15, Photo by Anthony Mair
Oddwood
Giving inspiration to its name, at the heart of Oddwood is an ever-changing, nearly 23-foot-high Japanese maple tree built by Color + Light. A dramatic 28-feet-long by 17- feet-wide canopy with more than 5,000 twinkling LED lights create what can only be described as a serious vibe. Co-designed by Las Vegas entrepreneur Ryan Doherty of Corner Bar Management Group, Oddwood serves premium beers and cocktails.
Wink World: Portals Into The Infinite
Designed by Blue Man Group Co-Founder Chris Wink, "Wink World: Portals Into The 4 Infinite" takes the fusion of whimsy, color, art, technology and music which he pioneered with Blue Man Group to the next level. Visitors to Wink World will walk through six infinity-mirror rooms, each one featuring a stunning production number choreographed to original music, drawing upon Wink's love of black light and other dynamic stage effects to evoke "life force" and inspire wonder. Described by Wink as "equal parts psychedelic art house and carnival funhouse," Wink World explores the concept of infinity in entertainingly conceptual and aesthetic ways.
OZ Experience
Situated at the frontier of virtual reality, OZ Experience by BackLight exists where the boundaries between what is virtual and what is real dissolve into an immersive experience never seen before. OZ Experience offers four distinctive VR adventures: ECLIPSE, a free-roam, team-based, outer-space-themed mission for up to four players suitable for all ages; Birdy King Land, a seated, virtual roller coaster ride with full body avatars, high-fidelity rendering and 3-D effects; Far Reach, an adrenaline-filled space odyssey ride throughout the galaxy, brought to life with advanced graphics and core-shaking sound design.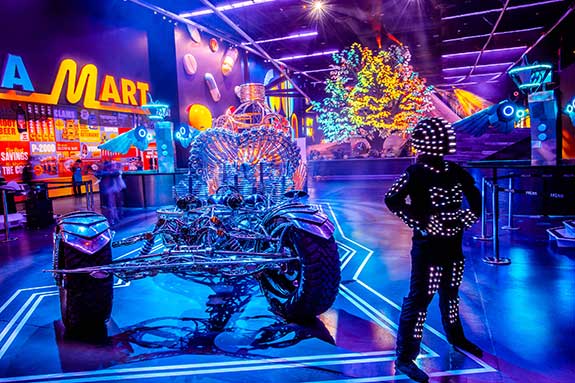 The Spine at AREA15, Photo by Peter Ruprecht
The Beast by Todd English
Even the pickiest eater will find something mouthwatering within the fiery walls of The Beast. Renowned chef, restaurateur and four-time James Beard Award winner Todd English presents this curated map of flavors to guests inside the world of AREA15.
Thirsty for more? Check out these other mesmerizing experiences available at AREA 15.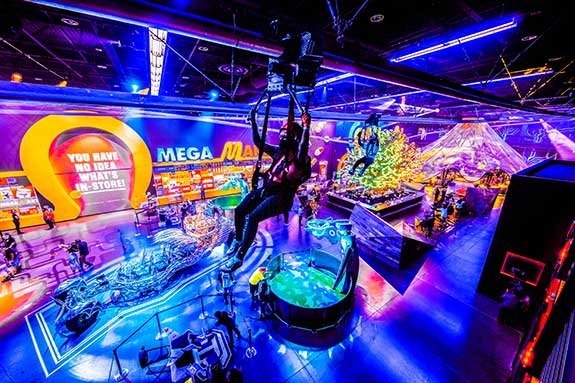 Haley's Comet at AREA15, Photo by Peter Ruprecht
Gallerie 360 – A fully immersive audio and visual experience featuring world-renowned digital artists inside The Portal, AREA15's 360-degree, 3D projection-mapped room.
Haley's Comet – Hang gliding meets free falling on the first indoor, electric dual-track suspension ride in the United States. Taking thrill seekers for an exhilarating, bird's-eye view of the unique art in The SPINE, this glider-ride positions two riders against one another in a race to the finish, reaching eight miles per hour.
Sanctuary (Elora Hardy of Ibuku Design Studio) – Made from bamboo that's been carefully selected from the islands of Bali and Java, Sanctuary offers a tranquil place to gather, rest and reflect. Taking its inspiration from the conical shape of a volcano, this earthy, airy dome is made from all-natural materials, acting as a living organism complete with lush plant life. Sanctuary is also available for private event bookings.
Shogyo Mujo (Bart Kresa Studio and Joshua Harker) – Welcoming guests as they enter the portal into AREA15, Shogyo Mujo is an interactive, 12-foot tall skull covered in 3D projection mapping and synched to music. It ventures into the fourth dimension, that of time, to give each guest a unique different experience based on where, when, and how they view the piece.
The SPINE – The backbone tying everything together, The SPINE provides an ever-changing corridor filled with one-of-a-kind art installations, engaging brand activations, unique commerce and inspiring food and beverage offerings.
Valyrian Steel (Henry Chang Design) – Located in the heart of The SPINE, Valyrian Steel is a kinetic art car that is part Mad Max, part Mars Rover.
Emack & Bolios – Boston-based Emack & Bolios makes its west coast debut at AREA15, serving ice cream, yogurt, homemade fudge and chocolate, micro-brewed sodas, vegan selections, and more.
Rocket Fizz – A new twist on an old-fashioned soda pop and candy shop, Rocket Fizz offers a line of saltwater taffy that comes in tempting flavors such as Banana Split, Chocolate Malt, and Strawberry Cheesecake. Swing by this sweet spot that will rock the sweets-lover's world.
Wild Muse Boutique – A unique retail bazaar inside The SPINE, Wild Muse Boutique features one-of-a-kind, handcrafted, sustainable apparel, accessories, art, and eco-friendly health and wellness products from both local and global.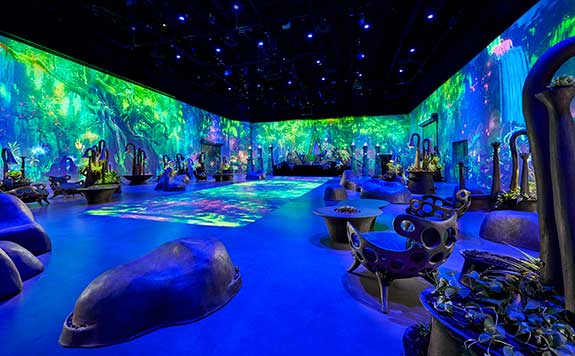 Portal at AREA15, Photo by Proto Images
Particle Quest – An interactive AR experience to the secret backstory lurking just beneath the surface of AREA15. Guests will be outfitted with a Particle Quest mask to discover a world of surreal nano-particles triggered by the art and architecture all around.
Portal – A down-the-rabbit-hole space inside AREA15 outfitted with state-of-the-art, 360-degree, 3D projection-mapped walls. The multi-use room will be transformed to accommodate viewing events, immersive dining experiences, as well as corporate and private events.
A-Lot – Offering sweeping views of the Las Vegas Strip, A-Lot is a massive, customizable outdoor playground surrounded by large-scale interactive artworks giving us major desert-festival vibes.
Birdly – A virtual reality experience that mimics every aspect of the avian experience: from the wind beneath your wings to a bird's-eye view of some of the richest landscapes in the digital world. Guests can take a spin through the skies of New York or explore prehistoric worlds.
Brainstorm – One of many ticketed attractions inside of AREA15, guests are invited to move and engage to light up Brainstorm's reaction centers, which reads your unique expressions and transmits nearly infinite response patterns. (Tip: It's said to never deliver the same experience twice).
Dueling Axes – The nation's premier indoor axe-throwing lounge scratches an itch for a new experience. The attraction features a beer and wine bar, flat-screen TVs, a private VIP room and 18 private or group-reserved lane accommodations.
Emporium – Spanning 10,000 SF over two floors inside AREA15, this massive, immersive Emporium Arcade Bar features games, live music, DJs, a curated craft beer and cocktail bar, amazing local art murals and more.
Five Iron Golf – This urban indoor golf experience is a pleasing mixture of golf, design, and entertainment with a community-focused vision of making the game more inclusive and accessible. Featuring industry-leading golf simulators, professional instructors, a full bar, and event space, you can reserve a simulator, compete in tournaments and leagues, host events or book group golf lessons.
Flux Capacitor – Channel your inner Dr. Emmet Brown at this DeLorean inspired kinetic art car by Las Vegas artist Henry Chang located outside on the A-Lot.