The Center Celebrates Transgender Diversity Every Day
By Pamela Puppel
Photography courtesy of The Center
Transgender Day of Visibility happens in late March, and it's a big deal at the LGBTQ Center of Southern Nevada. "It's a celebration where we highlight champions of our trans and non-binary community, collaborate with support groups to present opportunities, hold panel discussions on health and wellness, and shine a bright light on transgender rights," says Andre Martin, Director of Inclusive Programming.
Yet, it's not the only day or way The Center celebrates the transgender community.
When Identi-T presented Beau-T Spa Day at The Center, professional aestheticians, make-up artists, nail techs, barbers, and hair stylists turned The Center into a luxurious oasis. They treated the trans community to a day of pampering. "It was a beautiful day of makeovers, beauty tips, and hairstyling techniques that helped people feel their best," says Martin.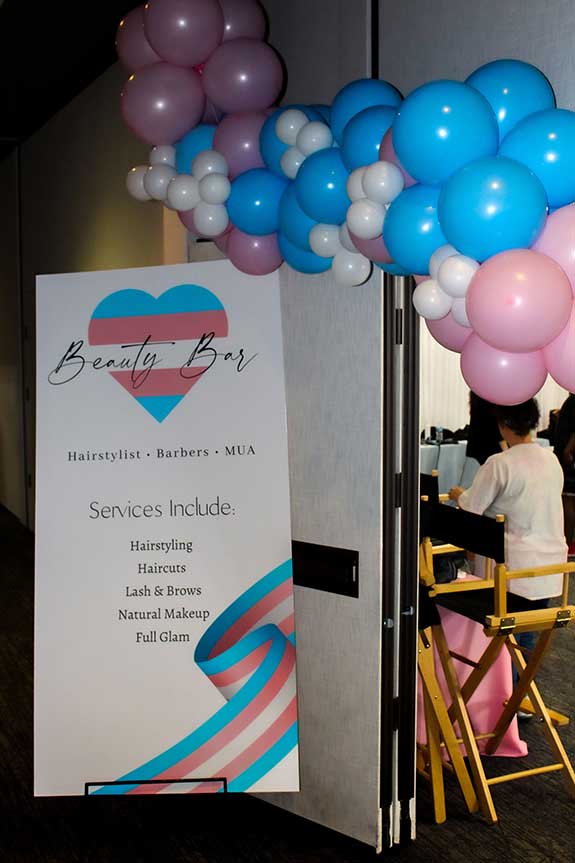 You can find trans and gender diversity programming that suits your situation any day of the week. Guy Talk is a transmasculine peer-led social group for trans men and those exploring transmasculine gender identity and expression. Guy Talk meets bi-weekly on Mondays.
Every Wednesday, TransLatin@s meets as a peer-led group for Latin transgender women. The group focuses on community resources, empowerment, culture, and open discussion topics.
TransMotions, which meets biweekly on Thursdays, is a skills-based workshop where people can identify, process, and regulate their emotions. Subject matter includes setting boundaries, perception, and shame. This workshop helps people be more confident in situations as they navigate changes in their gender identity.
People thinking or doing gender differently should look into Gender Translations, which take place every Friday evening.
"We look for ways to help people live their most authentic lives,' says Martin. "And our programming reflects that mission. Whether you have transitioned or thinking about it, think about The Center first!"
SOCIAL:
Facebook:
@TheCenterLV
Instagram:
@thecenterlv
Twitter:
@thecenterlv
About The LGBTQIA+ Community Center of Nevada
For 30 years, The Center has cared for, championed, and celebrated LGBTQIA+ individuals and those underserved in Nevada. We function as the heart and home of the LGBTQIA+ community by making connections, delivering programs, and providing a safe space for health and wellness, social services, arts and culture, advocacy, and community building. Ongoing Center programs support LGBTQIA+ youth, adults, families, seniors, vets, people with disabilities, those living with HIV, and underserved populations. Additionally, we are proud to offer the Center Advocacy Network, the first nationally accredited program of its kind, focusing on LGBTQIA+ issues for victim advocacy. For more information on how The Center empowers everyone to thrive in Nevada, please visit The LGBTQ Center of Southern Nevada (https://thecenterlv.org/).