QVolution Youth Pride Prom Kickoff
Article By Ashante Herring, Photography by Megan Williams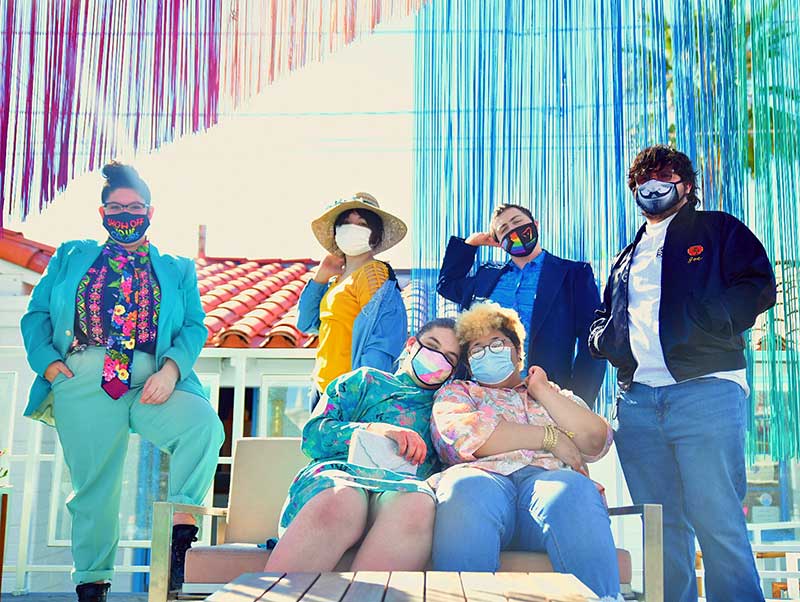 After over a year in quarantine and adjustments to virtual life, the Qvolution Youth Group at The LGBTQ+ Center of Southern Nevada is looking forward to returning to in-person events with a Pride Prom kickoff in June to coincide with Pride Month.
Qvolution Youth Programming is a safe space for LGBTQ+ youth and allies that is available for youth between the ages of 13-24. Youth Resource Specialist Ashanté Herring reached out to Neon Cactus Vintage, a local queer woman of color and Black-owned vintage clothing shop housed within Ferguson's Downtown shops. Owners Negar Hosseini-Nasab and Alicia Avery are a lesbian couple that were thrilled to offer their space and wares for the youth.
Negar shared her own experiences with homelessness as a young person and how thrifting was one way that she was able to provide for herself. Thrifting also provided an outlet for creativity and led to her interest in fashion. Many LGBTQ+ youths, including those that attend Qvolution, have experiences with homelessness, and The Center works to provide community resources to address this epidemic.
For the Pride Prom photoshoot, six Qvolution youth members came down to the shop, buzzing with excitement, both at being able to see fellow members in person and for the photo shoot. Freelance photographer Megan Williams offered her expertise in capturing the shared moments. Owners Negar and Alicia talked with the youth, walking with them around the shop and sharing perspectives on different looks to help them select items that made them feel affirmed as their authentic selves. Hearing Qvolution members share how the outfits they chose made them feel "confident, like they can dress the way they really feel" brought smiles to everyone present.
Qvolution Youth Prom will take place on June 12th at The LGBTQ+ Center (401 S. Maryland Pkwy) from 7-10 pm. It is open to LGBTQ+ youth and allies throughout Las Vegas valley, ages 13-24. For more information, contact Qvolution Youth Programming at qvolution@thecenterlv.org. Utmost gratitude to Negar & Alicia of Neon Cactus Vintage & photographer Megan Williams. Neon Cactus Vintage can be visited Wednesday to Sunday from 11-5 pm. Photography inquiries can be made at lgtimaggesusa@gmail.com.