Gay Tripping
Pride Month Adventures
Article & Photography by Lupie Janos
When you are not from Las Vegas, you come here for the debauchery, gambling, the sin and freedom to have any identity you want.  However, when you live in town, sometimes it is nice to get away from the planned communities, HOAs and congested streets.  We stayed near town for this edition of gay tripping and checked out not only one very touristy stop, but another local hidden gem you may or may not be aware of.  This month's trip is jam packed with activity, so hang on.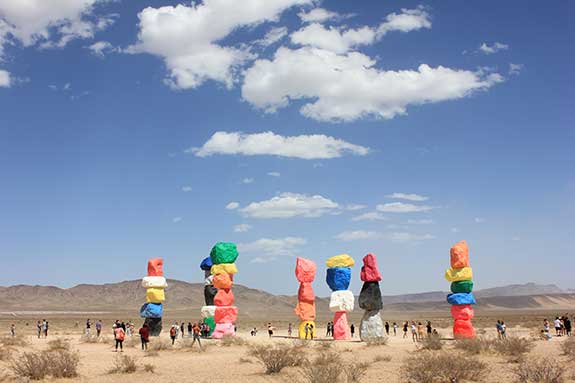 Preparation for any outing in the desert is not only advised, but necessary.  Always carry water with you!  Aside from that, it's fun to be prepared for any type of adventure you may encounter.  Pack a cooler, make or buy a lunch, sunscreen, hat, blanket, chairs, grab a friend or your pooch, or both.  She ready!
We started our adventure with a quick 20-minute drive from town, cruising southbound on Las Vegas Boulevard.  Past the South Point, past the M Resort, and just past mile marker 11, you turn left into a dirt parking lot.  Depending on what day and time you go, the parking lot may be full of out of towners stopping on the way in or out of town, or just some locals.  Everyone is there to see the seven 30-foot-tall painted boulder totems known as the Seven Magic Mountains.
The Seven Magic Mountains are a large-scale desert artwork, created by Swiss artist Ugo Rondinone, and produced by the Nevada Museum of Art and Art Production Fund.  The exhibition opened May 11, 2016 and was originally scheduled to be on view for two years. Due to the installation's popularity and incredible success, at the end of 2018 the Bureau of Land Management (BLM) issued a three-year permit extension for the artwork, allowing the installation to remain on view through the end of 2021.  There is no guarantee an additional extension will be granted, so why wait?  If you have not gone out to see the exhibit, go now, and if you have been there, done that – do it again.
The sheer height of the totems is awe-inspiring, but the photo ops are what draw most people in.  Angles are what is key here, so getting creative is thoroughly recommended.  Have fun with it!  @arproductionfund @nevadaart #ugorondinone #7magicmountains #sevenmagicmountains
Not far from the Magic Mountains is the Jean and Roach Dry Lake Area managed by Bureau of Land Management (BLM). This place is worth a visit!  Full disclosure, there is not really any shade in this area of the desert, so again, be prepared.  This area is so wide open and away from the congestion of the valley that the options for things to do here are endless.  If you drive into the valley a bit, at least a mile away from the road, veer off to the left, you will see people safely shooting target practice with their firearms.  After talking to some locals, we found out this is a designated area to do so and the signage marks the area where shooting is allowed.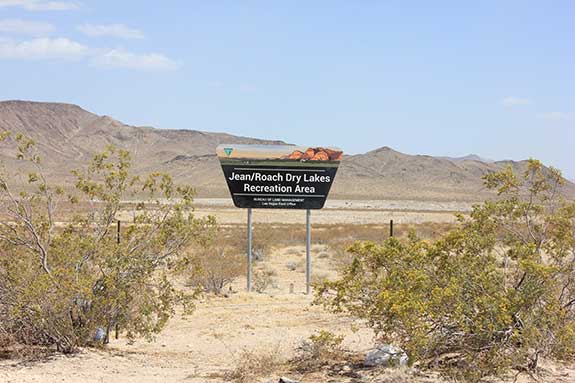 You can come to shoot, if that is your thing, but on the day of our visit, we saw plenty of people posted up and enjoying the sunshine.  Canopies out, coolers filled, music going, dogs off leash (just be prepared to hear the echoes of gun shots) .If you have any off-road vehicles the area also provides hundreds of miles of trails.  At the center of the area is Jean Dry Lake.  Although the name implies that the lakebed is dry, it has the potential of flooding and holding water long after a rainfall.  So, travelling out there after any kind of precipitation is not recommended. Outside of the dry lakebed, motorized vehicle use is limited to existing roads and trails.  You can access a map here: https://ohv.nv.gov/trails/jean-roach-dry-lake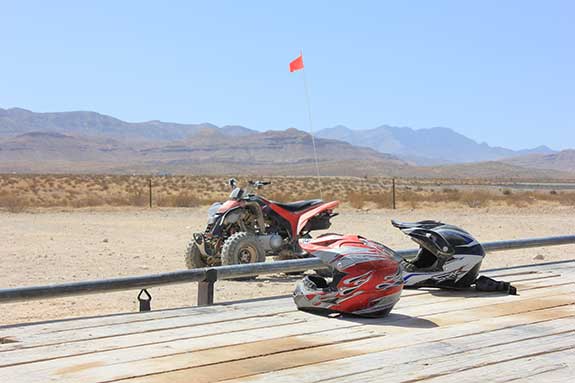 If you do not have your own off-road vehicle, you still have options.  There are local companies in town that offer excursions, from one hour to a half a day, for one person or for large groups.  They teach beginners or guide experienced riders alike.  Do your research online and remember that there are no fees to access or utilize BLM land, so do not fall for hidden fees.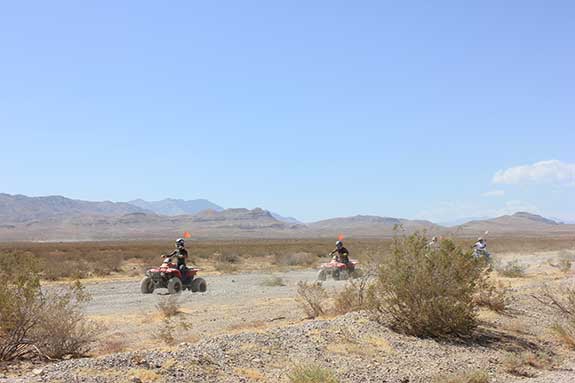 So, get out and enjoy the open expanse before it gets too hot.  That is what this series is all about, getting out and seeing and experiencing something different.  Take your rainbow out to the desert and shine brighter than those Seven Magic Mountains.  Go gay trip.