Long Live the Kings of Las Vegas
Article by Lupie Janos, Photography by YevZ Photography
Drag is life. Life is drag. Thanks in part to the modern era of drag artists and the popularity of pop culture phenomenon RuPaul's Drag Race (celebrating 13 seasons) drag has become a part of the mainstream lexicon. Queens reign supreme in homes from Boise to Biloxi. But did you know that Drag Kings have been honing their craft since at least the 1700s?
Language and terminology have evolved over time and the first cited use of the term 'drag king' in print was in 1972. But the first female (or non-binary) performers dressing in traditionally masculine attire, appeared in the 1700s in both the theater and the opera.
Drag king performers used fashion to help them gain access to the stage and evolved to impersonate, critique, and often caricature notions of traditional masculinity. The diverse gender and sexual identities of kings contribute to the complexity and richness of their drag king performances to this day.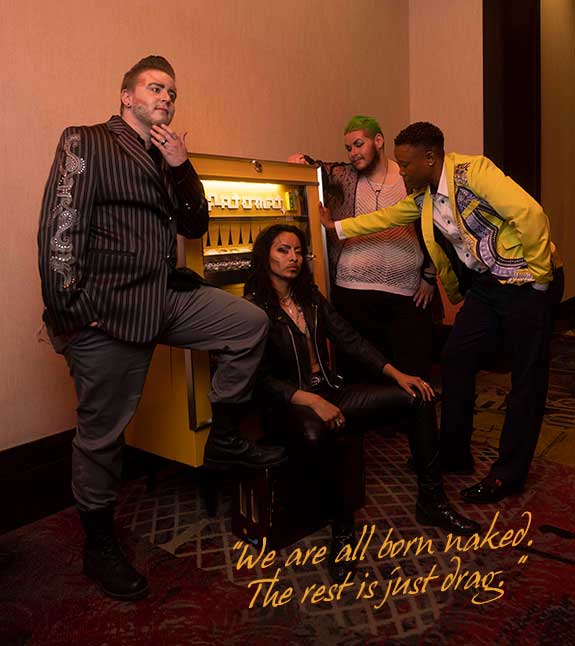 From Left: Max Stache, Touni Tea, GD Cross, Big Stizzie. Photography by YevZ Photography at The Cosmopolitan of Las Vegas.
Beginning in the 1920s, Blues singer Gladys Bentley performed in drag from New York, Los Angeles to San Francisco for over 20 years. The famed Stonewall Lesbian and lifelong activist, Storme DeLarverie, performed as a king alongside the queens at the Jewel Box Revue in the 1950s and 1960s.
Beginning the mid-1990s, drag kings started to gain some of the fame and attention that our beloved queens have long known. But popular culture is starting to catch up. The 2016 documentary film, The Making of a King from producer Nicole Miyahara, chronicles the lives of contemporary drag kings in Los Angeles, CA.
In honor of popular culture beginning to celebrate the beautifully diverse universe of drag performers in our community. We are celebrating some of the show-stopping Kings of Las Vegas.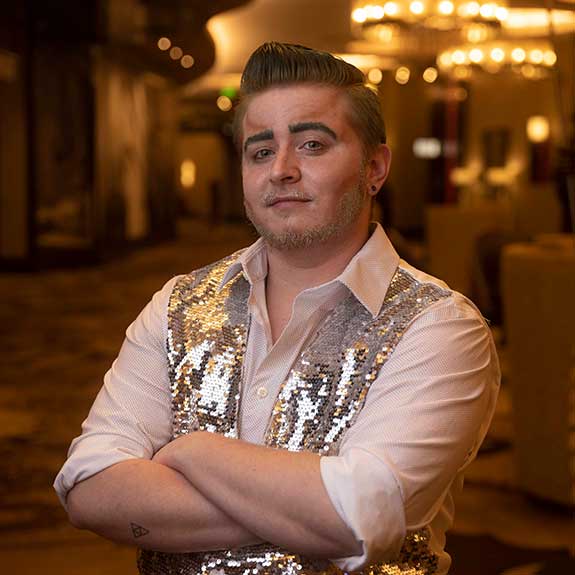 Max Stache
Morgan Blackwell, stage name Max Stache, is a trans-masculine Vegas local Drag King who uses he/they pronouns. His biggest goal is to show anyone that the gender standards should be questioned and played with. Everyone should feel comfortable in their own skin, no matter how they present, and all drag is valid!"
GD Cross
Gavin Davis (he/him), stage name GD Cross is a southern sweetheart by day, but transforms into the energetic GD Cross at night. He has been in the Las Vegas drag scene for four years, using his platform to give representation to bigger men. He is an out and proud Trans Man who loves giving back to the community while making people smile.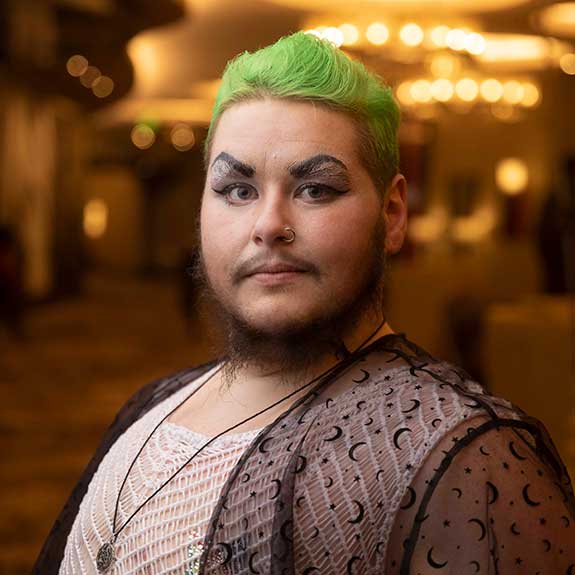 Touni Tea
Touni Tea is an up and coming drag king who currently lives in Las Vegas, their pronouns are he/they. Touni's persona plays with the trope of hyper masculinity, performing anything from dance and electronic, to heavy metal numbers. Keep up with him through his Instagram:
@tounitea