Little Miss Nasty
Article & Photography by Megan Williams
Sensory overload, mesmerizing, stimulating, shocking and powerful are just some ways to describe the ever-evolving rock and roll burlesque crew known as Little Miss Nasty (LMN). Born from the Viper Room in Los Angeles, the group of 15 women have kicked down the door of burlesque for nearly a decade. Their breakneck risqué performances can be seen all over the nation including their second home, 172 at the Rio in Las Vegas.
LMN has a huge presence in the LGBTQ scene, scoring a prime spot at The Abbey, the infamous West Hollywood nightclub. The first two years in Los Angeles they worked parties for Girlbar, the lesbian promotion team. Through their success they headlined the White Party at the Dinah Shore weekend. They have been the main draw of Pride parties like Sexaocola weekend in Pensacola, Florida. A few years ago, LMN linked up with party promoter turned queer bar owner, Jolene Linsangan, who puts on the infamous lesbian party Uhaul in San Francisco. Their longstanding relationship with the LGBTQ community has led them to continue their residency at Jolene's bar in San Francisco as well as a continuing invitation to Pride festivals in the future. "We are proud that a huge part of our audience are members of the LGBTQ community," said Gina Katon, creator, and head badass of Little Miss Nasty. "Some of the women in our cast are queer and we are always happy to represent them."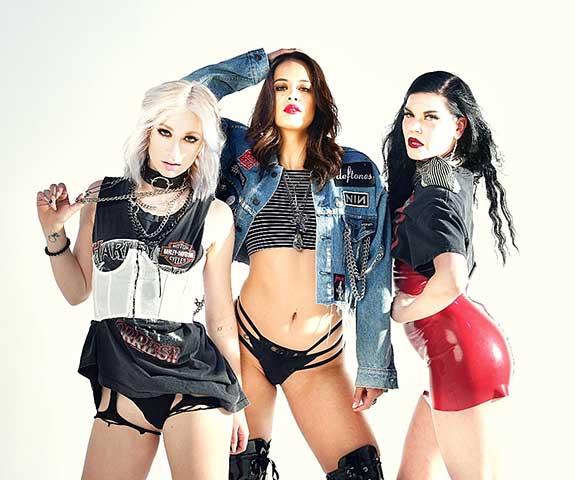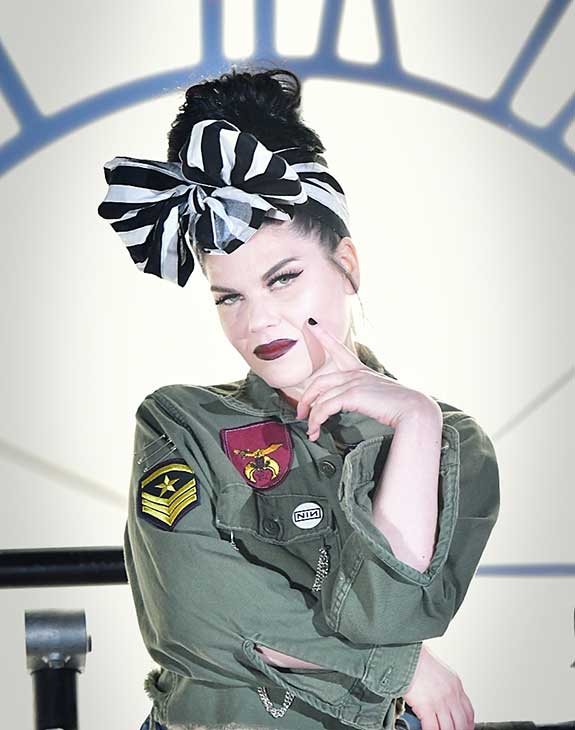 LMN was on a roll prior to the world shutting down. They had just finished up an incredible show at Jolene's bar in San Francisco when whispers of the entertainment world coming to a halt started to become more and more audible.
"Like everyone else in the entertainment field we all thought it was going to be a few months break and back to business as usual," said Katon. "We had no way of knowing just how long we were going to shut down. LMN had to pivot and adapt to makes sure they stayed relevant and on our screens." But, LMN found the blessing in a global pandemic. "Honestly, we feel like the pandemic was a blessing…it actually enhanced our creativity and output."
She wasn't exaggerating, in the latter half of 2020 alone LMN live streamed multiple days weekly, they started LMN Virtual Hang Outs, which, was a way fans could chat and interact with their favorite members one on one. They also launched their Happy Hour with Little Miss Nasty on Instagram live where two members would have a drink and chat while answering questions and interacting with fans.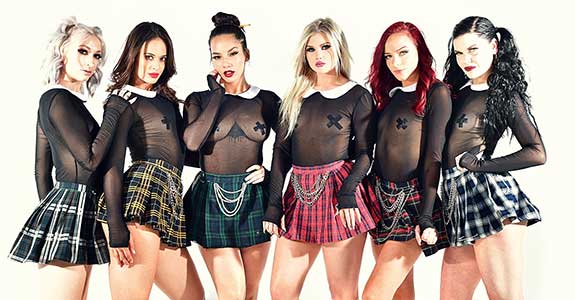 On top of everything else their School of Nasty which is LMN's version of dance class expanded into not only teaching their iconic dances, but they helped people all over the world find their inner badass. These classes pushed attendees to get creative and demolish their comfort zones, all while getting in shape and moving their bodies. They even came up with a new hashtag that explains their exact intentions for 2021 #LittleMissNastyTakesOverTheWorld.
With a little more time on her hands, and a lot less traveling Gina, along with some of her LMN castmates decided to push the boundaries of what LMN is and hit the recording studio. Their debut single "Hungry" was the brainchild of Gina and producer Marc Jordan. Sophia Aguiar LMN crew member and LA based dancer jumped on the track with an edgy verse. Las Vegas based cast members Dina Auneau and Talitha Thurston threw down their own flavor to the track to give it some spice. With its rock and roll guitar riffs, hip-hop beats, and four women going in on the vocals it makes for a hot track. And if you get a chance the music video is a must see.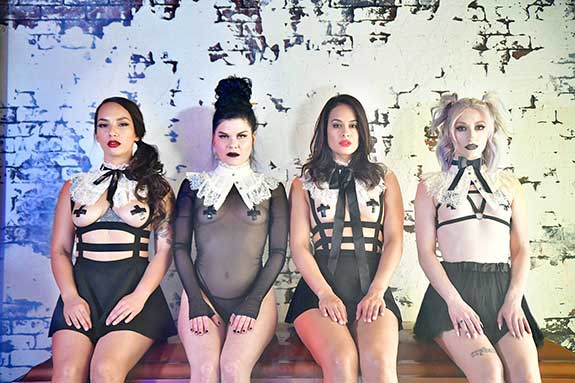 As we start to see a light at the end of this dark tunnel, LMN is looking to hit the ground running. They are ready to take over the burlesque world, and now with one hit single and another on the way there is really nothing they can't do. As Gina puts it, "Little Miss Nasty's art and music can't be put into any one box. We are free to create our own art however we please."
One thing I have come to learn about Little Miss Nasty is they are ever-expanding in all ways. If you want to keep up, get sneak peeks of their new projects, be first in line for their upcoming big news and announcements look them up on their social media platforms. They are on Instagram, YoutTube, TikTok, and Facebook all under "Little Miss Nasty."
If their success and expanded popularity during a worldwide pandemic is any indication of what they will do when the world opens up, I would venture to guess that they do actually take over the world.