How to be an LGBTQ+ Ally
Article contributed by Sum of Us
Do you want to be an LGBTQ+ Ally?
Allyship is a verb and it requires work, both in your mind and your muscles. The good news is that the work you do impacts change in tangible ways. Choosing Allyship is powerful and requires thoughtful reflection and a change in personal paradigms.
An ally is someone who is not a member of an underrepresented group but who takes action to support that group. It's up to people who hold positions of privilege to be active allies to those with less access, and to take responsibility for making changes that will help others be successful.
You don't have to know the comprehensive history of a group to be an ally. Recognize that there is a route to allyship that works best for you. Not every Ally will march or be a community organizer, not everyone can commit to donating. Everyone can be an ally.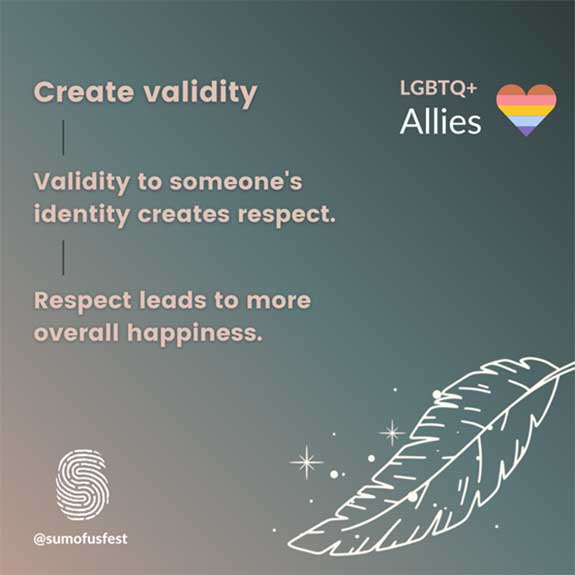 Allyship is:
a lifelong process of building relationships based on trust, consistency, and accountability with marginalized individuals and/or groups of people.
not self-defined. Work and efforts must be recognized by those you are seeking to ally with.
an opportunity to grow and learn about ourselves, whilst building confidence in others.
Other ways to be a true ally:
Lift others up by advocating.
Amplify underrepresented voices.
Call out inappropriate behavior.
Share growth opportunities with others.
Use inclusive language.
Not view venting as a personal attack.
Recognize systematic inequalities and realize impact of microaggressions.
Follow an array of voice on social media, diversify your view with new communities voices.
Believe underrepresented people's experiences, and most importantly – listen, support, self-reflect & change.
If the company you work for could use a training on LGBTQ+ Allyship, Diversity and Inclusion Training, or Allyship in the Workplace please reach out to hello@sumofus.co.
Allyship information created by Tauri Laws-Philips. Slides created by Mira Rawady. Content by Madison Eker.