The first time I met Elliott was at Las Vegas PRIDE Family BINGO at Alexis Park in 2018. Elliot was gorgeous, professional, and well-put-together. Later that year, Elliott performed at the CAPI Conference (a gathering of other PRIDE Organizers), and I saw him perform for the first time. WOW! Elliott is a performer, a dancer, and an entertainer!
Originally from Texas, Elliott quickly and naturally fit right in, making Las Vegas his new home. I bumped into him often around town – he stole the show as sperm in Faaabulous! The Show – and in any other role or performance he took on.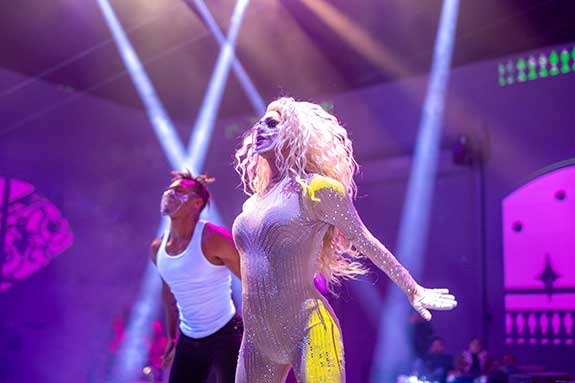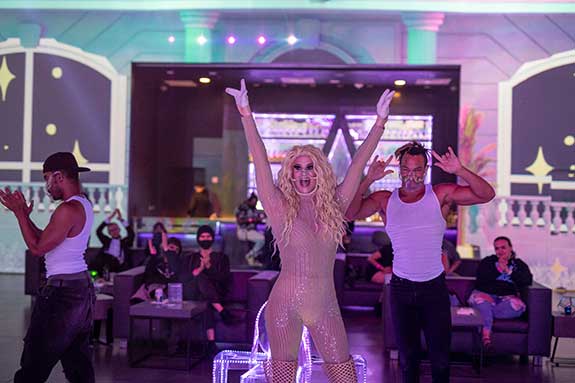 It was no big surprise that Elliott caught the eye of Ru Paul's Drag Race and was booked for Season 13! Elliott With 2 Ts became his stage name for the show, and his infectious laugh filled homes worldwide, and so did his tears. "The competition is so much more than people realize, requires skills in makeup, fashion design and a vision for looks, having wigs specially made. It's a lot." We are still watching Season 13 play out, but filming during the COVID-19 Pandemic was an unprecedented undertaking, and the stakes were higher than ever for the cast and crew.
As a big fan of the show, I felt like I was on an emotional roller coaster watching Elliott's journey – some emotionally challenging situations and some amazing triumphs. We all learned the highlights of Elliott's history – put through dance school from five years old and already a professional dancer on Carnival Cruises by 21. We also saw him serving some excellent looks on the runway. "I draw inspiration from fashion designers I admire, popular culture, current events, and historical figures." Elliott shares that he is most inspired by Thierry Mugler and 1980s Dior.
Ru Paul's Drag Race Season 13 runs through April of 2021, and Elliott can be found hosting watch parties all over the country, but at home, he has been hosting at AREA15. "Clientele at AREA15 is very diverse; the audience is from all over the world, which makes for a fun environment," shares Elliott.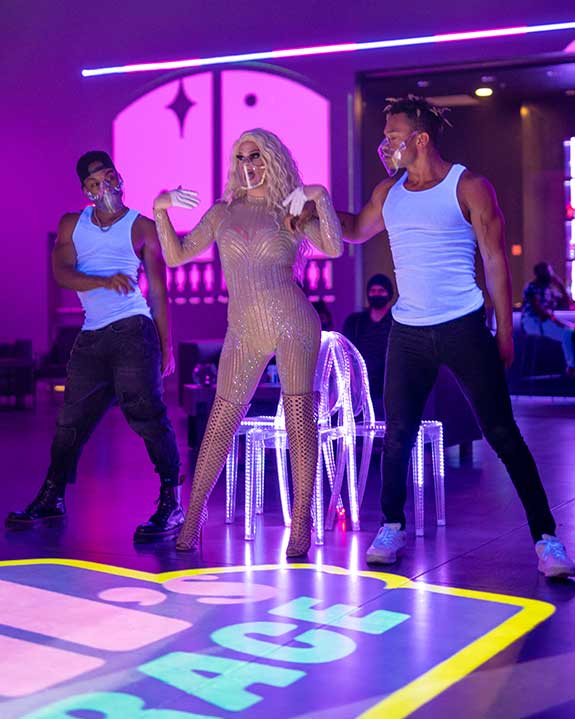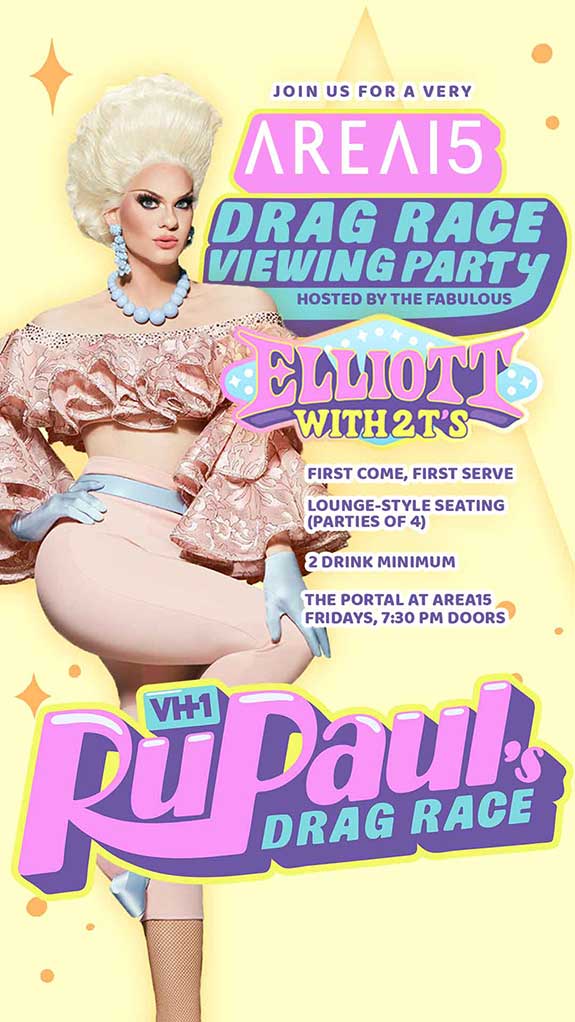 SPOILER: While Elliott, sadly, has "sashayed away" from his run on Season 13, he is proud of his accomplishments and his showing as a contestant on the show. "I am proud of what I have accomplished. Not everyone hosts a viewing party at a venue like AREA15, and I am very thankful for the opportunity. I love what I do."
You can plan to visit the Season 13 viewing parties at AREA15 Fridays from 7:30 pm – 10 pm through April. "Area 15 has been great to me, they saw value in my performance art, and that is an incredible feeling. They are the hottest experiential arts and entertainment venue in the nation, if not the world. It is exciting to be a part of that."
I am so PROUD of Elliott with 2 Ts, and I cannot wait to see what he does next!