2021 PRIDE Festival Entertainment
Listed below are some of the currently announced entertainers scheduled to provide entertainment at the Las Vegas PRIDE Festival. Entertainers please note that the 2021 PRIDE Festival Lineup is closed.
Every year the Las Vegas PRIDE Festival brings in an eclectic mix of talent to entertain the masses, and 2021 will be no exception (Please note: Exact appearance times are not available, however, headlining performances are expected to begin around 5pm).  On with the entertainment!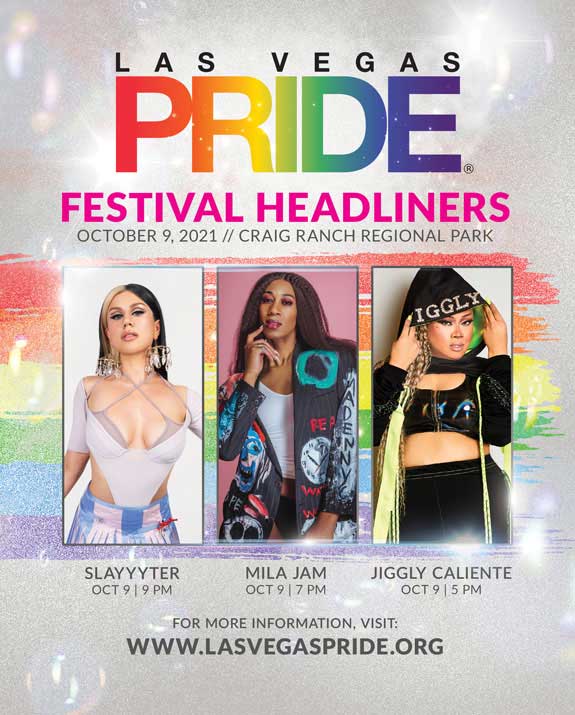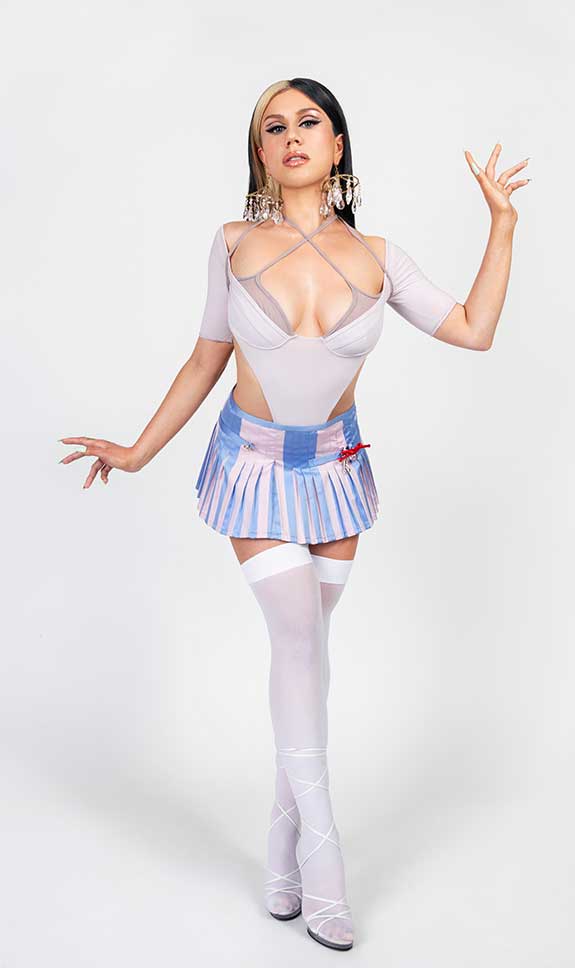 Performing Saturday, October 9, 2021 | Las Vegas PRIDE Festival | 9pm
Craig Ranch Regional Park
Slayyyter has the audacity and then some. Her ferocious new album "Troubled Paradise" signals the dawning of a new era for the self-made popstar, one who isn't afraid to raise some hell.
Growing up in the suburbs of St. Louis, Slayyyter worshipped pop culture from afar, a devout acolyte of such top 40 stalwarts as Britney Spears, Christina Aguilera and Lady Gaga. She realized early on that if she was ever going to hear the music of her dreams, she'd have to make it herself. After dropping out of the University of Missouri, she began to record music in her bedroom as Slayyyter, a pseudonym she borrowed from her favorite Dazed and Confused character. Her debut single "BFF," a collaboration with Ayesha Erotica, was written in between her shifts as a receptionist at a hair salon.
Slayyyter caught the internet's attention almost instantly with her distinctly colossal, Swarovski-encrusted pop on a shoestring budget — glossy and saturated, but thrifty and entirely on her own terms. "I like doing things myself, I always have in every aspect of life," she says. "These days, you can make big budget-sounding pop, but have it be totally DIY. These songs are just written by me and my friends. I want to keep the ideas raw."
Early singles such as "BFF," alongside "Daddy AF" and "Mine," snatched critical praise from Rolling Stone, NME, The FADER, V Magazine, Idolator, Paper Magazine, and more. Months before the release of her debut project, she had already sold out her first headlining tour without having even performed live before. "After that first show in New York, I remember feeling like, yeah, I'm supposed to be doing this and I don't want to be doing anything else."
Following the release of her acclaimed self-titled debut mixtape, which dropped in September, Slayyyter featured alongside Kim Petras on Charli XCX's "Click (No Boys Remix)." And earlier this year, lifelong hero Lady Gaga selected her 2019 single "Mine" as a part of her Women Of Choice playlist, a moment she describes as heart attack inducing. Still, despite all the love, Slayyyter never had any intention to confine her sonic palette to the mid-aughts: "I don't want my sound to be stuck in 2007. I'm not fully ditching my old self, but I want to be someone new," she says, adding that "the new material I'm working on has a balance between good and evil. There's an angrier side, and a softer, heavenly side."
That hellacious duality blazes forward on her debut album "Troubled Paradise," out now via FADER Label. The album draws from the most dramatic, almost surreal, sides of pop culture – Y2K gloss, nu metal, and cheerleader chants all coalesce here. Fusing such elements together, Slayyyter flips them into her own, bombastic take on pop. That sound fluctuates between towering, aggressive cuts ("Throatzilla," "Cowboys") and gliding dance-pop ("Clouds," "Troubled Paradise"). Slayyyter's resourcefulness runs through the album, where she spins dastardly lovers, boredom, and literal villains into rambunctious, early aughts-influenced music. For all her clever puns and head-turning entendres, she still brings true heart and inspired melodies to the modern pop realm. Upon release, the album drew praise from MTV, Paper Mag, the FADER, Paste, and many others.
Even with her bolder sound, the self-made ethos of Slayyyter remains steadfast. "I used to work so hard just to make enough money to buy beats from people, so the fact that making music is my job now is still so wild," she remarks. "This kind of thing doesn't happen to people from where I come from. Just a year or two ago I was hating my life, working as a receptionist. Now we out here." If she can do it, so can you.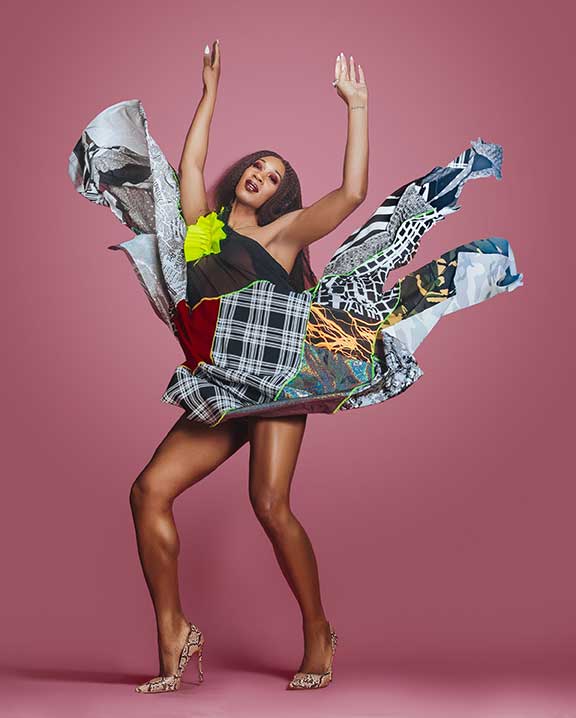 Performing Saturday, October 9, 2021 | Las Vegas PRIDE Festival | 7pm
Craig Ranch Regional Park
NYC pop recording artivist & transgender star, Mila Jam fills every room with talent, personality & undeniable style.
A YouTube Sensation turned Original Pop Artist, Mila is known around the world for her unforgettable stage performances & one of a kind music videos.
Mila has toured internationally with the Broadway musical RENT; performed with Chaka Khan at Chicago's Pride In The Park and alongside James Brown, Mark Ronson, Laverne Cox, Travis Wall, Jody Watley, Lady Kier (Deee-Lite) & Natasha Bedingfield. Appearances include the BBC's The Lilly Allen Show, GLAAD Media Awards, MTV & MTV NEWS with special features on The Huffington Post, MTV.com, OUT.com, Perezhilton.com, and prominently featured in Cadillac's Audacity of Blackness commercial. Her song 'Faces' was featured in Ralph Lauren's Polo Pride campaign. She is the Odyssey Nightlife Awards Breakthrough Artist, the GLAM Nightlife Awards Best Video & Dance Artist and the talk show host of an original YouTube Talk Show Series titled 'I'm From Driftwood'.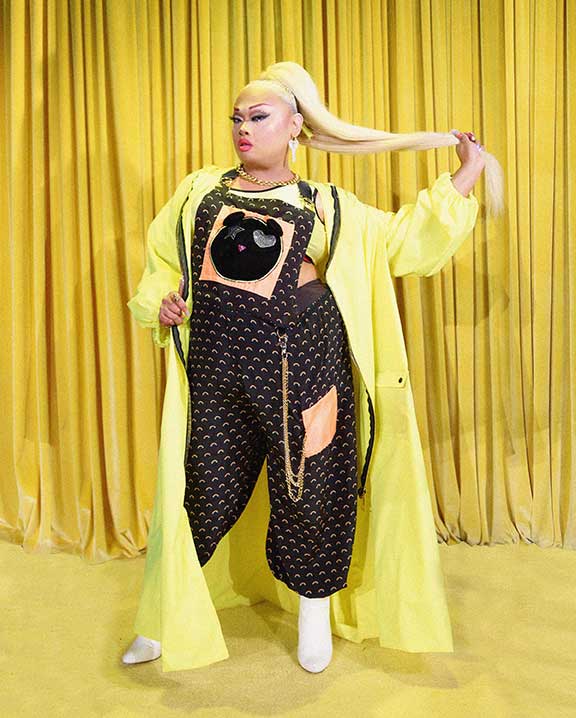 Performing Saturday, October 9, 2021 | Las Vegas PRIDE Festival | 5pm
Craig Ranch Regional Park
Jiggly Caliente is a trans drag performer and recording artist most recently known for competing in the 6th season of Rupaul's Drag Race All Stars.
She's appeared in a wide variety of roles in television shows ( Pose , Saturday NightLive and Broad City) and on film ( Milkwater and The Queens) and released an album called T.H.O.T. Process.
She is currently co hosting a cooking show on OutTV called "Wigs in a Blanket" with Ginger Minj as well as incredible topical round table talk show "TransLation". All this as she continues to bring audiences around the world to their feet.
In addition to the performers introduced above, the Las Vegas PRIDE Festival is proud to present the following entertainment: