2023 PRIDE Festival Entertainment
Listed below are some of the currently announced entertainers scheduled to provide entertainment at the Las Vegas PRIDE Festival. Entertainers, please note that the 2023 PRIDE Festival Lineup is closed.
Every year the Las Vegas PRIDE Festival brings in an eclectic mix of talent to entertain the masses, and 2023 will be no exception (Please note: appearance times are subject to change).  On with the entertainment!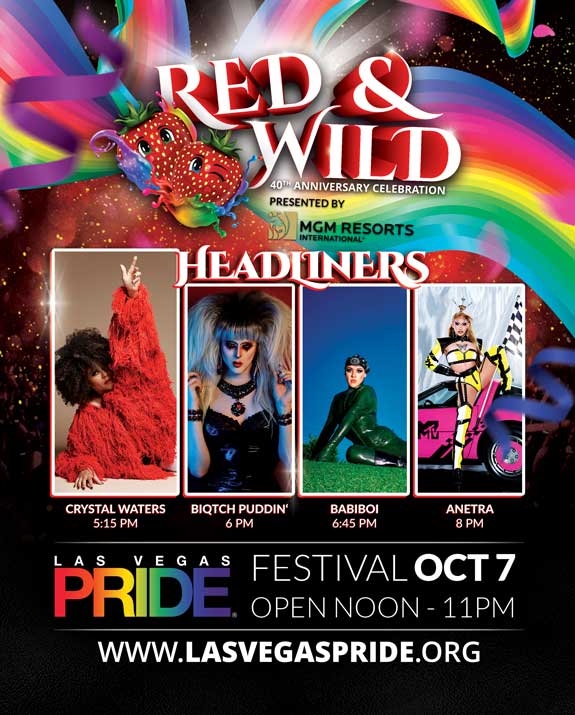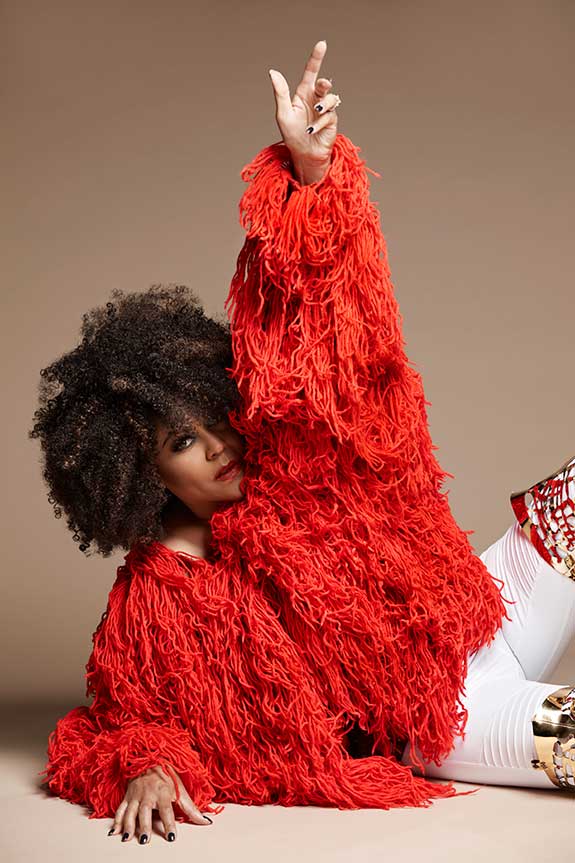 Performing Saturday, October 7, 2023 | Las Vegas PRIDE Festival | 5:15 pm
Craig Ranch Regional Park
Crystal Waters is an American house and dance music singer and songwriter, best known for her 1990s dance hits "Gypsy Woman", "100% Pure Love", and 2007's "Destination Calabria" with Alex Gaudino. All three of her studio albums produced a Top 40 hit on the Billboard Hot 100. In December 2016, Billboard magazine ranked her as one of the most successful dance artists of all time. Her accolades include six ASCAP Songwriter awards, three American Music Award nominations, an MTV Video Music Award nod, four Billboard Music Awards and twelve No. 1 Billboard Dance Chart hits. Her hit song "Gypsy Woman" has been sampled hundreds of times. Though her music sales have yet to be re-certified, Waters has sold over 7 million records worldwide.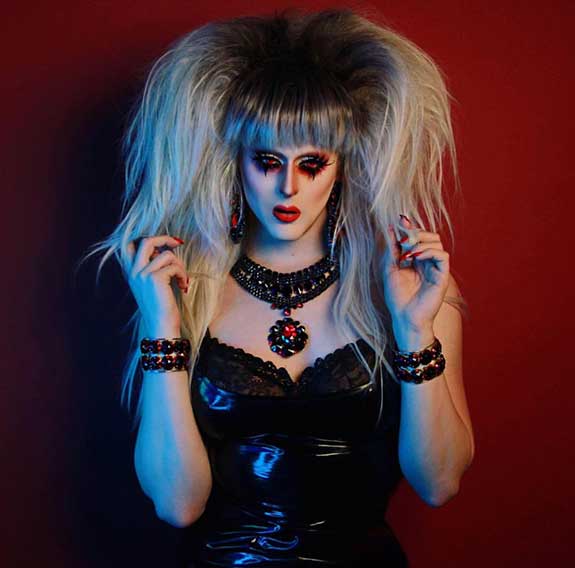 Performing Saturday, October 7, 2023 | Las Vegas PRIDE Festival | 6 pm
Craig Ranch Regional Park
Biqtch Puddin' is an American drag performer and one of the ten contestants to compete on the second season of The Boulet Brothers' Dragula. At the end of Episode 10, Biqtch Puddin won the crown and title of "America's Next Drag Supermonster", putting James Majesty and Victoria Elizabeth Black as Runners-Up.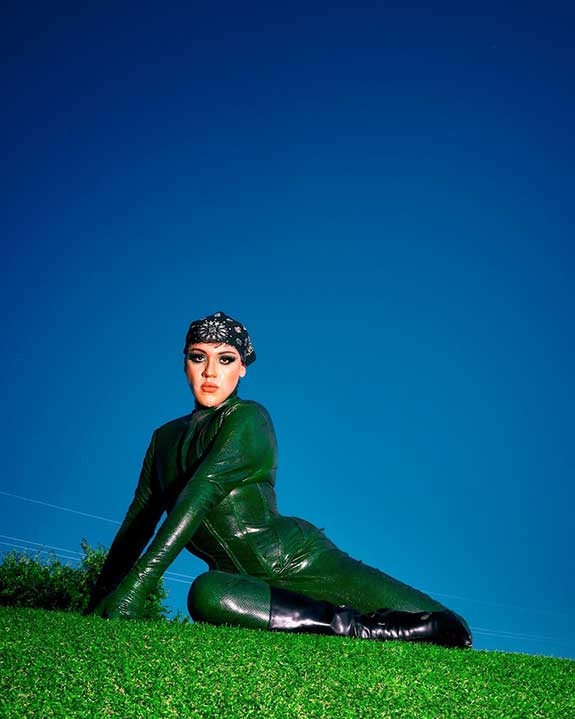 Performing Saturday, October 7, 2023 | Las Vegas PRIDE Festival | 6:45 pm
Craig Ranch Regional Park
Dorian Delafuente, a.k.a. BabiBoi, is an Austin-based, San Antonio-raised rapper, artist, and Ballroom commentator for Ballroom collective House of Lapore. Lyricism, fashion and "sexy, raunchy girl attitude" of artists ranging from Nicki Minaj and Lady Gaga to Missy Elliott and Grace Jones, create BabiBoi's tank of inspiration, ignited by a mission to correct and address the under and misrepresentation of gay and queer people in hip hop culture. BabiBoi's music has been reviewed and revered in Austin all the way up to Billboard and Paste magazine.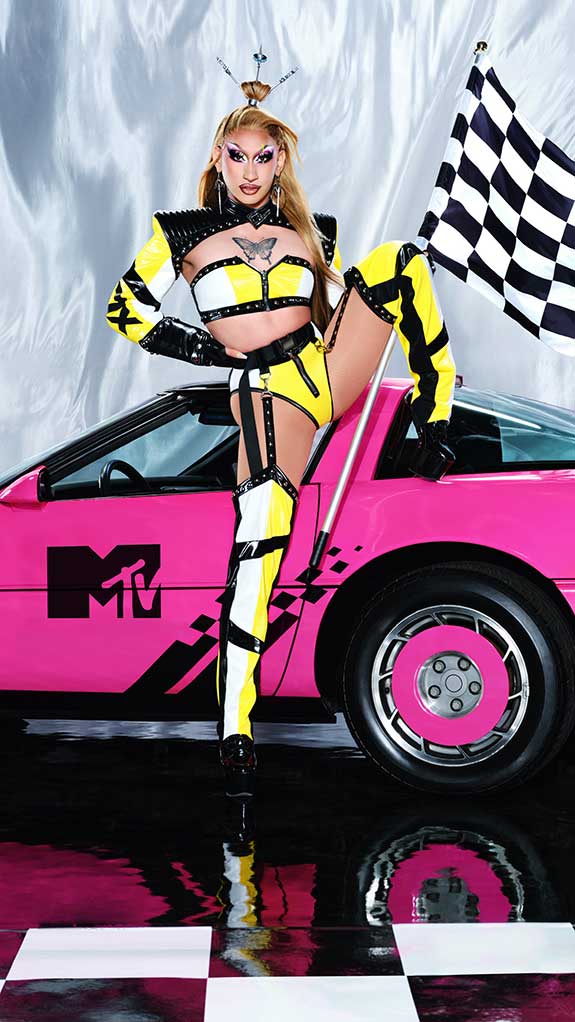 Performing Saturday, October 7, 2023 | Las Vegas PRIDE Festival | 8 pm
Craig Ranch Regional Park
Anetra was cast for and competed in the fifteenth season of RuPaul's Drag Race. She won three challenges and placed in the final two, finishing as runner-up to Sasha Colby. One of the challenges Anetra won was the talent show. Her performance included "duck-walking, taekwondo moves, and a fierce original song", according to Pride.com's Bernardo Sim. The song was the first Anetra ever recorded. Anetra's performance became "the most-viewed cross-platform scene ever published to RuPaul's Drag Race social media accounts with over 13.1 million views across Instagram, TikTok, Facebook, YouTube shorts, and Twitter". This performance also made her the queen with the biggest amount of growth on social media from Season 15, gaining more than 500,000 followers on Instagram while the season was airing. Stephen Daw of Billboard called her performance "iconic", and Charlie Duncan of PinkNews said the song's phrase "walk that fucking duck" is "set to be the catchphrase that will define season 15". Sam Damshenas of Gay Times wrote, "Anetra's martial arts lip-sync extravaganza has been hailed as one of the best talent show performances in Drag Race herstory." Screen Rant's Michelle Konopka Alonzo included Anetra in a list of 15 "queens who made amazing first impressions" on Drag Race and said she "quickly became a fan favorite and internet sensation after the premiere".
In addition to the performers introduced above, the Las Vegas PRIDE Festival is proud to present the following entertainment:
AMPHITHEATER STAGE
12 NOON – KHRIS O'NEIL
1 PM – ZUMBA
2 PM – LAS VEGAS LATIN PRIDE
2:30 PM – HOUSE OF VEGAS PRIDE
3 PM – EMPIRE RECORDS
4 PM – NORMA LLYAMAN
4:15 PM – LAS VEGAS PRIDE ROYALTY
4:30 PM – THE CAST OF COSPLAY IN CONCERT
4:45 PM – AMOR DIOR BLACK AND GIRLS
5 PM – BLESSING BY  THE SIN SITY SISTERS OF PERPETUAL INDULGENCE
5:15 PM – CRYSTAL WATERS
5:45 – LORENZO LOUIS
6 PM – BIQTCH PUDDIN'
6:15 PM – NICKY SATURN
6:45 PM – BABIBOI
7 PM – ELISHALY
7:15 PM – LADY Q
7:30 PM – LACHERRY
7:45 PM – JOLENE SECRETS (AKA JOJO BEAR) MISS LAS VEGAS PRIDE 2023
8 PM – ANETRA
8:15 PM – DMGD
8:30 PM – REECEZ SEXTON
8:45 PM SONORA MAR Y MAR
RAINBOW STAGE
12:30 PM – 2 PM
KID'S ENTERTAINMENT FEATURING THE FAIRYTALE LAND PLAYERS
2 PM – 3 PM
SENSE & SIN BURLESQUE FEATURING:
MAYVEN MISSBEHAVIN
BRANDI GLASS
ISABELLA IVY
THE SWEET SIREN
ILYROYALE W/CHEESE
MISSY (STAGE KITTEN)
3 PM – 5 PM
SAPPHO'S GARDEN ENTERTAINMENT
5 PM – 6 PM
KEYSKA DIVA
KING KRIS
SOPHIA KENNEDY
FAYTRIANA EVANS
TRAVIS FOXX
6PM –  10PM
HOUSE OF VEGAS PRIDE
LAS VEGAS LATIN PRIDE