2022 PRIDE Festival Entertainment
Listed below are some of the currently announced entertainers scheduled to provide entertainment at the Las Vegas PRIDE Festival. Entertainers please note that the 2022 PRIDE Festival Lineup is closed.
Every year the Las Vegas PRIDE Festival brings in an eclectic mix of talent to entertain the masses, and 2022 will be no exception (Please note: appearance times are subject to change).  On with the entertainment!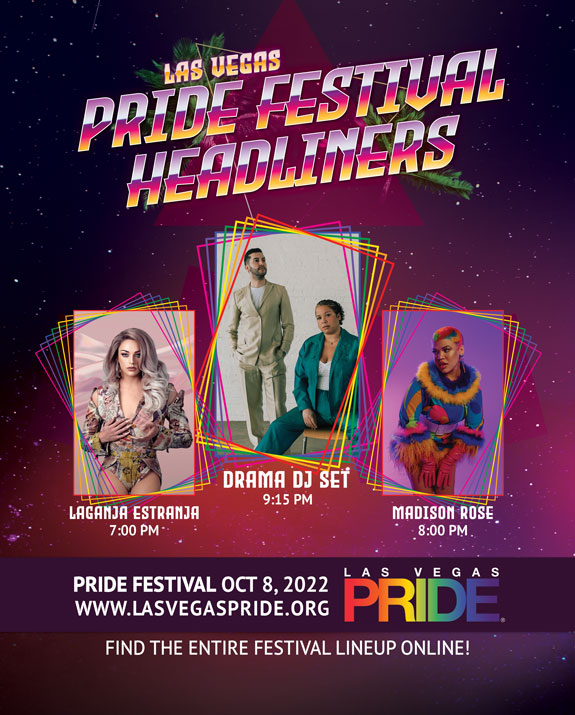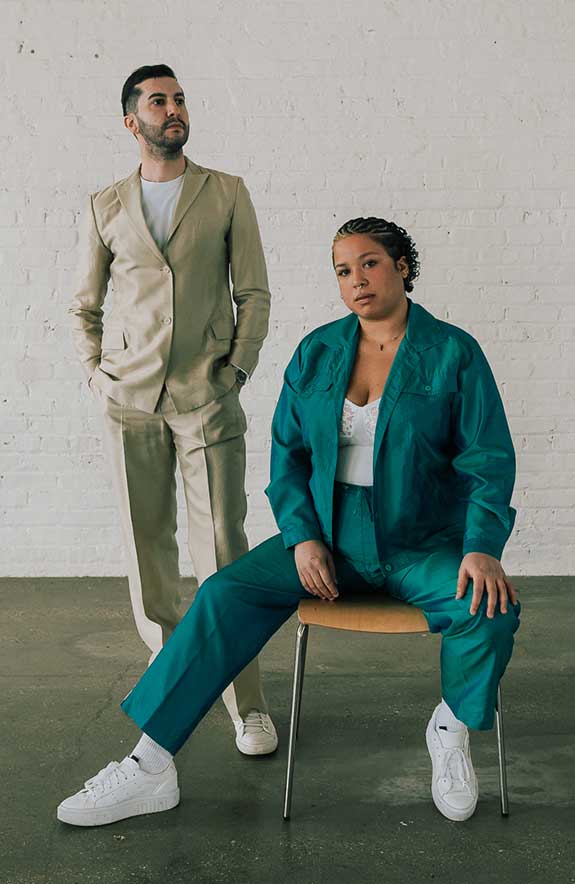 Performing Saturday, October 8, 2022 | Las Vegas PRIDE Festival | 9:15pm
Craig Ranch Regional Park
DRAMA is the multicultural collaboration between producer Na'el Shehade's chic Chicago house-infused production style, and vocalist Via Rosa whose soulful delivery is inspired by the improvisational nature of jazz and playful patterns of hip-hop and bossa nova. The duo play to the complementary dynamics of their unlikely pairing by blurring the lines between R&B and dance-pop, heartbreak and bliss.
Visit their website at: www.thedramaduo.com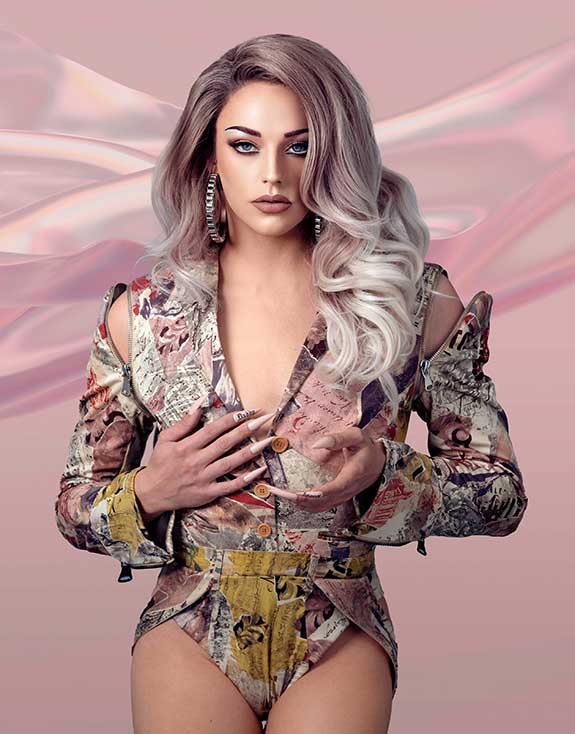 Performing Saturday, October 8, 2022 | Las Vegas PRIDE Festival | 7pm
Craig Ranch Regional Park
After appearing as a contestant on Season 6 of Rupaul's Drag Race, Laganja Estranja has performed in front of sold out crowds across the US and headlined performances around the world including; South America, Europe and Australia. Laganja's other notable credits & appearances include; iHeartRadio Awards with JLo, NYEonFox with LeAnn Rimes, The American Music Awards with Christina Aguilera, VMAs with Miley Cyrus, Bong Appetit (Viceland), and Skin Wars (GSN). She has also appeared in music videos for Todrick Halls' 'Expensive" and "Beauty and the Beat Boots". Laganja was also a featured rapper in Alaska Thunderfuck's (RPDR All Stars 3 Winner) song for "Gimme All Your Money" from Alaska's debut album "Anus". The official music video for that song has received over 2M views. Laganja's music career began in 2014 with her hit single "Legs" featuring international rapper Rye Rye. Laganja is a trained dancer with a BFA from The California Institute of the Arts. She is also a Presidential Scholar in the Arts and presented her choreography at the Kennedy Center in Washington, DC. Laganja appeared as a contestant on Season 15 and 16 of So You Think You Can Dance, and most recently on Discovery+'s Chopped 420 as a celebrity judge. Laganja's choreography credits include McDonalds, Germany's Next Top Model, NYC Cosmetics' FACE Awards, and for Miley Cyrus, Brooke Candy, and the current Trixie & Katya tour.
Find Laganja online at: laganjaestranja.com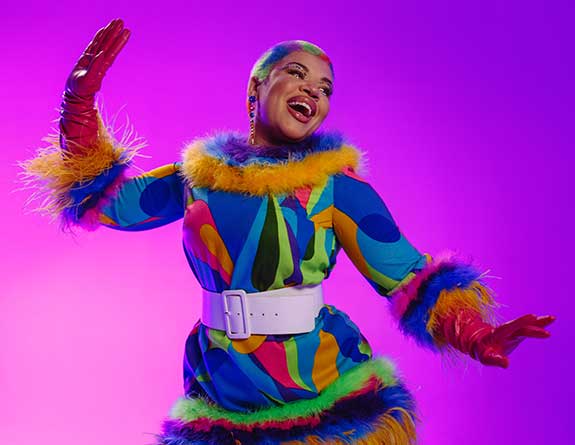 Performing Saturday, October 8, 2022 | Las Vegas PRIDE Festival | 8pm
Craig Ranch Regional Park
Madison Rose has slid down a rainbow from an alternate universe to wake everyone up to the full acceptance of others and most importantly – themselves.
This electrifying artist has been featured in Paper Magazine and Rolling Stone and has racked up over 18 million streams across streaming platforms. The self proclaimed "rainbow girl against a storm cloud world" is authentically and independently on the rise and released her debut album "Technicolor" on May 27th, 2022. The album is receiving rave reviews, with the infectious track "Moonlight" being added to Spotify's New Music Friday, and lighting dance floors on fire.
Find Madison Rose online at: linktr.ee/iammadisonrose
In addition to the performers introduced above, the Las Vegas PRIDE Festival is proud to present the following entertainment: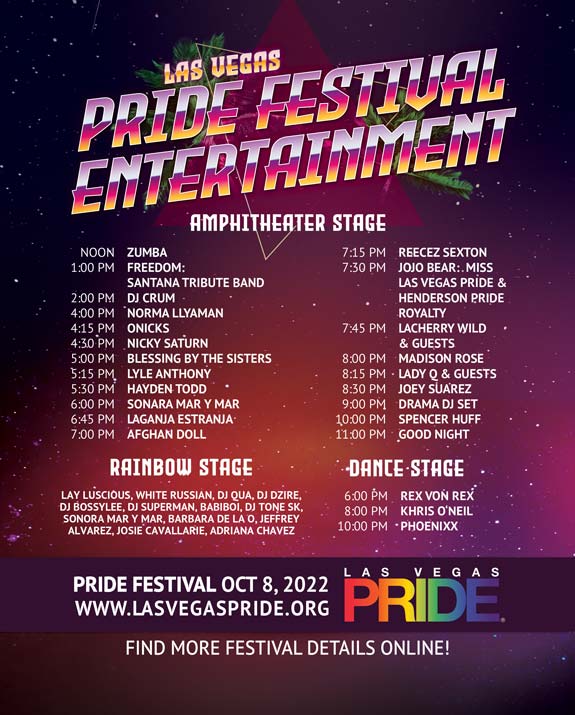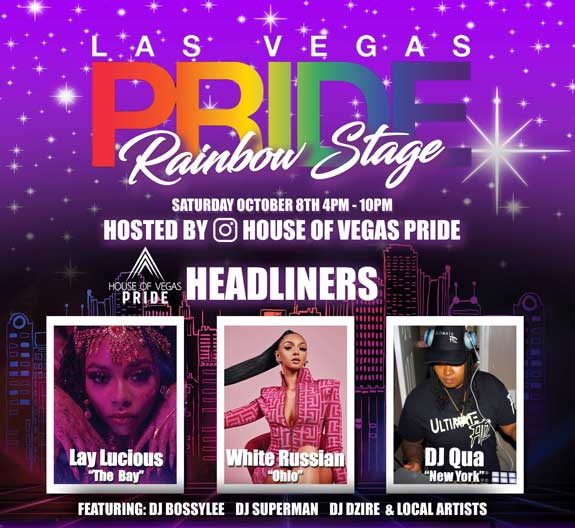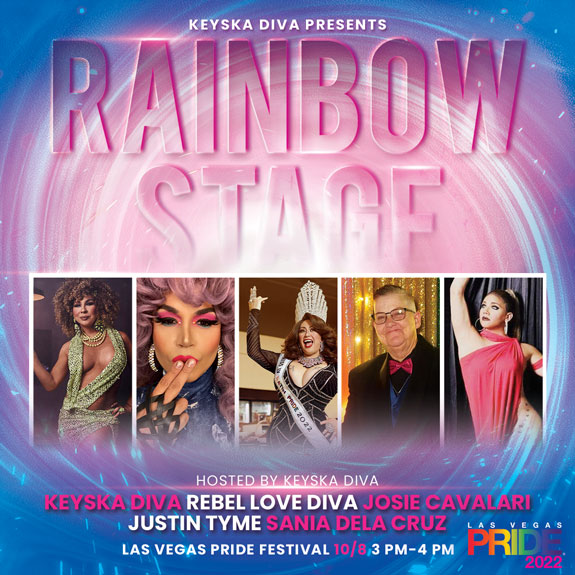 AMPHITHEATER STAGE
NOON    ZUMBA
1:00 PM    FREEDOM: SANTANA TRIBUTE BAND
2:00 PM    DJ CRUM
4:00 PM    NORMA LLYAMAN
4:15 PM    ONICKS
4:30 PM    NICKY SATURN
5:00 PM    BLESSING BY THE SISTERS
5:15 PM    LYLE ANTHONY
5:30 PM    HAYDEN TODD
6:00 PM    SONARA MAR Y MAR
6:45 PM    LAGANJA ESTRANJA
7:00 PM    AFGHAN DOLL
7:15 PM    REECEZ SEXTON
7:30 PM    JOJO BEAR: MISS LAS VEGAS PRIDE 2022 & HENDERSON PRIDE ROYALTY
7:45 PM    LACHERRY WILD & GUESTS
8:00 PM    MADISON ROSE
8:15 PM    LADY Q & GUESTS
8:30 PM    JOEY SUAREZ
9:00 PM    DRAMA DJ SET
10:00 PM    SPENCER HUFF
11:00 PM    GOOD NIGHT
RAINBOW STAGE
1 PM – 2 PM
GET MARRIED AT PRIDE!
3 PM – 4 PM
KEYSKA DIVA
REBEL LOVE DIVA
JOSIE CAVALARI
JUSTIN TYME
SANIA DELA CRUZ
4PM –  7PM
SONORA MAR Y MAR
BARBARA DE LA O
JEFFREY ALVAREZ
JOSIE CAVALLARIE
ADRIANA CHAVEZ
DJ TONE SK
JC RAMIREZ
LA WHATEVER
7 PM – 10 PM
LAY LUSCIOUS
WHITE RUSSIAN
DJ QUA
DJ DZIRE
DJ BOSSYLEE
DJ SUPERMAN
BABIBOI
DANCE STAGE
6:00 PM     REX VON REX
8:00 PM     KRIS O'NEIL
10:00 PM     PHOENIXX