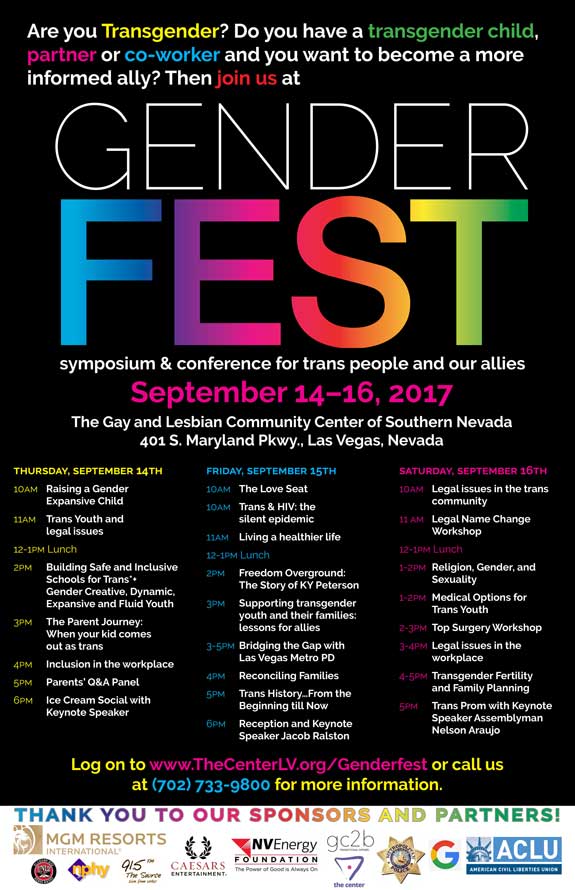 Genderfest
September 15, 2017 @ 10:00 am

-

7:00 pm
Are you Transgender? Do you have a transgender child, partner or co-worker and you want to become a more informed ally? Then join us at Genderfest symposium & conference for trans people and our allies September 14–16, 2017 at The Gay and Lesbian Community Center of Southern Nevada (401 S. Maryland Pkwy., Las Vegas, Nevada). Log on to www.TheCenterLV.org/Genderfest or call us at (702) 733-9800 for more information.
Friday, September 15th
10am – The Love Seat
10am – Trans & HIV: The Silent Epidemic
11am – Living A Healthier Life
12-1pm – Lunch
2pm – Freedom Overground: The Story Of KY Peterson
3pm – Supporting Transgender Youth And Their Families: Lessons For Allies
3-5pm – Bridging The Gap With Las Vegas Metro PD
4pm – Reconciling Families
5pm – Trans History…From The Beginning Till Now
6pm – Reception And Keynote Speaker Jacob Ralston
Share This!