Building Magic.
A Journey of Creativity & Collaboration
Las Vegas is a city much more than the bright facade of lights and sculpted stucco. The dazzling shows of world-class entertainers were what diverted me from a career in Broadway's endless revivals and rigid design hierarchy. Not only is Las Vegas a place that allows everyone to participate in the magic that draws millions of annual visitors, it is also a safe and inclusive place to call home and build community. Upon seeing a production of "O," I knew I needed to change gears and move to the true entertainment capital of the world, Las Vegas.
I soon landed a dream job managing props and sets for Cirque du Soleil, where I spent years working alongside some of the most talented people I've ever met. I learned to build collaborative teams that use new tools and materials to deliver reliable results.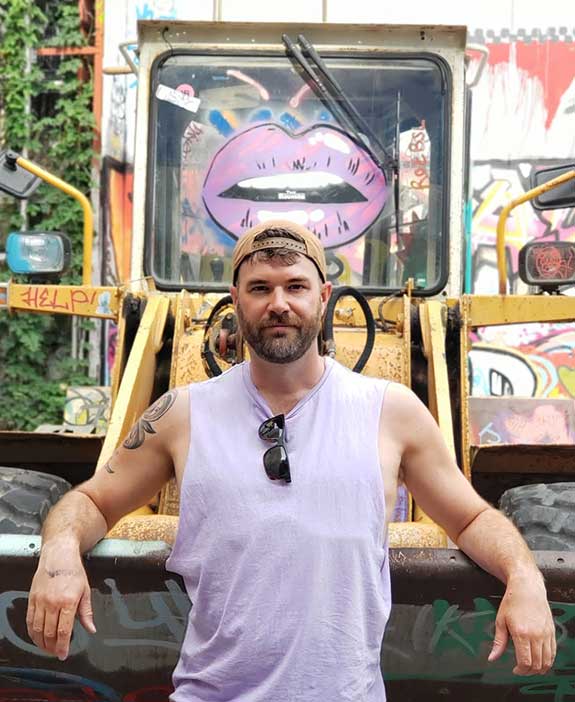 When I wasn't backstage fixing stuff with my teams, I volunteered my time with Las Vegas PRIDE and helped create many colorful parade costumes. Much like my background in theater, I learned that you can create eye-catching costume pieces with everyday materials like posterboard, wire, fabric, and hot glue. This combination of craft and queer-positivity introduced me to the world of drag.
Through Las Vegas PRIDE, I met many drag performers and was able to utilize my unique background in theater and fabrication to create a lot of fun pieces. One of my favorites was a Lady Gaga "Monster Ball" inspired costume for Andrew Ryan. I created several patterns on posterboard to balance the silhouette and proportion. I then had this cut and bent in thin-gauge mirrored stainless steel by a metal shop that normally makes custom kitchen equipment. We riveted everything together, filled in some gaps with some folded star shapes (we made in plastic mirrored Ikea placemats), and then Andrew brought the whole thing to life with his captivating performance. It was exhilarating to see something I made literally come to life.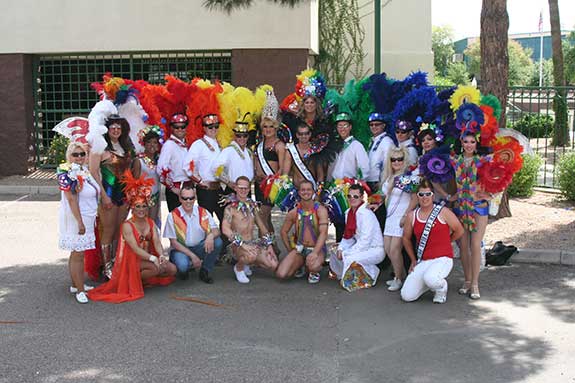 Andrew introduced me to the legendary Coco Vega (aka Joey Santellana). Coco is a phenomenal performer and costume maker who graciously took the time from her busy schedule making award-winning pageant gowns to teach me patterning techniques that I still use to this day. Coco also connected me with Alyssa Edwards, who wanted a version of a camera dress I had originally made for Andrew Ryan. In order to re-create the (now infamous) Camera Dress that she wore on RuPaul's Drag Race All Stars Season 2, I started with a foundation in thick neoprene to support the cameras' bolted connections and then wired the dress with 36 individual strobe lights to create a camera flash effect. Some of the larger cameras were molded and cast in lightweight foam with painted details, but most were made from plastic piggy banks and squirt guns. I used additional wiring as detail texture between the cameras to help break up the monochromatic color scheme.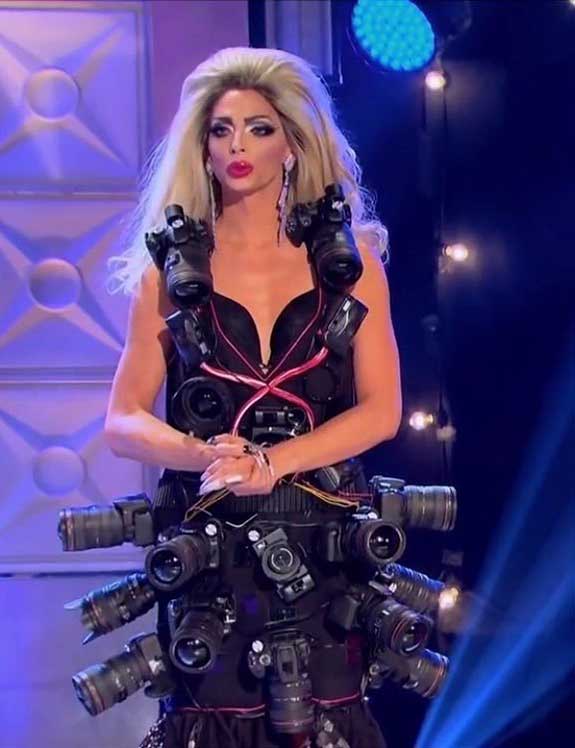 Building many pieces for Andrew Ryan caught the attention of another Las Vegas icon: Armando Farfan of "Living Art of Armando." Armando had seen some items I had made for Andrew inspired by pieces he had made for performers like Pink, Katy Perry, and Britney Spears. I ended up assisting Armando with many projects, including the 2016 Victoria's Secret fashion show. That show was a lot of fun because we were working in the VS headquarters in New York City, jumping from filmed fittings with supermodels and back down the hall to our fabrication space to make quick adjustments or (in some cases) complete re-builds of wings that the editorial team wanted to try. I remember needing to match a wing backpack (the interior metal structure that supports the decorative wings) to the model's lingerie, but they didn't have any more of that color, so they had the model give me the lingerie she had worn in the fitting so that I could sew it into a cover for the structure. It is the only time "used lingerie" was a medium for my work.
On that trip to New York, I also met Trixie Mattel (aka Brian Firkus) for the first time at a party hosted by one of our mutual friends, Boomer Banks. In 2016 Trixie had not yet been on RuPaul's Drag Race All Stars and was still a few years out from launching her incredibly successful Trixie Cosmetics company. We ended up chatting during the party and clicked. I spent most of the evening laughing at Brian's signature quick and dry jokes instead of paying attention to the party.
Trixie and I became friends, and he asked me to make several pieces for him over the years. One of the first fun projects I did was a headpiece of a stack of red books that he wore on RuPaul's Drag Race All Stars Season 3. I made the books out of foam and skinned them with real book covers wrapped in red fabric. These all sat on top of a long bolt threaded onto a headband she could pin into her wig. The center bolt allowed her to adjust the stack of books to her liking, and I also mounted a small pin on the top book so she could set an apple on top, pull it off during the runway, and take a bite (which I hear gagged RuPaul.)
Trixie then asked me to build a small pink jeep that she could drive for her entrance-look for RuPaul's Drag-Con. I started with an electronic go-kart and skinned it with some parts off of a kid's "power wheels" toy. I filled in the missing pieces with some panels I made and completed the look with custom stickers for the dashboard. The piece was a big hit, and it was the first time I saw fans get tattoos of something I had made. For several years after this event, Trixie parked this toy jeep in her condo's assigned parking spot as this was the only car she owned.
The following year, Trixie asked me to build a large tube of lipstick that she could ride on for her entrance to Drag-con. I used the base of a coin-operated small kid's amusement ride but replaced the fiberglass galloping horse with a large, upholstered Trixie Cosmetic lipstick made from wood and foam. This was all mounted to a rolling base with a hidden battery that would operate the lipstick when a coin was deposited. When it came time for the event, she asked me to accompany her on the pink carpet as the lipstick needed one person to push it. It was a huge thrill to walk this event with her and to hear the crowd cheer for her entrance. The rideable lipstick is still in the Trixie Cosmetics headquarters and can be seen on the TV show Trixie Motel.
With all the drag work taking over more of my time, I decided to take the plunge and leave Las Vegas for Los Angeles. I had been in Vegas for nearly ten years and was itching for some new challenges that I thought LA might be able to offer. It was a big scary step to give up a lot of security and step back into a new and much larger city, but the risk was worth it. I took a full-time position with a scenery company building "Rise of the Resistance" for Disneyland and Disneyworld. For nearly two years, I helped turn Disney's fanciful renderings into production drawings that were then built, painted, and installed in their two parks. We worked with unique materials to create futuristic sets that can be seen from any perspective and last for decades to come. It was incredibly gratifying to build something that I knew would bring so much joy to a new group of people every 30 seconds, 16 hours a day, on an attraction that will outlive me.
After Star Wars, I was the Set Manager for Universal's "Jurassic World: The Ride" revamp in Hollywood. This was another fun but incredibly demanding job I am proud to have been part of. We were so behind on that project due to the weather that I never got to ride the final version of the attraction currently open to the public. I remember reviewing daily construction progress with my coffee on many cold and rainy mornings while walking the ride path. I found the Raptor Paddock to be one of the best places in the attraction to have phone meetings and send emails when away from my construction trailer. There was also a ton of maintenance to be done on a water ride that originally opened in 1996, and my experience working with water attractions in Vegas was a huge help. The attraction is now open at Universal Studios Hollywood.
I later took a job with Rose Brand, a company I worked with during my Cirque days. Rose Brand sells fabrics and custom-sewn pieces all over the planet. I now manage the Tech dept for the West Coast, managing all the unusual projects that come to us from Broadway, film studios, theme parks, and more. We have some serious Non-Disclosure Agreements since we work with so many clients, so a lot of my job has to stay tight-lipped. But on any given day, I am in meetings discussing upcoming award shows or architectural projects, visiting shows and sites to discuss creative solutions to make everyone's ideas come to life, or even rolling up my sleeves and doing some final hand-sewing around animatronics in high profile theme park attractions. My day-to-day never gets boring, and I love working with a collaborative and respectful team.
As if that isn't enough, I have another hobby called handmadebyjacob.com, where I make and sell drag-inspired crowns, jewelry, and accessories. This hobby utilizes my love of drafting to develop patterns that I laser-cut in acrylic. It is an entirely new medium for me, and the demand is hard to keep up with. My pieces are all made by hand and come from patterns that I meticulously revise to their final version on my website (www.handmadebyjacob.com). The stuff I make is what people wear when they want to feel special and have a good time, and I love being a part of that. It is another level of joy to attend a concert or festival and see people wearing stuff I have made. One of my favorite pieces is my Echo Crown series, composed of two layers of vinyl in slightly offset shapes sandwiched between two layers of different-sized acrylic. The vinyl acts as a hinge to make the crown flexible, while the acrylic forms the main structural shapes of the crown.
My work with handmadebyjacob.com led me to work with costume designer and underwear icon Marco Marco (marcomarcounderwear.com). Marco and I have collaborated on many pieces for his celeb clients. He utilizes my skills to push his designs further into the bold and unconventional world. Marco can sketch something, send it to me to pattern, and I will mock up the piece in cardboard to get the scale correct before making the final acrylic cuts. I then assemble it and deliver it to his studio for the client's fitting. Once, Marco called me about a last-minute belt buckle for Tyra Banks that I designed, made, and delivered in under 4 hours! My favorite piece was a large patriotic crown for Eureka O'Hara on HBO's We're Here. I adjusted the crown to the larger-than-life proportions of Eureka (who stands over 7' in heels). The crown was used on the episode that won an Emmy for Best Costume Design in 2022. Marco Marco surprised me with an official Emmy certificate to honor my contribution to their win. I was beyond flattered to help such a positive show take home this prestigious award. Marco Marco also features some of my crowns and accessories for sale on his website, along with his bold apparel and sexy underwear.
One of my recent full-circle projects was a piece I did for Katy Perry. I have always been a fan of KP's, and I met her stylist/costume designer Johnny Wujek on a few collaborative projects over the years in LA. Johnny's projects are often for celeb clients who want unique pieces that look high-end. Johnny called me about a mushroom hat he wanted for a KP photoshoot. We looked over a lot of research, and then I began fabricating a few prototypes. When trying new fabrication techniques, I often work on a few different versions simultaneously, allowing me to share techniques between versions. I often have a better result than if I had worked on just one at a time. I sculpted the mushroom out of foam and face-timed Johnny to get feedback on shape and size. Ultimately, the mushroom hat was used in a promo shoot to announce KP's residence show "Play" in Las Vegas. The image was plastered all over billboards and magazines and was used to inspire the final design of her costumes in the show. Making something with my hands in my studio and then seeing it projected all over Las Vegas onto building-sized billboards was absolutely surreal. The image was also used in all of KP's social media and online profiles. I am looking forward to the next Johnny and Katy project.
Prior to my decade in Vegas, my work was predominantly scenery. I was more comfortable with my work being in the background and with less complicated interaction with performers. My mentors in Vegas taught me not to be afraid to sink my teeth into new challenges and always to be open to learning new techniques. Drag, specifically, is an art form that utilizes any/all tools available to give the best performance possible. I never thought of Drag much more than light bar entertainment, but I didn't realize that Drag is an entire playground with very few lines to color within, limited only to your imagination.
I choose to balance my time with creating more than consuming. Creating keeps me actively thinking and engaged with life instead of following the rigid path of consumption, which I think can lead to brain atrophy. I truly enjoy helping create a life more full of joy for everyone. Keep an eye out for more of my work in the future; you never know where I'll pop up next!