Gay Tripping: Canyons, Hot Springs, and Wildflowers, Oh my!
Tis the season – okay, maybe it is not winter wonderland any more here in the desert; however, it is the season for wildflower blooms, day hiking and maybe even checking out a nearby hot spring. It must be hard to picture sometimes when we get caught up in our day to day and fully emerged in sin city's hustle and bustle. But in those broad landscapes that surround us, there are pockets of oases offering us a small reprieve. So if you are looking for something to do on those hard earned days off, pack a cooler, grab a friend, hop in the car because we are going gay tripping.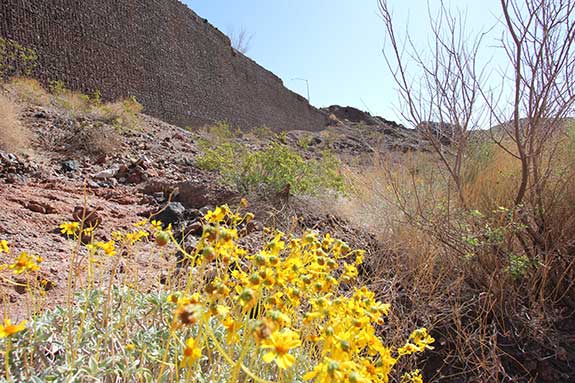 It still amazes me when I meet people who have been in Vegas for more than a couple of years and they have never been to Lake Mead, or Boulder City, or who are surprised to hear there are hot springs really close by. True, the outdoors are not for everyone, but if they are, there are some fun and different things to check out nearby.
The fun thing about a gay trip is that despite the hurting we are all feeling in the wallet when we go to fill up with gas these days, these options and destinations are close enough to not burn through a lot of your tank. So if you are wallet conscious and happen to have a friend that has a hybrid or electric car, grab them! Also, if you spend a little time preparing – pack a cooler with drinks, bring snacks, make a sandwich, etc., gay tripping can not only be economical but also an individualized experience. As always though, remember we are in the desert. Sunscreen, protective wear and plenty, plenty of water are a must.
Heading south on the 95/515 leads you out of town through the city of Henderson towards Boulder City along route 93. This little town popped up in the 1930's mainly to house Hoover Dam workers and their families. It has grown into a compact and tight knit community, albeit somewhat conservative, that protects itself against residential and commercial sprawl by limiting expanse. With that said, it does have a cute downtown area with an older vibe and some modern eateries and a brewery sprinkled in.
But if adventure is what you seek, keep driving. If you want a challenge, head towards the Gold Strike trailhead, which is just opposite of the Hoover Dam. Be warned, this hike is challenging, consisting of some rock scrambles, loose paths and if you wait too late in the day to get started, it is going to be hot. You have to pack in all your water and really suggest a water reservoir of some sort for this one. It is a six mile out and back hike, but what awaits is a unique experience. There are hot springs in the canyon near the trail's end, as well as the option to reach the Colorado River, near the outlet at the base of the dam. Little known fact is that this trail lies in the Lake Mead Recreation Area, so no entrance fee and no camping reservations or fees are required if you wanted to make this a backpacking trip. Just pack out what you pack in and leave this part of the desert better than how you found it.
Again, the Gold Strike Hot Springs hike is challenging and hard, you will earn any reward you reap from it. If you are looking for something not so hard on the joints, there are two other hikes nearby that are just waiting to be used. One is the Historic Railroad Tunnel hike, often travelled during out PRIDE OUTside monthly hikes during the off season. It is an easy (as in flat) eight mile out and back hike that offers some reprieve from the sun in one of its five tunnels built during the construction of that dam nearby. The other hike worth checking out is the River Mountain Trail and its trailhead is found along route 93. Just shy of six miles, this a moderate hike with some elevation gain. The vistas along the trail though, of both the lake and the surrounding area, are really something. The later in the day you go, the more people you will encounter, so be warned.
And when you are all done, with whatever outside activity you chose, there are even options to relax and recover nearby. The Hoover Dam Lodge offers an air-conditioned casino, bar and food options. If you packed that cooler though, Hemenway Park is a great destination for a quick picnic and with its scattered trees, offers a place to relax and get out of the sun. Plus, this is a hot spot for big horned sheep and you will usually find a herd grazing or chilling in the park. These sheep can live up to 15 years in the wild and are known for their head to head battles between males. Just remember they are wild animals and pretty sure a human on the receiving end of one of those charges or a stampede would not fare well.
The desert awaits, so what are you waiting for?