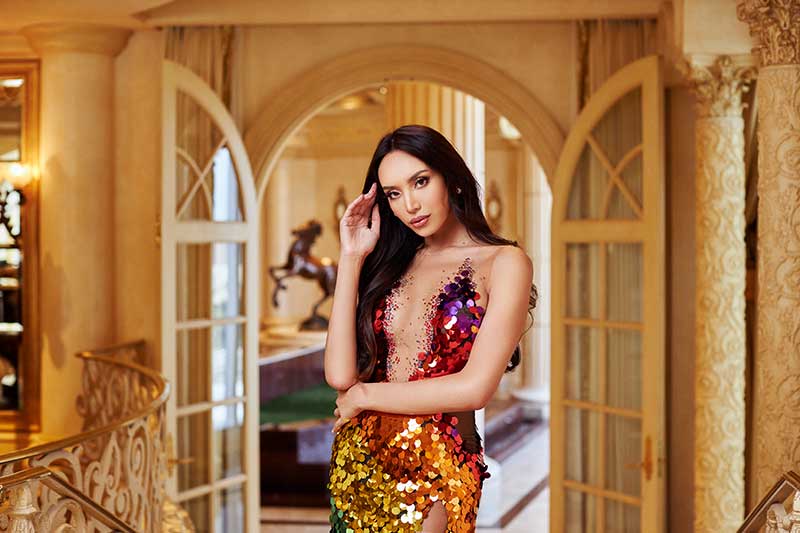 Kataluna Enriquez: History in the Making
Article by Joslyn Hatfield
Photography by Yev Z Photography
In a stunning rainbow gown, she designed herself, Kataluna Enriquez exploded on to the national scene making history as Miss Nevada USA. The win is of huge cultural significance because she will be the first openly transgender contestant to compete in the Miss USA pageant when she returns to the stage this fall.
Enriquez beat 21 women for the chance to represent the Silver State at the 2021 Miss USA pageant that will be held on Nov. 29 in Tulsa, OK. where she will have a chance to be crowned Miss USA and advance to the Miss Universe pageant.
If crowned Miss USA, Enriquez will become the second trans contestant to compete for Miss Universe, after Angela Ponce, who represented Spain in the 2018 Miss Universe pageant. The pageant began allowing transgender contestants in 2012.
Enriquez began competing in pageants in 2015 and began designing and making her own custom gowns to fit her body. Her natural eye for fashion and creativity led her to start her own fashion line, Kataluna Kouture.
Enriquez has faced discrimination on the road to victory but has remained poised and positive in the face of adversity. While competing in another state she was denied a roommate and subjected to a medical exam to "verify" she was a woman before she could compete. Despite her challenges she remains focused on the greater significance of her journey. "My social impact initiative includes a campaign to encourage my community to #bevisible. It's important for us to show up authentically and live our truths," she said.
Miss Nevada Kataluna Enriquez joined Las Vegas PRIDE Magazine at The Villas inside the iconic Westgate Resort Las Vegas to capture the essence of the bygone glamour of old Vegas. The result is so glamourous that even the King of Rock N Roll would have to approve.
Behind the Scenes (Digital Exclusive)
Photography by Miguel Cortes