Save Our Bars
The Phoenix Bar & Lounge
An Interview with Landon Heins
By Joslyn Hatfield
It wasn't so very long ago that the LGBTQ+ community existed largely in the shadows. Finding and fostering community was scarce, difficult, and often downright dangerous, which might partially explain why gay bars have served as an unyielding bedrock in recent LGBTQ+ history.
The cultural, historical, and community impact of LGBTQ+ bars (gay bars) cannot be overstated. As the COVID-19 global pandemic has left us isolated, thick in the thighs, and more anxious than ever, we are issuing a call to action: Save Our Bars. This series will explore some of the few LGBTQ+ spaces that remain and fight like hell to keep every last queer space we have.
The SOBS starts with The Phoenix Bar & Lounge, the location for our cover shoot, and the home of the one and only Ms. Keyska Diva. We caught up with owner Landon Heins for a fireside chat.
Q: You recently celebrated your 7th Anniversary. What advice would you give your former self about running this business before you started?
Heins: Follow your gut, open a kitchen and be patient. The kitchen operations have really saved us during the pandemic. It has allowed us to stay connected to the community and maintain a viable way to survive and keep our people employed.
Q: Can you tell us more about how you have adapted in light of the pandemic?
Heins: We embraced all of the safety requirements and capacity limitations. But we also completely revamped our operations to make it work for our customers and staff. More physical space between our patrons meant we needed additional staff to ensure that our service standards were maintained. It was a shift. But we have made it work.
Q: How has your clientele changed over the last year?
Heins: It's been a challenge to navigate the various mandates, protocols, and rules necessary to operate in the current environment. It's been interesting to see a pretty clear difference among various generations on "going out." We have seen our younger clientele largely adhering to recommendations to stay home. But the older crowd is still coming. One of our customers said, "gay bars are like our church; we need these places." I don't know that we expected that.
When you consider that isolation is linked to all kinds of negative mental health outcomes like depression, anxiety (or worse, suicide), it really becomes even more clear that gay bars and other spaces like this need to be open. People need them. There has been a lot of talk about the "hidden pandemic," and isolation is a big part of that for our community.
What is it about LGBTQ+ bars that meets these needs for connection?
There is power in our ability to gather. Our bars provide a physical space to come together. I think they also offer people a place to be accepted for who they are, have fun, and enjoy life. The Phoenix is very much come-as-you-are. We provide a place for our community to gather, we embrace our allies, and we try to build people up where we can. We are hopeful that we will continue to move towards "opening back up." The economy has suffered, businesses have suffered, and people have too. We are hopeful for better days ahead.
Better days indeed.
The Phoenix is located at 4213 W Sahara Ave. At the time of this publication, reservations are highly recommended as the Nevada State Mandates operating at 25% capacity and a four-person limit per table. Reservations can be made at thephoenixlv.com or by calling (702) 826-2422 for more information.
"There is power in our ability to gather. Our bars provide a physical space to come together. "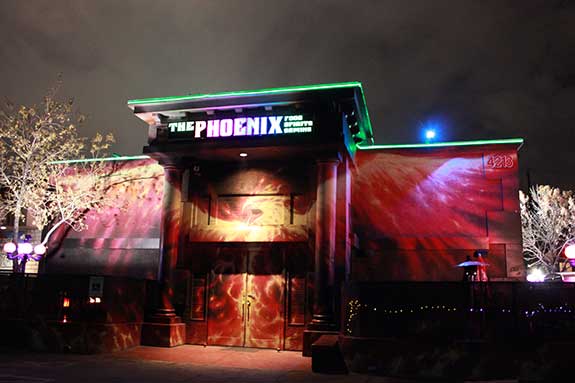 Photograph of The Phoenix Bar & Lounge by Joslyn Hatfield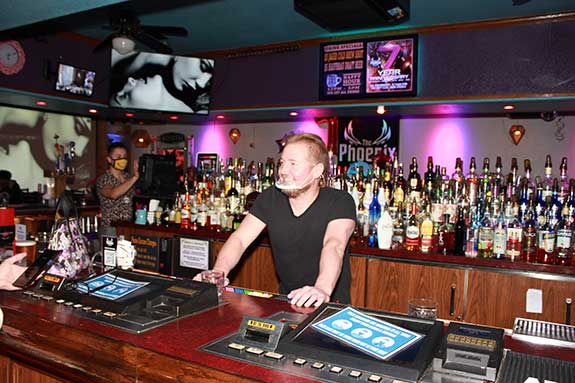 Photograph of Landon Heins at The Phoenix Bar & Lounge by Joslyn Hatfield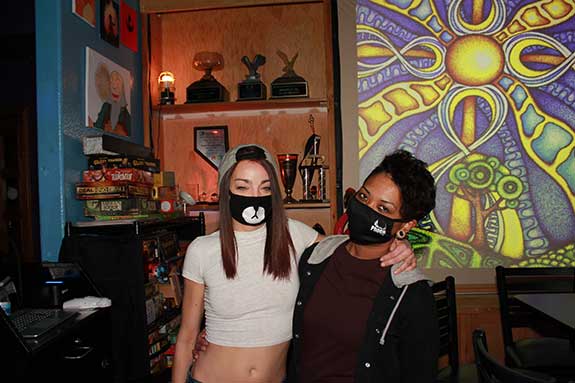 Photograph of Michelle Bell (left) and Ahshley Oneal at The Phoenix Bar & Lounge by Joslyn Hatfield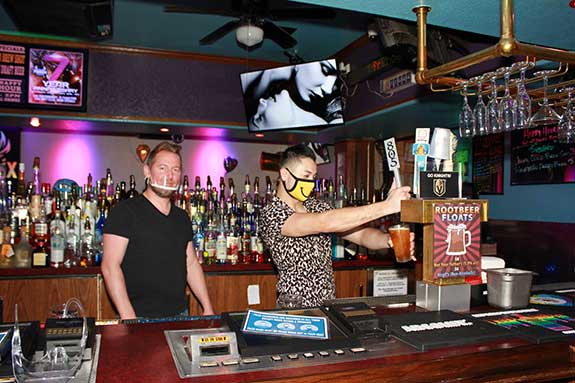 Photograph of Landon Heins at at The Phoenix Bar & Lounge with staff by Joslyn Hatfield