Las Vegas PRIDE OUTside
Group Hiking Events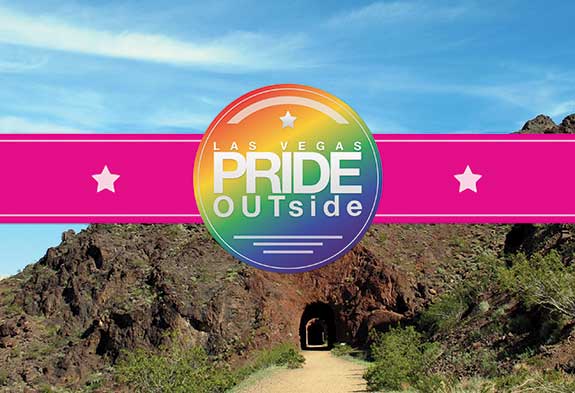 The Las Vegas PRIDE OUTside Hike program began in July of 2015. Community members requested a new event – something LGBT+ focused, all-ages, not in a bar, free to attend, and fun! Brady McGill, then Secretary of the PRIDE Board, had a history of outdoor exploring and took on the project. Now in its fifth year, the PRIDE OUTside Hikes have become a welcome way to get some exercise, mingle with new people, and explore some beautiful scenery in the greater Las Vegas area.
In 2020, the PRIDE OUTside Hikes have been the only in-person events hosted by Las Vegas PRIDE. These events are able to be conducted with proper health and safety precautions and are outdoor events. With in-person events a rarity, it is so nice to have the chance to catch up with friends and experience some social interaction all while spending time outdoors and getting some exercise!
Our featured trail for the next hike will be "The Historic Railroad Tunnel Trail", located in Boulder City. This trail is built on the remnants of the train track built to transport equipment and supplies for the construction of the Hoover Dam. The trail is well-maintained, level, and nearly flat, making it a very welcoming trail for hikers of all experience levels. This trail is also accessible to those needing mobility assistance (we have had participants join us in wheelchairs in the past).
On the PRIDE Hikes, we travel 2.1 miles along the trail, from the parking area adjacent to the Alan Bible Visitor's Center to a picnic area with water fountain and a restroom. There, we take a break before returning to the trailhead. Along the way, we pass through tunnels created for the train and equipment to make their way down to the construction sites, beautiful desert landscapes, and stunning views over Lake Mead.
If you plan to attend a hike, please take some precautions with appropriate footwear and clothing. Wear sunscreen and bring snacks and plenty of water! If you have any questions or would like to connect with Brady, please email him at:
hike@lasvegaspride.org.
Upcoming Events:
Second Sundays Monthly – 10am
(No events December-January)
February 14, 2021
Historic Railroad Tunnel
March 14, 2021
Calico Basin (Kraft Mountain Loop)
The entire 2021 hiking schedule and additional information is available online here.