MX Native UNLV
Annika Roseen
Representation, Activism and Mental Health
By Las Vegas PRIDE Magazine Staff
The Mx. Native UNLV Pageant was introduced in 2018 by the Native American Student Association (NASA) to provide a platform for Indigenous leaders to enact meaningful change and advocate for issues important to them. Mx. Native UNLV, Annika Roseen came to embody these values by advocating for changes in diversity that have made the title more inclusive than ever.
"Prior to 2020, the pageant was called the "Miss Native UNLV Pageant," said Roseen. NASA was already moving towards language that was more inclusive of the full spectrum of identities within the Native community, and she saw an opportunity to advance that work.
"Mx honors all expressions of gender identity," she said, "We felt this allowed Native American students to compete as their authentic selves, so we moved to implement the change." Roseen understands the power of language and felt it was critical that the interest of the full community be represented. "As a member of the queer community myself, I knew the importance of being seen," she said.
Roseen also uses her platform to bring awareness to the national epidemic of Missing and Murdered Indigenous Women. As reported by the National College of American Indians Policy Research Center, Indigenous women and two-spirit people are more than twice as likely to experience sexual violence, domestic and intimate partner violence, sex and human trafficking, and deaths than their non-native peers. She uses the visibility of her title to bring awareness to the initiative.
"Many indigenous researchers are doing amazing work on Indigenous people's experiences of disease and mental health issues impacting our people at extremely high rates," said Roseen. According to the National Alliance on Mental Illness (NAMI), members of indigenous communities share many burdens, including education and healthcare disparities, discrimination, and mental health challenges rooted in a long history of trauma. The result of this trauma includes mental illness, substance use disorders, and suicide.
"Indigenous wellness is integrating more aspects of mental health today, which is incredibly helpful for addressing systemic issues and cycles of trauma," she said. "Trauma is a barrier to healthy individuals and communities." Roseen is particularly excited to begin training as a peer-to-peer advocate. "I derive a lot of fulfillment from my involvement with NAMI," she said. "When I complete the training, I will be able to lead a class that helps individuals cope and live healthy lives with mental illness."
"Indigenous wellness is integrating more aspects of mental health today, which is incredibly helpful for addressing systemic issues and cycles of trauma."
Roseen credits NAMI Program Coordinator Ashley Floyd for nurturing her passion for mental health. "Meeting her changed so many things for me," she said. "I really found my calling for non-profit work and investment in my community while volunteering under her." The passion she observed from her colleague for helping others inspired her to pursue her own calling in mental health. "Her passion is infectious, and when I was beginning to pursue Native American activism, she was the push I needed to get involved in a more significant way."
Roseen counts fellow student leader Ryan Boone and mentor Jonnette Paddy as her most cherished collaborators. "Ryan is my coworker at the Student Diversity and Social Justice center," she said. "He does amazing work promoting language retention and education about preserving culture." Former titleholder Jonnette Paddy makes that list as well. "She is a strong Navajo woman that I really look up to," said Roseen. "She's a great support and inspiration for me in learning about my culture and creating projects that support our people."
Roseen remains grounded by engaging with her support system and dedication herself to her studies and advocacy work. She hopes to travel internationally with her girlfriend when it is safe to do so and pursue a career as a mental health provider. For now, she will settle for improving the health outcomes for her community through advocacy and escape her troubles with the occasional slasher movie marathon with mom.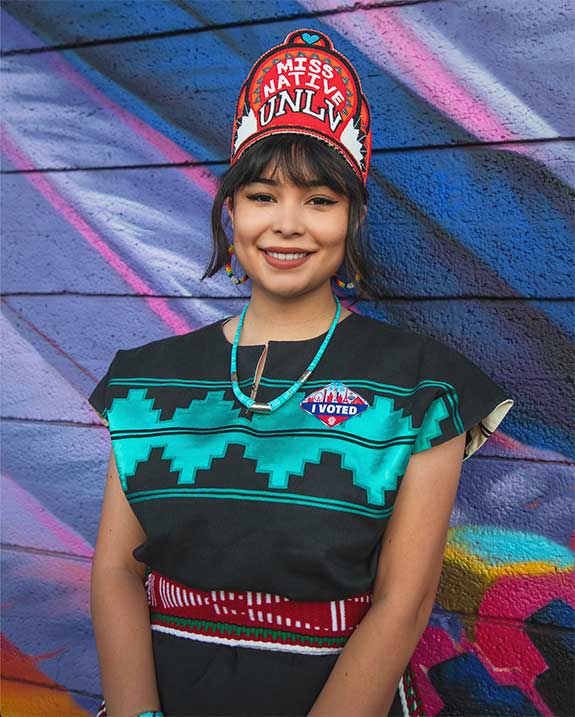 Mx Native UNLV Annika Roseen