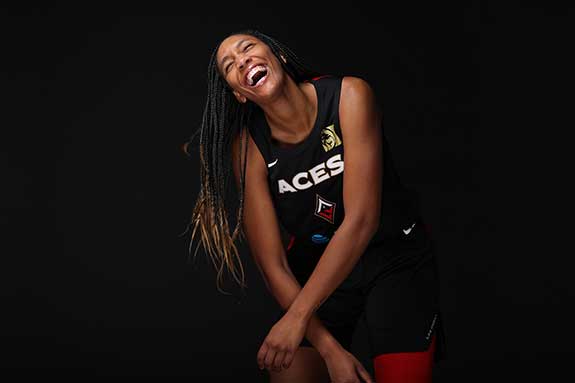 Photograph of A'ja Wilson by Ned Dishman courtesy of Getty Images
A'ja Wilson
WNBA League MVP
A'ja! A'ja! A'ja! If you remember the live Aces games at Mandalay Bay, you have heard her name and maybe even screamed it. If you watched the games played in the Wubble (the WNBA bubble) during the 2020 season, you saw her passion and probably heard her war-cry after sending an opponent's ball out of bounds. Not in her house.
The consummate professional athlete, A'ja Wilson has a career thus far that is littered with accolades and honors. In 2014 while in high school, she was awarded the Naismith Award and named the High School National Player of the Year. In college, while attending the University of South Carolina (Go Gamecocks!), she was selected to First Team All-SEC four times, named SEC Player of the Year three times, won a national championship in 2017 and earned the Wooden Award, the Wade Trophy as well as being named the Associated Press and the Naismith College Player of the Year in 2018.
But Ms. Wilson was not done. After being selected as the first overall pick in the 2018 WNBA draft by our own Las Vegas Aces, she continued to excel and was later named the WNBA Rookie of the Year. She is a two-time All Star and last year, amid the craziness of 2020, she was named the WNBA Most Valuable Player. All of this before she reached the age of 24.
She could drop the mic there, but something tells me Wilson is still not done. Wilson was gracious enough to speak to us and described 2020 as a roller coaster year. "We made it through and that is a blessing," she said. Wilson entered the Wubble determined to do what she needed to do but the MVP award was unexpected, "I honestly wasn't thinking about that during the season," she said. "We knew we had to prepare for an environment unlike anything we had experienced. So that was really my focus."
She is family-oriented, and loves her "fur babies", but in the Wubble, she did not have any of her usual support system. It was mentally, emotionally and spiritually challenging. "It was rewarding to make it to the finals when people never thought we could," said Wilson. But, the experience of being swept in the WNBA finals is not one she will soon forget. "I hated being swept," she said. "Maybe time will bring perspective, but I don't think I will ever be ok with it." She learned a lot about herself and her team through the experience.
Wilson has found a home with the Aces and appreciates that they are forward-thinking. The organization showed true concern for player welfare and generally ensured players were "OK" during the unprecedented experience in isolation. Winning MVP was amazing for Wilson who said, "It's nice to know my name is forever in the record books, next to other great players I respect and admire."
As for the Wubble, well, she would not describe it as fun. "It was hard seeing opponents and referees around constantly," she said. "It was like Groundhog's Day at times." She notes that while it wasn't ideal, it was relatively safe. "We were safer there than anywhere else, and we were able to have a season."
The start of the 2020 WNBA season and the resulting Wubble coincided with much of the racial and social unrest that captured the nation's attention last summer. As a result of the murders of unarmed people of color, or those in police custody, the nation took to the streets in mostly peaceful protests. As professional athletes, players in the WNBA used their platforms to express their solidarity as voices for the voiceless and demand change in support of the Say. Her. Name. initiative.
Wilson joined the Social Justice Council for the league. Recognizing that the WNBA has the most dynamic fan base ever: black, white, straight, gay, they understood what was at stake. "We all care for each other," she said. "To see 144 women come together, striving to create change, make an impact, and demand something better… was powerful."
"Always be true to you, and go at it at your own pace."
The WNBA is transparent about what they do: the players demand change and want to amplify unheard voices. During the season, the Council had the opportunity for a Zoom call with Stacey Abrams and another with Michelle Obama. To her dismay, Wilson missed that call because she was playing. "I am proud of how much we accomplished," she said. "We may not be the only reason for change, but we were certainly a part of it."
After the Wubble, the pandemic forced Wilson to join the rest of the world in spending a lot more time at home. Wilson reluctantly embraced the opportunity to learn how to bake and dialed-in her cooking skills. "I've finally been entrusted with family recipes," she said with pride in her voice. "But I still have no idea how to do Tik Tok."
Wilson plans to attack 2021 the way she does every year. "I'll spend some time setting goals for myself, and I'm excited about what the year might bring," she said. "You can't take steps backwards, only forward." She is excited for what is in the works with the league and the Aces organization. "If we all use our masks, wash our hands and distance ourselves, then maybe we get back a little bit of normal."
The fate of the 2021 Olympics is uncertain, but Wilson is excited to be in the pool of players under consideration for the team. "I would be extremely excited to play for coach Dawn Staley again," she began. "Seeing one of my role models, Dawn Staley, a black woman, named as the head coach of the national team, was inspiring."
Wilson also draws inspiration from the many powerful female role models she has had throughout her life. She still fondly recounts the story behind her signature strand of pearls. "I didn't always fit in as a kid," she said. "My grandmother saw that, and she boosted my self-esteem with a gift of pearls telling me, "Pretty girls wear pearls."' They have been a staple ever since. She describes her family as supportive and gratefully credits them for her development.
Wilson faced her own adversity and learned to persevere. She struggled with dyslexia growing up until she realized that she simply learned differently. "I had to go at my own pace, but once I realized that, I was at ease with it," she said. She learned to be her own support and believe in herself. Her experiences led her to create the A'ja Wilson Foundation to focus on overcoming the stigma of dyslexia and putting an end to bullying.
What would a symbolic string of pearls for the next generation of young women look like for Wilson? It would start with staying true to oneself. "Always be true to you and go at it at your own pace," she said. "There will be trials and tribulations. But by facing those and facing adversity, you learn who you are. And once you know that, you go at your own pace," she continued. "Find a rhythm and do you." Spoken like a true MVP.