2016 PRIDE Festival Entertainment
Listed below are some of the currently announced entertainers scheduled to provide entertainment at the Las Vegas PRIDE Festival. Entertainers please note that the 2016 PRIDE Festival Lineup is still open and we are accepting bids and proposals for the 2016 PRIDE Festival. Interested entertainers should submit their proposal to entertainment@lasvegaspride.org
Every year the Las Vegas PRIDE Festival brings in an eclectic mix of talent to entertain the masses, and 2016 will be no exception.  On with the entertainment!
Headlining Saturday, October 22, 2016 at 8:30pm
Alec Mapa is an award winning actor, comedian, playwright, and journalist who's career on Broadway, television, movies and Broadway spans more than twenty years. If you think that's a long time, just imagine how Alec feels. Luckily, he's Filipino, which means he'll look thirty when he's fifty, fifty when he's seventy and by the time he's eighty he'll be too pooped to care. But enough with the Asian Math! Here's the story on Alec Mapa.
Alec's professional career started in shortly after graduating from NYU when he starred in a Tony Award winning Broadway called "M. Butterfly". He performed in the Broadway production for nearly a year opposite Tony Randall, before hitting the road with the first national touring company. Alec was certain the minute the tour landed in Los Angeles the worlds of movies and television would all come to the theater, discover a brand new talent , and make him a big fat star. He was wrong.
Alec was unemployed for nearly three years in Los Angeles, was flat broke, had a nervous breakdown and had to start all over again. He turned his career crises into a hilarious one man show called "I Remember Mapa" produced by the Mark Taper Forum. Alec's tragic-comic monologue of triumph and loss won the LA Weekly award for Best Solo show, enjoyed a successful run in Los Angeles and has since played to sold out houses in San Francisco, New York, Toronto and Seattle. By speaking about the horrors of being unemployed , Alec found plenty of work as an actor, guest starring on shows like Friends, Roseanne , NYPD Blue, Seinfeld , and Melrose Place. Honest you can look it all up at www.imdb.com!
Alec had the distinction of playing network television's first gay Asian series regular character on the short lived CBS sitcom "Some of My Best Friends". Alec then spent four seasons on the UPN sitcom "Half and Half". His "Wisecrack!" Comedy special debuted on LOGO in 2005 and has played I heavy rotation ever since. Currently he can be seen on reruns of the hit ABC comedy: Ugly Betty as well as Desperate Housewives.
Alec has always returned to the theater. Other Broadway credits include Timon of Athens and A Little Hotel on the Side. Off Broadway Alec appeared in Dogeaters and A Language Of their Own , both with The New York Shakespeare festival/Pubic Theater.
As an out gay actor of Filipino descent, Mapa has long been a worker for causes benefiting AIDS and the gay, lesbian and Asian-American communities, including The Human Rights Campaign, The Matthew Shepard Foundation, Gay and Lesbian Adolescent Social Services (GLASS), Project Angel Food, AIDS Project Los Angeles and Lambda Legal among others. For his dedication, Mapa was recently honored with the East West Visionary Award, the Rand Schraeder Distinguished Achievement Award from the Gay and Lesbian Center of Los Angeles and the Davidson/Valentini Award from GLADD, and he was nominated for a Maggie Award for his editorial columns for The Advocate magazine. Mapa was selected as the 2005 Grand Marshal of the San Francisco Gay Pride Parade and was one of Out magazine's "Top Out One Hundred" in 2004. Is it any wonder he's "America's Gay Asian Sweetheart"? Of course not, it's any wonder at all.
Headlining Sunday, October 23, 2016 at 4pm
A former Miss America contestant with real vocal talent, Kristine W became one of the hottest dance floor properties during the mid-'90s. Born in a small town in Washington State, Kristine Weitz began singing and dancing in public from an early age, winning talent contests and beauty pageants. Crowned Miss Washington, she competed in the Miss America pageant, placing first in the talent portion of the contest. She moved to Las Vegas soon after, to go to school (and perform), gradually working her way up to be the lead performer in her own show at the Las Vegas Hilton, concurrent with a recording career which began in the early '90s.
In addition to the headliners introduced above, the Las Vegas PRIDE Festival is proud to present the following entertainment:
Performing at the Las Vegas PRIDE Festival on Saturday, October 22, 2016!
Ricky G. became Ricky Rebel and embarked on a solo career after My Chemical Romance invited him to co-star in their "NA NA NA" and "Sing" videos. In 2012, he won the Artist of the Year at the RAWards and released the "Manipulator" album featuring the hits "Geisha Dance", "Get It On", "You Need a Woman" and the title track. MTV's "Good Vibes" also featured music from the album. In 2013, "Geisha Dance" spent ten weeks on the Mediabase Chart, the chart that powers "On Air with Ryan Seacrest".
Ricky's new release, "The Blue Album" mixed by Claudio Cueni (JLo), features remixes for the "Star" single by world-renowned DJs Hector Fonseca (15 Billboard number-one hits for artists including Beyonce, Katy Perry, Sia), Casey Alva (Billboard number-one hit for Erika Jayne) and Tommy Love. In addition, Ricky recently played with Grammy-winners Mya and Colbie Caillat as well as The B-52s, The Psychedelic Furs, tour dates with O-Town and Blood On The Dance Floor and appearances at Matinee Las Vegas and Matinee San Diego. He is also a fashion contributor to Us Weekly and sponsored by MustaeV makeup.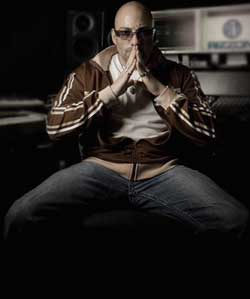 Spinning at the Las Vegas PRIDE Festival on Saturday, October 22, 2016 & Sunday, October 23, 2016!
Ronnie "CHICO" Di Cicco is a Multi-Billboard Hit producer, remixer, songwriter and recording artist who has also branched out into the world of Film/TV and product placement as an exclusive broker for such clients as Mark Cuban/Shark Tank, GNC, Vitamin Shoppe and select products featured on the hit ABC show Shark Tank.
CHICO who was one of the first white rap artists to be signed to the legendary Hip Hop label Sugar Hill has accomplished over 50 top 40 Billboard Hits including 12 #1 records on various charts including remixes for major and indie recording artists and DJ's such as as the legendary Junior Vasquez, Dj Joe Bermudez, Grammy nominee Mike Rizzo, Vic Latino, Britney Spears, Rihanna, Kristine W. Katy Perry, Jason Walker, Miley Cyrus, Kristine W, Katy Perry, Lady Antebellum, Hillary Duff, Katharine McPhee, Pink and more. Most recently Chico has written and produced songs for placement in film and TV with M.T.V.'s 10 on Top, The Rupal Drag Race, Universal Films, and commercials world wide.
CHICO who is originally from the Pittsburgh PA area now relocated to Las Vegas will be launching a new web/pod cast show that features music and talent from all aspects of the entertainment world and a new web TV channel called NeGenderTv in 2017.
Performing at the Las Vegas PRIDE Festival on Saturday, October 22, 2016!
SEXXY by Jennifer Romas is Las Vegas' newest revue. Prepare to leave your inhibitions at the door as we tak you on a journey of everything SEXXY. This show is like no other and equally enjoyable for men and woman, young and young at heart. You'll experience some of your favorite fantasies through enticing vignettes that will arouse a standing ovation! Are you ready to get your SEXXY on?
Performing at the Las Vegas PRIDE Festival on Saturday, October 22, 2016!
Novel is a Canadian native who grew up in Paradise Hill, Saskatchewan in a small village of 515 people. At age 3, she began dance classes. By 5, Novel was competitively dancing in ballet, tap, jazz, lyrical and hip-hop. In 2009, she graduated from the Royal Conservatory of Ballet. Since then, she has performed in several dance and musical theater productions and on The Royal Caribbean Cruise Lines.
Music has also been a passion of Novel's. She began writing tunes at a young age. At 12, Novel made her first live television performance. It led to Novel being a guest performer for top Canadian country artists and to singing the Canadian and American National Anthems for NHL hockey teams, in front of crowds numbering 18,000 and more. "I get more nervous if I notice there isn't a crowd," Novel says with a laugh. "The bigger the crowd, the better I perform."
With dual citizenship to the United States, Novel moved to Los Angeles to pursue her dreams. She wrote and recorded a five-song demo that got into the hands of Pt Name Life, a two-time Grammy winner for his work with the Black Eyed Peas. They wrote and produced new material including "H8Luv", a song that received heavy rotation on Virgin Airlines' Listen Deep Channel.
While promoting "H8Luv" at Atlantic City's Dance Music Festival, Novel met Grammy Award winning producer Jared Lee Gosselin. They, too, began writing and recording together. Their first single, "Spark", debuted at #16 on the Billboard Dance Charts. Their latest single, "Give Me Twenty", is currently rising up the dance charts debuting #27 on Beatport Dance Charts and #23 on Traxsource. It is getting heavy play on Nexus Dance Radio and the music video can be seen on MTV Hits.
Performing at the Las Vegas PRIDE Festival on Sunday, October 23, 2016!
Performing at the Las Vegas PRIDE Festival on Sunday, October 23, 2016!
2016 PRIDE Festival Hosts
Edie
EDIE is the creation of Christopher Kenney who began his career in his hometown of Portland, OR where he was "ballet napped" right out of high school. He danced professionally in the ballet for eleven years with 5 ballet companies including Ballet Oregon, Pacific Northwest Ballet, Pennsylvania Ballet and Ballet Chicago. Since 2008 he has starred as EDIE, the "Mistress of Sensuality" in Cirque du Soleil's long-running hit show "Zumanity" at the NY-NY Hotel & Casino in Las Vegas. As the emcee of the show, EDIE has performed over 3700 shows for over 3 million people. EDIE is also the go-to gal when it comes to hosting Las Vegas benefit shows.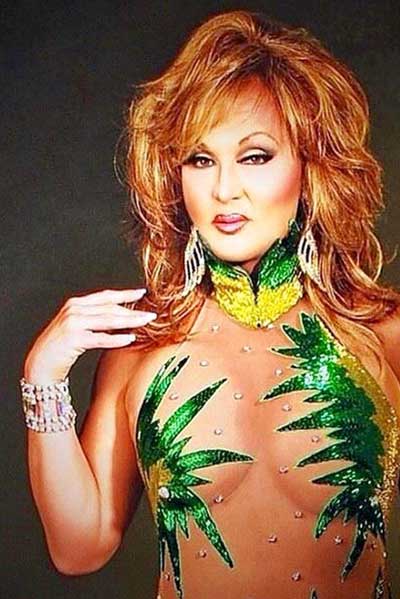 Jennifer Warner
With a career in female impersonation spanning over three decades, Jennifer Warner is no stranger to performing at large events and for even larger crowds. As an activist for the gay community, Jennifer continues touring the country giving the rest of the crowd hope in their day-to-day lives.
From coast to coast, and from the south to the north, Jennifer is happy to be back in the west and specifically Las Vegas to get the party started for Las Vegas Gay Pride. Happy pride, everyone!
Adrienne Alexander
The "Largest White Woman In Captivity" comes to us from Portland, OR. Adrienne Alexander is no stranger to the Las Vegas community – being hostess of Las Vegas Pride Family Bingo in 2015. After 27 years of performing, pageantry, travel and costume making, Adrienne is now in "semi-retirement" mode, but would not miss the opportunity to be back in Las Vegas for pride festivities to celebrate a fabulous year. By day, Adrienne's alter-ego, Jason, is a professional for a top financial institution.
Randy Slovacek
Randy Slovacek is the editor of The Randy Report, named one of the "Top 50 LGBT Blogs in the U.S.," where he covers the daily news cycle regarding pop culture, politics and entertainment news of interest to the LGBT community. He is also the host of his own popular online radio show of the same name, The Randy Report, where he interviews out artists and LGBT allies from Broadway, television and film like Vanessa Williams, Olivia Newton-John, Dave Koz, Billy Porter, Del Shores, Betty Buckley, Judith Light, Elaine Paige and many more.