2016 PRIDE Festival Entertainment
Listed below are some of the currently announced entertainers scheduled to provide entertainment at the Las Vegas PRIDE Festival. Entertainers please note that the 2016 PRIDE Festival Lineup is still open and we are accepting bids and proposals for the 2016 PRIDE Festival. Interested entertainers should submit their proposal to entertainment@lasvegaspride.org
Every year the Las Vegas PRIDE Festival brings in an eclectic mix of talent to entertain the masses, and 2016 will be no exception.  On with the entertainment!
In addition to the headliners introduced above, the Las Vegas PRIDE Festival is proud to present the following entertainment:
Coming Soon!
2016 PRIDE Festival Hosts
Edie
EDIE is the creation of Christopher Kenney who began his career in his hometown of Portland, OR where he was "ballet napped" right out of high school. He danced professionally in the ballet for eleven years with 5 ballet companies including Ballet Oregon, Pacific Northwest Ballet, Pennsylvania Ballet and Ballet Chicago. Since 2008 he has starred as EDIE, the "Mistress of Sensuality" in Cirque du Soleil's long-running hit show "Zumanity" at the NY-NY Hotel & Casino in Las Vegas. As the emcee of the show, EDIE has performed over 3700 shows for over 3 million people. EDIE is also the go-to gal when it comes to hosting Las Vegas benefit shows.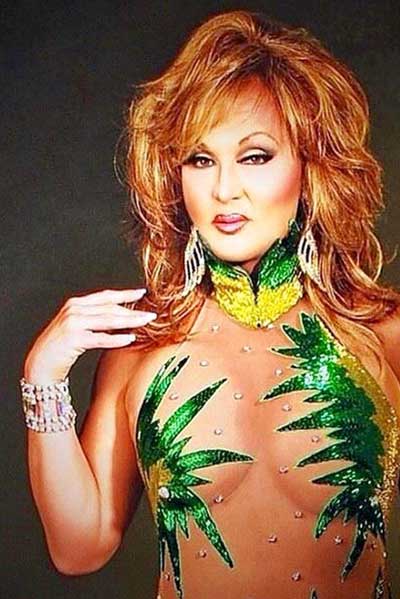 Jennifer Warner
With a career in female impersonation spanning over three decades, Jennifer Warner is no stranger to performing at large events and for even larger crowds. As an activist for the gay community, Jennifer continues touring the country giving the rest of the crowd hope in their day-to-day lives.
From coast to coast, and from the south to the north, Jennifer is happy to be back in the west and specifically Las Vegas to get the party started for Las Vegas Gay Pride. Happy pride, everyone!
Adrienne Alexander
The "Largest White Woman In Captivity" comes to us from Portland, OR. Adrienne Alexander is no stranger to the Las Vegas community – being hostess of Las Vegas Pride Family Bingo in 2015. After 27 years of performing, pageantry, travel and costume making, Adrienne is now in "semi-retirement" mode, but would not miss the opportunity to be back in Las Vegas for pride festivities to celebrate a fabulous year. By day, Adrienne's alter-ego, Jason, is a professional for a top financial institution.
Randy Slovacek
Randy Slovacek is the editor of The Randy Report, named one of the "Top 50 LGBT Blogs in the U.S.," where he covers the daily news cycle regarding pop culture, politics and entertainment news of interest to the LGBT community. He is also the host of his own popular online radio show of the same name, The Randy Report, where he interviews out artists and LGBT allies from Broadway, television and film like Vanessa Williams, Olivia Newton-John, Dave Koz, Billy Porter, Del Shores, Betty Buckley, Judith Light, Elaine Paige and many more.