PRIDE Showgirl Bingo Rules & Regulations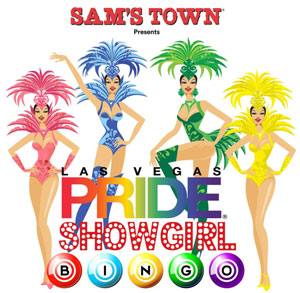 You must be 21 years of age and have a valid ID.
Each Bingo guest must have a $30 buy-in reservation. With this buy-in, you will receive one 6-on pack and one free Dauber. Players may purchase additional 6-on packs for $10 each. Each bingo pack has 6 bingo faces.
Guests may purchase extra 3-on bonus coverall sheets for $2. This bonus coverall sheet is played in addition to your regular packs on games 11 through 15. Winning the coverall in 50 numbers or less on the bonus coverall strip pays the posted progressive jackpot amount. Winning on the bonus strip after the 50th number pays the regular pack prize for this session. You must have Valid ID for all progressive Jackpot wins.
Guests may pay a $2 fee for Validation. Validation is required to win on the Bonus Balls. B-7 and O-69 are the Bonus ball numbers. Players must Bingo on the Bonus Ball number, no other numbers can be called. If additional numbers are called, the Bonus Ball will not be valid. Your winning pack must be validated to be eligible for the $1,000 jackpot in addition to the regular pack payout. Once the jackpot is won, it is out of play for the remainder of that session.
All bingo prize payouts are aggregate.
If you do have a winner, it is the player's responsibility to raise your hand and yell BINGO loud and clear to stop the caller. It is your responsibility to be seen and heard. If your bingo is not seen or heard Sam's Town reserves the right not to honor that winner.
You must have the last number called to be a valid winner. No late winners will be honored.
All games are closed when announced by the bingo caller. No late winners will be honored.
Multiple games may be played on the same page, it is the player's responsibility to be on the correct page number to have a valid bingo.
Once the ball is shown on camera it must be called.
Smoking is only allowed in designated smoking section rows. Cigar smoking is not permitted in the bingo room.
Sam's Town reserves the right to refuse service to anyone disrupting the game and/or other players.
Winners are responsible for any and all taxes and other fees. Winning $1,200 or more, you will receive a W-2 tax form.
All permits and rules must be posted in the bingo room.
All decisions by Sam's Town Management are final.
Management reserves all rights to change or cancel this event if necessary. If the event is cancelled all entry fees will be refunded by Sam's Town bingo Department.
All posted Bingo house rules apply. Any dispute or situation not covered by these rules shall be resolved by the property's management in a manner that is fair to all parties. If the patron is not satisfied with management's decision, he or she may exercise their rights under NRS 463.361 et eq. and request the Nevada Gaming Control Board to review the matter.
Posted 1-25-2019