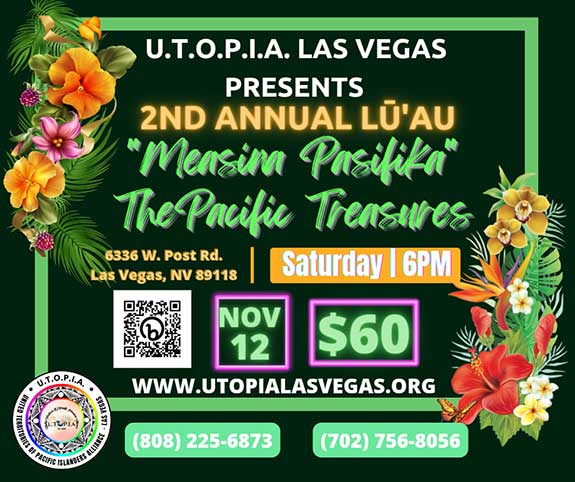 UTOPIA Las Vegas Annual Luau
November 12, 2022 @ 6:00 pm

-

11:00 pm
The Annual UTOPIA Luau is a gala-like event for Queers and Trans Pacific Islanders(QTPI – Q-T-pie) to cultivate and build pathways together with our Pacific Islander community and all of Las Vegas. It's a moment in time for our QTPI to revive our original ties to our culture and empower our community to value dignity and the belief that everyone is worthy of honor and respect to live their life authentically and unapologetically.
By supporting our annual fundraising event, you are advancing our mission, engaging our community, and ensuring that United Territories of Pacific Islanders Alliance – Las Vegas can continue and expand its work to protect our vulnerable populations. Your support will make a significant impact on our vision and hope for Pacific Islander Queer, Trans, and Gender Diverse communities and allies.
Submerge yourself in an Authentic Cultural Experience of the Pacific Islands. Enjoy songs and traditional dances as we take you on a Journey to the Pacific Islands and Feast on a Tasty Island-Style Buffet Food all in an unforgettable evening in the Sin City of Las Vegas!
About UTOPIA Las Vegas: We are a Queer and Trans People of Color-led 501(c)(3) nonprofit organization, created to provide resources, and empower Queer and Trans Pacific Islanders and other minorities through various measures including community organizing, community care, civic engagement, and cultural stewardship. If you are interested in being one of our corporate sponsors to help create an environment where QTPI (Queer and Trans Pacific Islanders) individuals and other LGBTQI+ individuals can survive and thrive, please reach out to us at (702) 756-8056 or mail@utopialasvegas.org. You can also visit our website at utopialasvegas.org or follow us on Facebook at UTOPIA Las Vegas, or Instagram @utopialasvegas702 for more information on our work.
Share This!