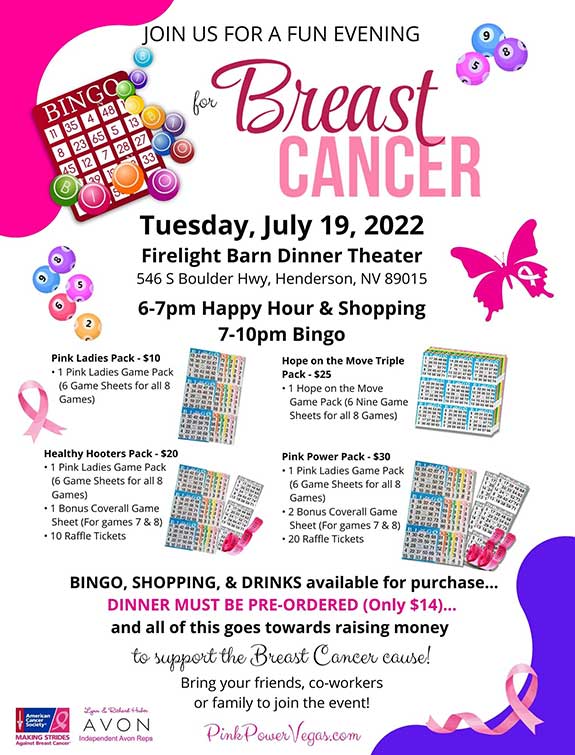 Firelight Barn Dinner Theater
546 S Boulder Hwy, Henderson, NV
Please join us on Tuesday, 07/19/22 at the beautiful Firelight Barn Dinner Theater, 546 S Boulder Hwy, Henderson, NV. 89015

Attendees are invited to come early for our signature "Happy Hour" beginning at 6 pm with great food and beverage. Bingo begins promptly at 7 pm so don't be late.

Bingo, Shopping & Drinks available for purchase... and all of this goes towards raising money to support the Breast Cancer cause!

We have a special dinner planned for you as well!

Mouth-watering Pulled Pork sandwich, Cowboy beans, Caesar salad, a beverage, and dessert for only $14.00 per plate! (Chicken & Vegetarian options are available) Dinner MUST be preordered in advance. It will NOT be available for purchase onsite.

PreOrder Dinner Plate here ==>> https://bit.ly/071922BingoBC

Beer and Wine will be available for purchase.

Bingo packets (8 games including coverall) start at $10 at the door. Raffle tickets are 10 for $5.  PrePurchase Bingo Packets at http://PinkPowerVegas.com to save time.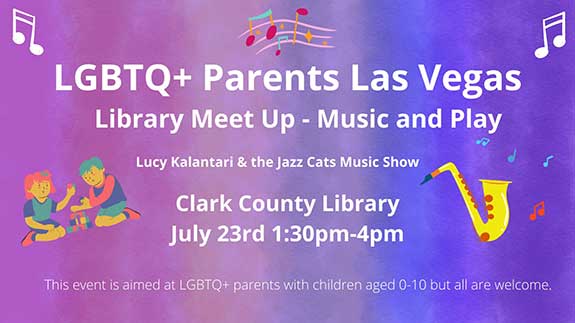 Clark County Library
1401 E Flamingo Rd, Las Vegas, NV
LGBTQ+ Parents meet up at Clark County Library. For those interested the library is offering a free program, Lucy Kalantari & the Jazz Cats a music and movement kids show at 2 pm.

We will meet at 1:30 pm in the kids' play area (3rd floor) to connect and chat, then proceed to the program together.

For those just wanting to play you can join us at 3 pm in the kids' play area. The library has plenty of social space where kids can play supervised and parents can connect.

This event is aimed at LGBTQ+ parents with children aged 0-10 but all are welcome.

This event's color is purple, so look for purple (and probably rainbows) to find us.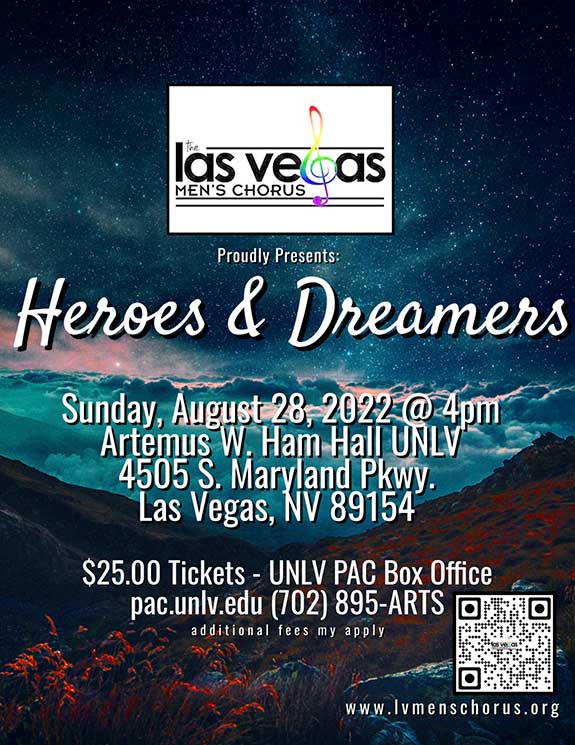 Artemis W. Ham Concert Hall
4505 S Maryland Pkwy, Las Vegas, NV
Heroes inspire us, dreams motivate us: each of us is a hero and each of us has the power to make dreams come true. Join the LVMC as we honor heroes of the world and the hero and dreamer in each of us. Our singers will bring you uplifting and powerful musical selections paying tribute to military heroes, historical leaders for social justice like Martin Luther King, Jr., Harriet Tubman, and Harvey Milk, and everyday heroes that make our world a better place. Complete with exciting video projections and soul-stirring soloists, this concert at UNLV's Artemus W. Ham Concert Hall will rekindle the hero and dreamer in us all!

Tickets available via UNLV PAC Box Office: online at pac.unlv.edu, in-person Tuesday-Saturday 12pm-6pm, or via phone at 702.895.ARTS (Note: UNLV PAC Box Office reopens for in-person and phone orders Tuesday, July 27th whereas online orders are available anytime). Special pricing is available for senior citizens, military personnel, children, and students while supplies last!

Free parking is available at the UNLV Cottage Grove Parking Garage directly adjacent to Artemus W. Ham Concert Hall.