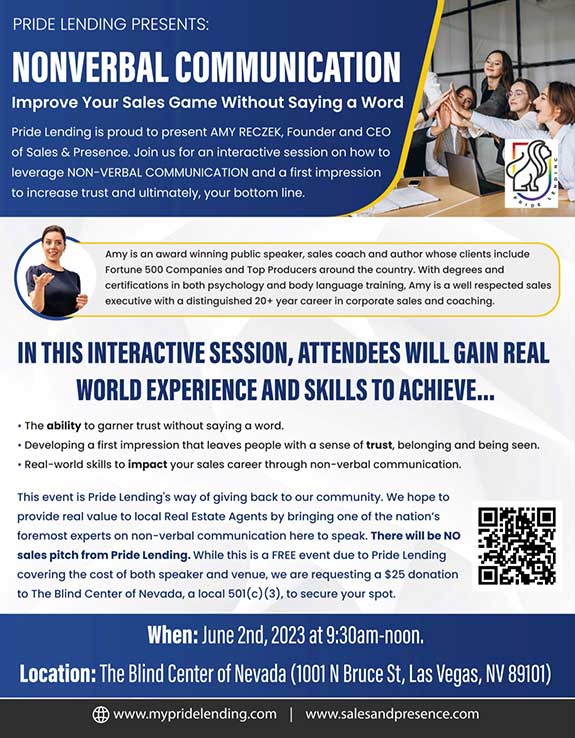 Nonverbal Communication – Improve Your Sales Game Without Saying a Word
June 2 @ 9:30 am

-

12:00 pm
Pride Lending is proud to present AMY RECZEK, Founder and CEO of Sales & Presence.
Join us for an interactive session on how to leverage NON-VERBAL COMMUNICATION and a first impression to increase trust and ultimately, your bottom line.
Amy is an award winning public speaker, sales coach and author whose clients include Fortune 500 Companies and Top Producers around the country. With degrees and certifications in both psychology and body language training, Amy is a well respected sales executive with a distinguished 20+ year career in corporate sales and coaching.
In this interactive session, attendees will gain real world experience and skills to achieve…
The ability to garner trust without saying a word.
Developing a first impression that leaves people with a sense of trust, belonging and being seen.
Real-world skills to impact your sales career through non-verbal communication.
And quite a bit more beside!
This is guaranteed to be unlike other lunch and learns and there will be no sales pitch by our sponsor. This event is designed to give back to our community by bringing one of the nation's foremost experts on NON-VERBAL COMMUNICATION to Las Vegas professionals.
Share This!