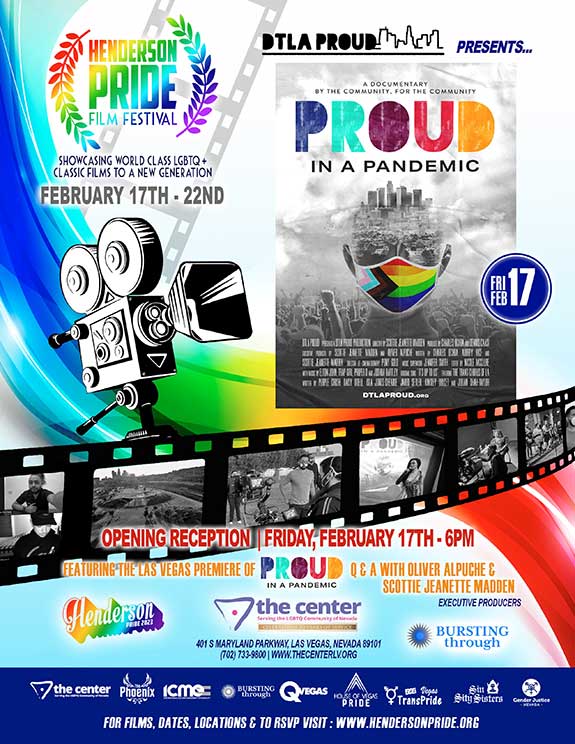 Henderson Pride Film Festival
February 17 @ 6:00 pm

-

10:00 pm
DTLA Proud presents the LAS VEGAS premiere of an unflinching and inspiring feature documentary, PROUD in a Pandemic. This film examines the experiences of 22 Los Angeles LGBTQ+ community members and leaders through the early days of COVID and the events tied to the "Summer of Social Uprising." The documentary shows the similarities between the HIV/AIDS epidemic of the 1980s and the Corona Virus. Moreover, how the "Expanded Access" Program, championed by the ACT UP Organization, was instrumental in providing a framework that allowed the distribution of COVID-19 vaccines to be fast-tracked throughout major parts of the world.
PROUD in a Pandemic captures a moment in time when despite these struggles, the breadth and diversity of the LGBTQ+ community demonstrated its strength and resourcefulness by becoming more connected and united than ever before.
PROUD in a Pandemic is a time capsule film that shares stories about innovation, survival, and the tenacity of the LGBTQ+ community.
Q & A with Executive Producers Oliver Alpuche & Scottie Jeanette Madden.
$10 Suggested Donation
#dtlaproud #PIAP #dtla #proud # lgbt #queer #queerhistory #lgbtq #proudinapandemic #documentary #losangeles #downtownlosangeles
Share This!