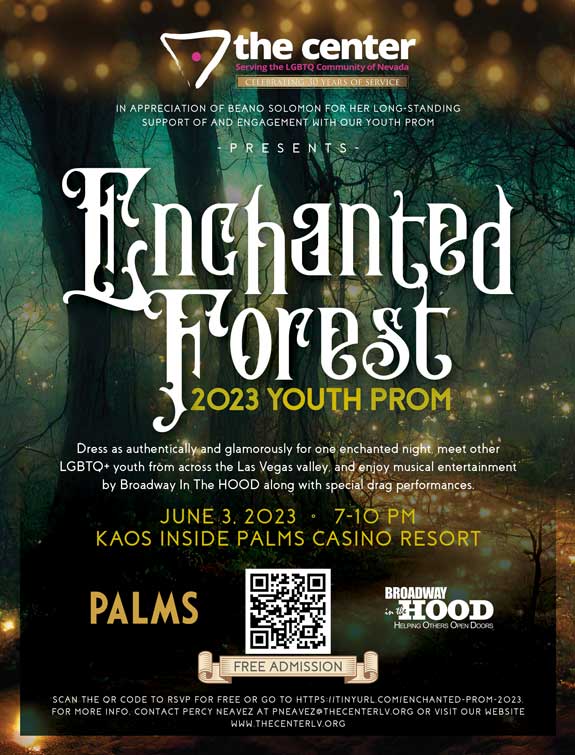 Enchanted Forest 2023 Youth Prom
June 3 @ 7:00 pm

-

10:00 pm
For most high school students, prom night is a milestone, something to look back on and remember fondly. But for those teens who identify as lesbian, gay, bisexual, or transgender, prom night can be a huge source of anxiety. While their classmates are busy lining up the perfect outfit and date, queer students often have to worry about whether they will be harassed at the dance or excluded from it altogether.
The uncertainty of acceptance and the potential risk of bullying and harassment has kept and continues to keep LGBTQ+ students on the outskirts of their school communities. According to the Gay, Lesbian, Straight Education Network (GLSEN) 2021 National School Climate Survey, 78.8% of LGBTQ+ students avoided school functions or extracurricular activities because they felt unsafe or uncomfortable. "No teenager should worry about if they'll be seen for who they are, celebrated for their courage, and loved unconditionally," says Percy Neavez (he|him|his), Youth Resource Specialist at the LGBTQ Center of Southern Nevada.
A sense of belonging and community at schools can make all the difference to LGBTQ+ youth.
That's why The LGBTQ+ Center of Southern Nevada offers its own Youth Prom. It's a fabulous night of music, food, dancing, and live entertainment for LGBTQ+ teenagers who otherwise may not get a chance to celebrate this special event and create positive lasting memories that will forever impact their lives.
"The Center's Youth Prom is about creating space for LGBTQ+ youth to celebrate their authentic selves. It's a night where they can have fun hanging out with their friends and have the opportunity to meet other LGBTQ+ youth from across the Las Vegas Valley," says Neavez.
This year's prom theme is Enchanted Forest. Attendees are encouraged to dress in their finest magical garments and accessories, and anyone can be crowned the winner of three royal categories.
The Enchanted Forest Youth Prom will be held at KAOS at Palms Casino Resort on June 3, 2023, from 7 pm to 10 pm. It is a free event for LGBTQ+ youth and allies between 13 and 18. 
Register Online: https://tinyurl.com/Enchanted-Prom-2023
Share This!