Magic and Science Collide at Museum of Illusions Las Vegas Grand Debut
By Las Vegas PRIDE Magazine Staff
Photography courtesy of Museum of Illusions Las Vegas
The glittering lights of Las Vegas got a little brighter on August 29th, 2023, as the Museum of Illusions celebrated the grand opening of its largest and most captivating museum yet. Situated at 63 on The Strip, nestled conveniently between The Cosmopolitan of Las Vegas and The Shops at Crystals, this new attraction promises an awe-inspiring adventure for visitors of all ages.
The grand opening event was a star-studded affair, with VIP guests, influencers, executives, and more descending upon the 15,000-square-foot space for a special preview.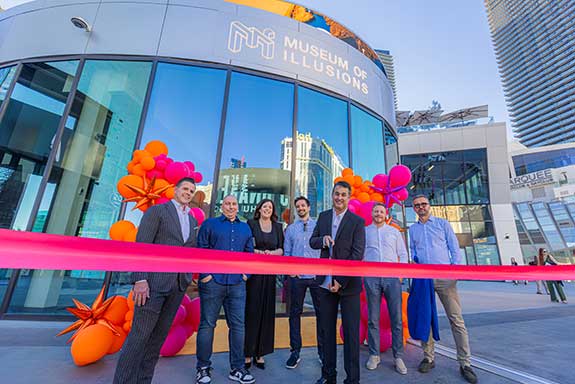 To kick off the evening, the renowned magician and comedian, Michael Carbonaro, wowed the crowd with an hour-long performance that seamlessly blended magic and humor. Museum of Illusions CEO, Jonathan Benjamin also took to the stage to welcome over 150 guests and express his excitement about the museum's debut on the famous Las Vegas Strip. He remarked, "The debut of Museum of Illusions Las Vegas marks an exciting moment in the company's history, as Museum of Illusions continues to hold its position as the largest and fastest-growing brand of private museums globally. We are thrilled to bring our original concept to the famous Las Vegas Strip and are excited to welcome thousands of guests from around the world."
As the night unfolded, guests had the opportunity to explore more than 80 mind-bending exhibitions, including a few exclusive installations unique to Las Vegas. The museum's interactive displays delved into the science behind each alternate reality, making it a true 'edutainment' experience. The immersive journey took visitors through a mesmerizing world of optical illusions and visual tricks, leaving them mystified and enlightened.
The festivities continued with guests dancing the night away to the latest chart-toppers, posing for photos in front of mind-bending exhibits, and enjoying a photo booth, crafty cocktails, and delectable light bites. The Museum of Illusions Las Vegas offered an unforgettable evening of wonder and amazement.
Museum of Illusions Las Vegas is set to become a standout attraction in the city, offering a unique and engaging adventure that distinguishes itself from all other experiences in Las Vegas. This pioneering museum redefines the concept of entertainment and education by explaining the science behind each illusion, providing visitors with an enriching and thought-provoking experience.
With locations spanning four continents in 25 countries and boasting over 40 museums worldwide, Museum of Illusions has cemented its status as the world's largest and fastest-growing chain of privately owned museums. The Las Vegas flagship location is now open daily from 10 a.m. to midnight, with the last admission at 11 p.m. For more information, visit www.moilasvegas.com and follow them on social media to stay up to date on the latest news @museumofillusions_lasvegas.