Kids Area at Las Vegas PRIDE to Become Fairytale Land!
By Las Vegas PRIDE Magazine Staff
PRIDE celebrates 40 years and is taking the always fun Kids Area at the festival on October 7 and creating something very special! A creative team of event professionals, actors, entertainers, and puppeteers are taking the heavily wooded area at the North side of the event and transforming it into a magical and enchanting Fairytale Land!
Hosted by everyone's favorite Auntie Norma and LV Puppets, this charming area will feature a whimsical collection of family-friendly activities and performances amidst the shade and the freshness of the mighty pine trees. Fairytale Land will also be featured from 12:30 – 2 p.m. across the meadow and through the trees on the Rainbow stage. Guests are encouraged to bring their picnic blankets and baskets and relax within the amusing atmosphere.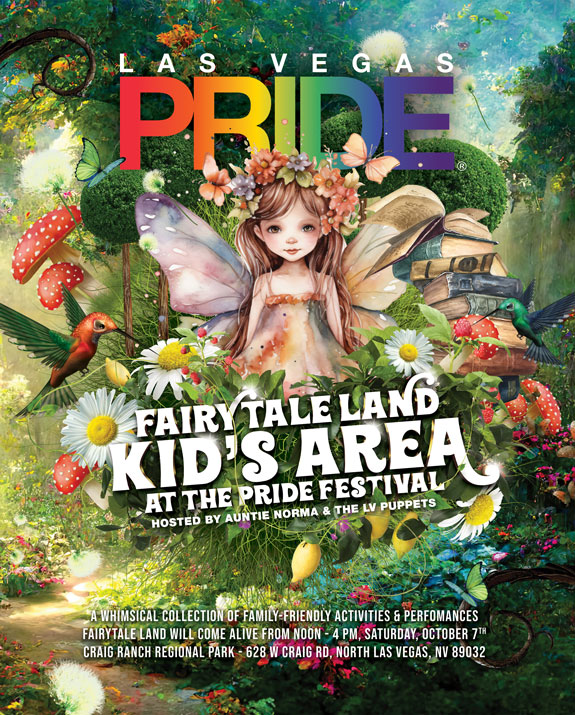 The exciting Meadow stage will feature non-stop shows and interactions from noon til 4 p.m. Imaginative storytelling, quirky sing-a-longs, fanciful fairy dancing, and many more magical performances are planned, creating fun for all ages. Tom Tomasello with LV Puppets and troupe will feature some incredible shows with life-size puppets and creatures. LV Puppets will also have a fun all-ages activity area for festival attendees to create and purchase puppets and games. We encourage you to come and make your own POPPET or monster!
Speaking of Monsters… our very own Las Vegas children's coloring book author Jayden Rollins, will be on hand with his new coloring book – Monsters go NOM! NOM! NOM! He will be reading and featuring many of the illustrated pages within the book during the day. The new activities and craft area will also feature coloring, painting, and several other free craft projects presented by local elementary art school teachers and volunteers. Don't worry; all paint and craft items will be non-toxic and washable. We will also have a fancy hand washing and sanitizing station available for any messes!
The cool meadow will feature an array of fanciful photo ops with whimsical characters such as The Mouse King, Forest fairies, creative face painting, and roaming acrobats. The area will also have fun games such as leapfrog, Queen's tic–tac–toe, rainbow slides, toddler mazes, and a central Maypole, which will enhance the fun. Other child and family-related vendors will also be present in this area.
Fairytale Land will come alive from noon til 4 p.m. on Saturday, October 7, at the Las Vegas PRIDE Festival at Craig Ranch Park in North Las Vegas.