Las Vegas PRIDE & President Brady McGill featured in Vacationer Magazine
Article summary by Las Vegas PRIDE Magazine Staff
Read the original article at Vacationer
Meet Brady McGill, the passionate Las Vegas native dedicated to making the world a better place through his role as President and CEO of Las Vegas PRIDE in the September 2023 issue of Vacationer Magazine. With 15 years of unwavering commitment, Brady has transformed this all-volunteer, non-profit organization into a beacon of hope and inclusivity for the LGBTQ+ community.
Celebrating 40 Years of Pride: October 6-8, 2023
Join us for an unforgettable weekend filled with festivities. On October 6, the Annual Las Vegas PRIDE Night Parade will light up downtown Las Vegas, followed by a spectacular Parade Pre-Show at 6 p.m.
October 7 brings the family-friendly Pride Festival at Craig Ranch Regional Park, featuring over 100 vendors, two vibrant stages celebrating diversity, and so much more.
On October 8, elevate your experience at the ELEVATE PRIDE Pool Party at SAHARA Las Vegas' AZILO Ultra Pool from 11 a.m. to 5 p.m.
But Las Vegas PRIDE is more than just a weekend celebration. Throughout the year, we offer a range of events like Family Bingo, outdoor hikes, and Latin brunches, making it easy for locals and visitors alike to connect with our LGBTQ+ community.
Experience the warmth of acceptance and the joy of unity in the city that never sleeps. Join Las Vegas PRIDE in celebrating 40 years of LGBTQ+ pride and inclusivity. Visit our website for details and stay connected with the Las Vegas LGBTQ+ community year-round.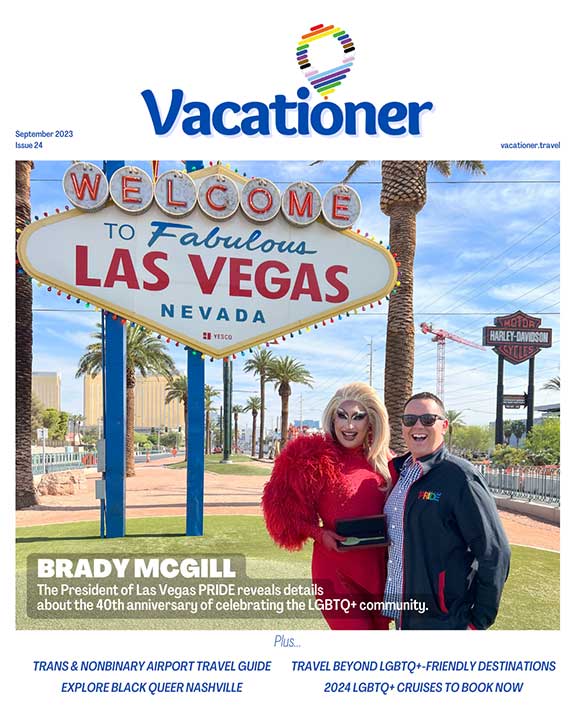 Vacationer Magazine Cover – September 2023