PRIDE OUTside Hikes Cathedral Rock
Since 2014, Las Vegas PRIDE OUTside has hosted monthly hikes around the valley. These events are free to attend, open to all, and a nice way to get some exercise and time in the great OUTdoors.
The Cathedral Rock trail has the most breathtaking views of the Mt. Charleston area imaginable. Only one mile round-trip, the challenge here is the elevation gain of nearly 800 feet. Pine and aspen trees line the trail throughout. Halfway to the peak is a small waterfall just off the path. There are plenty of spots to stop and take a quick rest, including some carved-out benches along the trailside.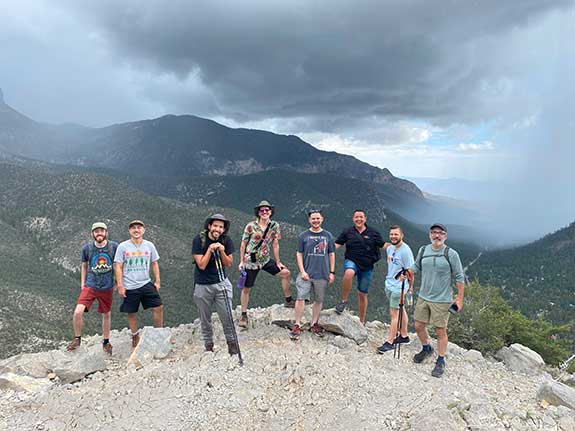 At the peak, all the elevation gained gives the most amazing view of the valley below. The Mt. Charleston area below and our Mary Jane Falls trail can be seen from the peak. Ground squirrels make themselves available for snacks and attention for those resting at the peak, they will eat snacks right out of your hand.
Downhill is always more enjoyable and quick. We are typically completed within two hours at this trail. Parking is tight in this area, so plan a little extra time. From US-95 and Kyle Canyon, it's roughly 30-40 mins to the parking lot.
If you plan to attend a hike, please take some precautions with appropriate footwear and clothing. Wear sunscreen and bring snacks and plenty of water! If you have questions or want to connect with Brady, please email Hike@lasvegaspride.org.
August 13 & September 10, 2023
(Second Sundays Monthly)
Meet at 10 am (hike until roughly 2 pm)
Cathedral Rock – Mt. Charleston Info
Intermediate/Steep Incline; there and back is 1.2 miles with nearly 800 feet gained in elevation; the terrain is firm and level but steep; fixed-leashed pets are welcome; all ages welcome
PRIDE OUTside Hikes are FREE monthly events that are available in a variety of locations and difficulties throughout the year. Mark your calendars!