LGBTQ+ Equality Coalition Celebrates Advances in Nevada Law
Battlelines are forming across the United States as anti-LGBTQ+ hate groups and politicians are pushing to eliminate our community's rights and our ability to control our own bodies. But this year in Nevada, it was a different story.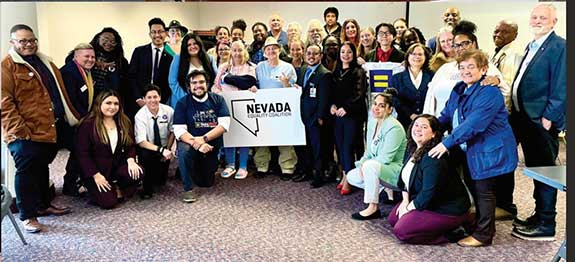 The Nevada Equality Coalition (a statewide collective of LGBTQ+ community and advocacy organizations, including Silver State Equality, Gender Justice Nevada, the ACLU of Nevada, The LGBTQ Center of Southern Nevada, and OUR Center in Reno, Battle Born Progress, and more) reports that the Silver State continues to raise the bar and be the best place in the U.S. for people who are LGBTQIA.
During the 2023 session of the Nevada Legislature, the Nevada Equality Coalition successfully advocated for numerous new laws to protect, uplift, and support our state's LGBTQ+ residents and visitors.
Policies for Incarcerated Trans Persons
Senate Bill 153, sponsored by Senator Melanie Scheible, proposed to require the Nevada Department of Corrections to create new policies for how state prisons house and care for incarcerated people who are transgender, nonbinary, and gender nonconforming. The legislation was approved and signed into law by Governor Joe Lombardo.
Insurance Coverage for Gender-Affirming Care
Senate Bill 163, also sponsored by Senator Melanie Scheible, will ban health insurance providers from engaging in anti-transgender discrimination when making decisions about which procedures will be covered. Scheible has brought forward this proposal before, but this time it was adopted by the Legislature and signed into law by the governor. The Southern Nevada Democrat works closely with Silver State Equality and has established herself as one of our community's biggest champions at the Legislature.
Adolescent Access to Preventative Health Care
Senate Bill 172, sponsored by Senator Dallas Harris (a founding member of the Nevada Legislature's LGBTQ+ Caucus) was written to give Nevada youths under 18 the ability to access preventative health care. Before this measure was signed into law, Nevada statutes allowed minors to receive treatment for sexually transmitted infections without their parents, but the law did not include language that allowed teens to receive preventative services without their parents.
Marriage Certificate Policies
Senate Bill 211, also sponsored by Senator Dallas Harris, will make it easier for Nevadans to update their marriage licenses after a legal name change. For many couples, a marriage license is a precious family record, and this legislation will make it easier for people who are transgender and/or nonbinary, for example, to update that record to match their identity.
Modernizing HIV Laws
For several years, Senator Dallas Harris has been leading efforts to erase the stigma from Nevada laws that deal with people living with HIV/AIDS and to craft instead policies rooted in public health and science. The latest of these efforts to be signed into law, Senate Bill 439, will make sure health care services for HIV/AIDS cannot be disrupted during a public health crisis (such as the COVID-19 shutdown). The measure also increases access to PReP and more.
For more information about LGBTQ+ legislation in Nevada, visit: silverstateequality.org/legislation.