Las Vegas PRIDE Elevate Pool Party
Article by Brady McGill
Photography by The Vox Agency
Las Vegas is an oasis in the desert. The summer heat and party vibes rise for locals and tourists, and the sun and pools beg for parties. Las Vegas PRIDE has partnered with SAHARA Las Vegas for the 2023 ELEVATE PRIDE Pool season! Join us every Saturday at the Retro Pool. This rooftop pool features cabanas, daybeds, food, drinks, live DJs, and (of course) all the best and brightest LGBTQIA+ sun-seekers! This event is inclusive, the PRIDE Pool Party is for LGBTQIA+ individuals and our favorite fabulous friends, we welcome ALL bodies to join us for the fun, our only attendance requirement is NO HATE!
Las Vegas PRIDE is celebrating 40 years of serving the community, and we are THRILLED to bring this event to town. SAHARA has gone above and beyond with its beautiful property, and the love for the LGBTQIA+ community is present year-round with inclusive initiatives throughout their building. Visit their featured site for hotel discounts and other offers too SAHARALasVegas.com/lgbt – fabulous!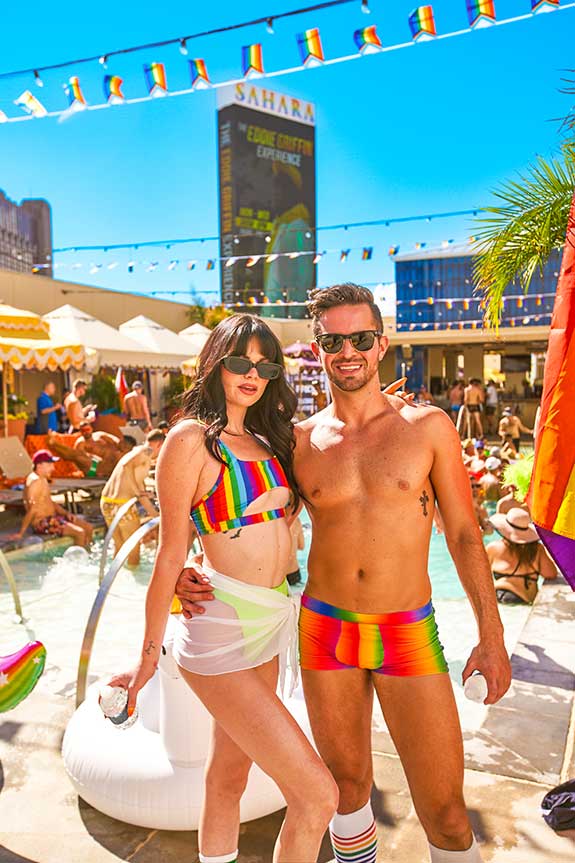 Here is a little more of what you can expect when planning a trip to Elevate PRIDE Pool Party:
This is a ticketed event, but it's all for a good cause. Proceeds from each $20 ticket directly benefit Las Vegas PRIDE! Ticketing also helps us keep this one to our LGBTQIA+ squad.
Purchase your tickets in advance at: SAHARALasVegas.com/promotions/elevate-pool-party
Parking is FREE for ELEVATE PRIDE Pool Party guests, but you need to show the parking attendants your ticket to the event, so don't wait. VALET is also FREE for pool guests but don't get crazy – please tip and show that love.
Seating is available at no additional cost.
Cabanas and Daybeds are also available for purchase online at SAHARALasVegas.com/promotions/elevate-pool-party. Cabanas include up to 10 guests and Daybed reservations include 4 guests. But bring all your friends for general admission to send some love back to PRIDE!
Once you're in the SAHARA, take the Retro Pool elevator up to the rooftop where there is plenty of sun and shade too. Towels are available in this area.
Wear sunscreen and plan for outdoor weather and plenty of that hot Vegas sun.
PRIDE DJs will be spinning, and we will be celebrating, and you never know what fabulous prize, guest, or pop-up we may have, so plan to visit frequently.
Food is available from the bar or your cabana/daybed servers so that you can stay and play!
Beverages are extra special, and PRIDE's best partner brands are featured: Authentic Paloma featuring El Jimador Tequila, Raspberry Lynchburg Lemonade featuring Jack Daniel's and Chambord, the Mischievous Mule with Absolut Vodka, Retro Colada with our friends at Malibu Rum, and Bud Lite or Michelob Ultra for our beer options.
Beer buckets are available, and 32oz beverages include a reusable cup!
Beverage sales at our PRIDE Pool include gratuity, so feel free to be extra, but it's not required! Absolut is EXTRA-extra, with additional sales kicking back to PRIDE.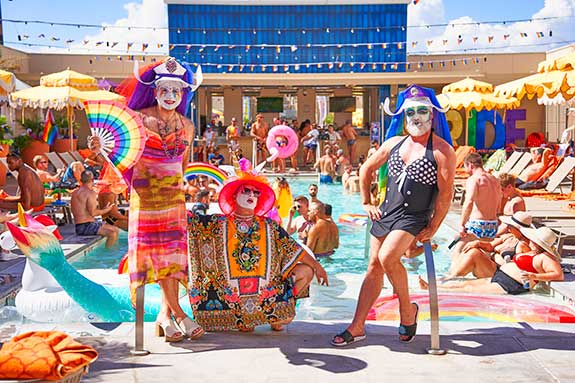 Gather your besties, don your most playful swimsuits, and let's make a splash at the only rooftop bash on The Strip worthy of the LGBTQIA+ community. Don't miss out on a day filled with fun, laughter, and unapologetic self-expression. Let's make a splash together!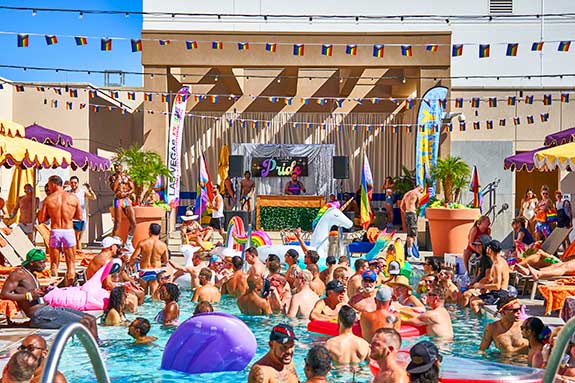 EVENT DETAILS
Who: All 21+ are welcome to this inclusive event
What: Elevate PRIDE Pool Party
When: Saturdays from 11 AM – 6 PM through PRIDE Weekend 2023!
Where: Retro Pool at SAHARA Las Vegas
Why: To support the LGBTQIA+ community. Half of the ticket proceeds are donated to PRIDE!
Free parking + valet when you show your ticket.