I remember the first time I went to Vegas. I remember the drive into Vegas, coming up the I-15 North over that hill and seeing the lights of the Strip; it was magical. My three favorite guys and I were on an adventure to escape our busy lives back home. We hoped for a quick vacation to forget all of life's stressors – you know, all the stress we had as single adults in our mid to late twenties – to have fun together, dancing and partying the entire time. And for me, there was a little wishing that just for this brief time, I could also forget my physical disability.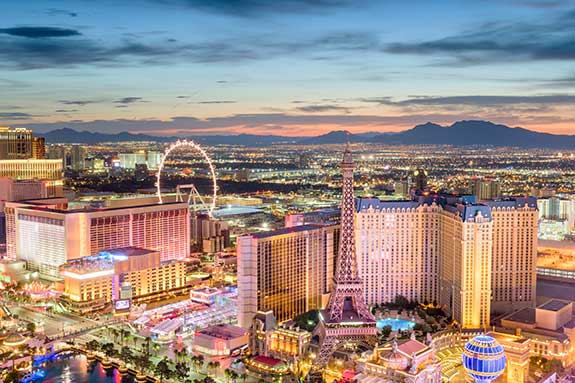 I was born and raised in San Diego, California, and was diagnosed with Juvenile Rheumatoid Arthritis (JRA) when I was only one and a half years old. At the time, my parents were told two places in the world specialized in treating JRA – London, England, and Los Angeles, California. So at age three, I took my first "vacation" to Children's Hospital in Los Angeles, where I would end up spending a third of my childhood, thanks to my parents' middle-class income and health insurance.
At age 16, I got my driver's license and first job and was preparing for college. I knew I would stay home for college; it was the only way to make it work. My parents could either continue to provide healthcare coverage and pay for my various treatments or college, but not both. I opted for healthcare coverage and said I would pay for college, especially since my physical independence required joint replacement surgeries by that time. Actually, my first joint replacement was at age twelve, a total hip replacement. That's how it was in my teenage and college years, school and work, and "summer vacations" to Los Angeles to have joint replacement surgeries and rehabilitation while school was out.
Once college ended, I started my career, and I've been fortunate to work full-time since then, despite living with pain and taking "vacation time" off to have more surgeries. As of today, I'm 47 years old and I've had twenty-six surgeries, five of them on my spine. I have bilateral artificial hips, knees, elbows, shoulders, one ankle, a partial foot fusion, a port-a-cath, bilateral fused wrists, a fused cervical spine, and one fused big toe I named "Boner."
But I digress… Let's get back to Vegas with the boys. This was my very first vacation outside of visiting family with my parents in the continental states or some form of arthritis treatment. And it was PRIDE WEEKEND! Oh, the partying we had planned! I had brought almost my whole closet and shopped for new clothes, too; I had to be prepared for whatever mood I felt and wherever the best parties would be!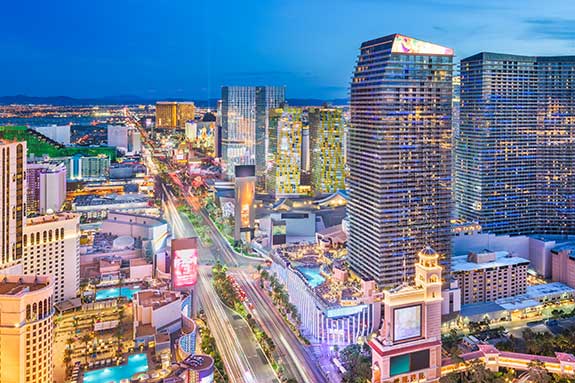 The minute we arrived in Vegas, I thought, "why didn't I come here sooner?!" Because, after all, I loved to dance and party, and we who have arthritis know the best, and easiest-access pain reliever on the market is alcohol. "Why tour the world [and worry about accessibility] when all you have to do is visit Las Vegas and see it all in one location" that is, of course, accessible because it's in the United States and it's ADA compliant, right? Nope.
I naively assumed I would not have to worry about accessibility or, worse, a lack of ADA compliance in a great partying and hospitality mecca like Vegas. It's located within the United States and is required to be ADA-compliant. There is a difference between ADA-compliant and accessible and inclusive for people with disabilities. Many people have wrongly assumed ADA-compliant is the same as accessible, and vice versa, including me. And inclusion, as I've discovered, is on a whole different level! Just because I have been disabled nearly all my life does not mean I'm an expert on the Americans with Disabilities Act (ADA) law and accessibility issues from diagnosis onset. It also does not mean I expect able-bodied people to be experts either, whether they are business owners or entertainers or have a loved one with a disability. But I do hope that when an opportunity for awareness and education presents itself, we will accept it and do what we can to strive for better inclusion for people with disabilities. I mean, if anyone could use a drink, it's a person who puts in ten times the effort just to get to the bar. Wouldn't it be great if we could actually get inside the bar to get that drink? Why not make establishments accessible to everyone?
Although I encountered barriers within Vegas during my first visit, and still do every time I visit, I can't help loving Vegas. In fact, I already have a few trips planned this year as I prepare for my Vegas wedding! Stay tuned for future articles as I share my lived experiences, past and present. I hope to highlight opportunities for greater awareness and inclusion for people with disabilities and improve future experiences and businesses for all residents and visitors.