Red Dress Masquerade
February 25, 2023
The Usual Place
Article by Las Vegas PRIDE Magazine Staff
Photography by Curtis Joe Walker (Photo Bang Bang)
The elegance. The mystery.
The opulent red dresses and ensembles.
The Holy Order Sin Sity Sisters of Perpetual Indulgence invite you to their lavish Red Dress Masquerade party on February 25, 2023 at 7 PM at The Usual Place (100 S. Maryland Pkwy Unit 110 Las Vegas, NE 89101). To order tickets or for more information, visit www.sinsitysisters.org.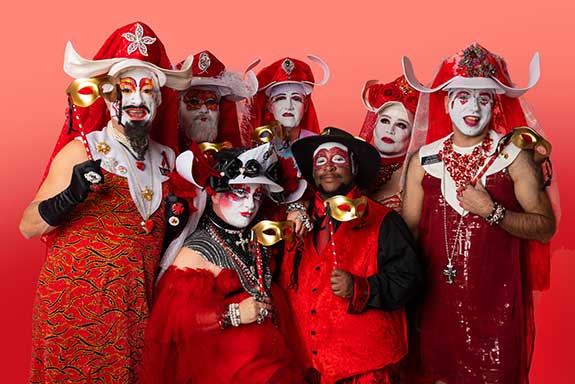 The Red Dress event is the sisters' largest and most well-known event of the year. This year's benefit will be full of many surprises. All guests are encouraged to wear a red dress, a loose term that can be interpreted as a skirt, kilt, gown, kimono, sari, toga, or dashiki. Guests are encouraged to interpret the Masquerade theme in their own unique way. A red dress is strongly recommended, but no one is turned away as long as they come in red (and in theme)!
Attendees will enjoy live entertainment, high-energy music, scintillating performers, and singers. There will also be a cash bar with event specials. The silent auction will feature show tickets, art, travel excursions, and more.
Before the main event, VIP guests will enjoy delectable bites and mingle in anticipation of The Masquerade Ball.
The evening of sizzling excitement includes a costume contest in various categories.
The Sisters will also honor a few individuals from the community, inducting them into Sainthood. These individuals have consistently supported the Sin Sity Sisters through their talent, sponsorship, and generosity.
The Sin Sity Sisters of Perpetual Indulgence
The Worldwide Order of Sisters of Perpetual Indulgence has been in existence and active since 1979. Over the years, the Sisters' organization has raised millions of dollars for local charities within each of our communities, supporting those affected by and living with HIV/AIDS. The Sin Sity Sisters have been in existence in Las Vegas since 2005. Aside from charitable work, and guilt-free play, they are also a 501c3 Nevada Non-Profit Organization.
"We are an Order of 21st Century Nuns dedicated to the promulgation of universal joy and the expiation of stigmatic guilt. Our ministry is one of public manifestation and habitual perpetration. We make people happy, stamp out guilt brought on by a judgmental society, and help various organizations and charities, etc. If we can do this while raising money for charity and being our natural fabulous selves, then there is room for YOU to be as fabulous as you are and as you were meant to be."