LGBTQ Center of Southern Nevada
Celebrating 30 Years of Service to the Community
This year, the LGBTQ Center of Southern Nevada celebrates a special anniversary: it's 30th year serving the LGBTQIA2++ community and the at-risk community around us.
For thirty years, The Center has been a staple of Las Vegas. Starting as a diamond in the rough as a storefront on East Sahara, the Center has polished its edges to become an invaluable gem in the standalone Bob Forbuss Building on Maryland Parkway. Diamonds can withstand pressure and time, just like the Center has been able to.
The Center functions as the heart and home of the LGBTQIA+ community by making connections, delivering programs, and providing a safe space for health and wellness, social services, arts and culture, advocacy, and community building. Ongoing Center programs support LGBTQIA+ youth, adults, families, seniors, vets, people with disabilities, those living with HIV, and those who are underserved. Additionally, we are proud to offer the Center Advocacy Network, the first nationally accredited program of its kind, focusing on LGBTQIA+ issues for victim advocacy.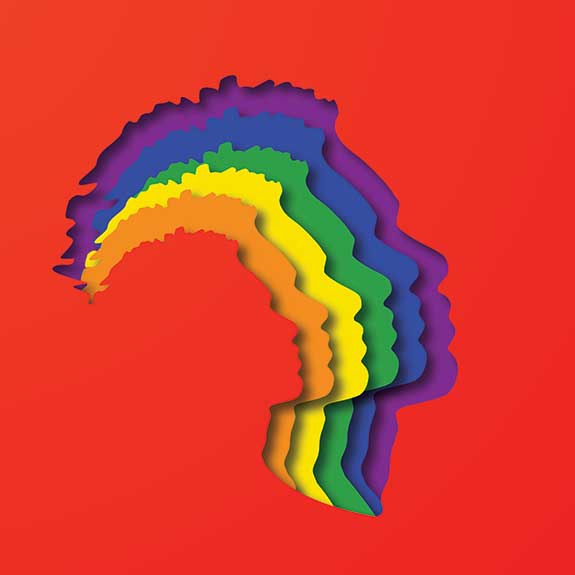 Diamonds form over time, just as The Center has. Today, its brilliance shines in work done by more than two dozen people, including a new slate of executive team members hired or promoted to significantly impact the LGBTQIA2+ community and the vulnerable population in the downtown neighborhood. "Our new team is a solid lineup of compassionate and capable people. Their strengths will help position The Center for the future as we continue to expand our programming and services to meet the ever-changing needs in the community," says John Waldron, Ed.D., Chief Executive Officer of The Center.
One clear-cut way The Center has changed is by expanding its health and wellness services. Last summer, The Center proudly unveiled the Arlene Cooper Community Health Center. It is The Center's first step in a sustainable business model. The building now includes a retail pharmacy, filling a void in downtown Las Vegas for drug fulfillment and delivery. It will help people manage their medications and their health conditions and provides The Center with an opportunity to be a robust service provider. The next step is the clinic's expansion into a primary care facility and eventually into a federally qualified health care center.
As more and more youth identify as queer, The Center has taken the lead in providing programming and support services to meet young people's and their family's needs. PIVOT is a 6-week program created and facilitated by the Center to provide community, education, and support for every family member. Dressing authentically and glamorously for PRIDE Prom is a highlight for people of all sexual orientations and gender identities ages 13-24. This year, PRIDE Prom promises to be even more spectacular than ever.
There are many facets to The Center. However, none of it would be possible without the support of our volunteers and donors. Our volunteers clock in thousands of hours, and we are amazed by the incredible generosity of the community.
We hope that many new faces will pass through our doors and better understand what we do and how we contribute to making Nevada a more diverse, inclusive, and equitable place for all. Diamonds are known for their extreme value, unmatched brilliance, and rich sentimental value, much like The Center.