Rayz of Ash
10 Questions with Artist, Educator, Creator and Model Ashley Ray
By Joslyn Hatfield
Where are you from and how long have you been in Las Vegas?
I grew up mostly in Tahlequah, OK, the capital of the Cherokee Nation. I am part Cherokee and being immersed in this culture was prolific in understanding how culture connects us. Before coming to Vegas, I was between Tulsa and Dallas.
I moved to Vegas March 2020, such an interesting time to arrive and experience the city in a different way. I think coming in this time allowed a unique experience of connecting with others here that truly are invested in Vegas.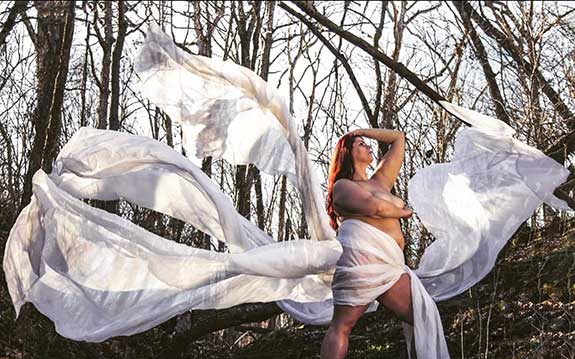 What/who did you want to be when you were a child? And how has that changed over time?
I wanted to be an adult most of all! The freedom to choose and live my life authentically. I am who I want to be. I am so fortunate that I have had the experience of adversity from early in my life to constantly push me toward more. I am authentically and unapologetically me.
How would you describe the concept of your performance art, Let me Wear Your Words with Pride?
The concept is so dear to my heart it is difficult to describe objectively. It is one designed to challenge critical thinking and cultivate connection. Intention is the measure of most actions, I want to provoke thought in understanding the words we use and how impacting your beliefs about words can be.
I will be wearing bold words on my body and inviting passersby to write messages or statements evoked in the moment on my body as well.
The words I will arrive with, will be worn by me proudly, and it may be difficult for some to understand why. My hope is that I will see beautiful diverse expressions on my skin canvas through cultivated connections.
What do you hope to achieve through provocative performance art?
Emergence, vulnerability, and excitation. Provocative performance art pushes my exposure of adversity within and with those who will be touched by this piece. This is where the most exciting growth occurs. When we commune, we create greater than ourselves.
What do you expect to be the response to be?
We are all linked through our humanity of love and suffering. I truly believe that just being with others and allowing the space for connection and challenge will produce a sense of authentic love. I hope others will feel a sense of comfort to just genuinely be themselves, explore their dialogue, and find pride in the spectrum of humans we are.
How has art impacted you personally?
As a body positive model, creating art that pushes the status quo, has in turn generated an expansion in my own persona baselines. Each time I push to create, I must confront myself, my insecurities, my values, my past/present/future, my connections, my emotions, my experiences. Art is a way to explore and confront my depths and share that with others.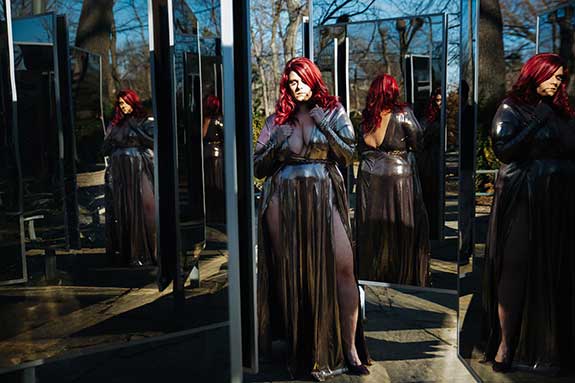 What is your first memory of experiencing art?
My grandmother's piano playing was the first art I recall really feeling. The light that shined from within when her fingers hit the keys or how she beamed listening to her students. The energy from their art radiated and fueled me.
Who inspires you the most? And why?
Humans. Each person has a story they are crafting. I appreciate those who live through love.
What is your guilty pleasure?
Rope! One of the things I am most passionate about is Shibari (rope bondage). I have been working in this practice for 6 years now. Education and performance surrounding rope are paramount in my life. Locally, I work with Building Blocks LV to offer monthly education in the Vegas community.
What does 2023 look like for you professionally?
Beautiful Question!
2023 is filled with goals being realized! Professionally I am a licensed mental health counselor and professor of psychology. I offer psychotherapy and consultation with a LGBTQ+ and kink/lifestyle understanding. Helping society heal will be the direction for the new year.
I believe that most of us are not disordered, rather that we have developed adaptive coping skills for survival in our unique personal realities. I want to help others explore how these skills can be useful in our current lives instead of diseases from which we disconnect ourselves, to allow one to reconcile and incorporate one's abilities to work toward a more genuine life. Living authentically is the key to wellness. Our connections allow this to flourish and impact this ability.
MisOrdered: The Human Spectrum; is a paradigm shift working toward understanding mental (whole health) wellness developed through my time as a clinical practitioner and educator. My background in studies of anthropology, sociology, neuroscience, and family systems have allowed a more comprehensive approach to understanding our humanity. (www.misordered.org)
Speaking and offering workshops for greater understanding in this movement will be 2023!
About Ashley Ray
Ashley Ray (she/they) is a licensed professional counselor and mental health educator. As a body positive model and creator/author of a humanistic paradigm shift, they demonstrate the intrinsic understanding that as humans we exist upon a spectrum of being. Ashley also practices shibari (rope bondage) as an educator and performer. She believes that kink provides a direct approach for a confrontation of our humanity, sex and death, an exploration of our primal natures, along with the interplay of these concepts and the environment.
Authentically being is what drives Ashley and inspires their art to offer this confrontation and comfort in others as well. She believes deeply in the power of emergence through our connections.
Connect with Ashley:
IG: @Rayz_of_Ash
www.MisOrdered.org