PRIDE Explorer: Palm Springs Pride
Article & Photography by Megan Williams
The first weekend in November, locals and out-of-towners alike converged onto the streets, bars, and venues of Palm Springs to celebrate the city's annual Pride. The festival had acts like Todrick Hall, the YouTube sensation who got his start on American Idol. Since his days on television, Hall has gained notoriety as a multifaceted singer, dancer, choreographer, and media personality. He has graced the Broadway stages in productions of Kinky Boots, Chicago and Waitress, to name a few. He has also made several appearances on the hit show RuPaul's Drag Race. His performance at Palm Springs was another notch on his already bedazzled belt, and he did not disappoint.
An exciting addition to the Palm Springs Pride line-up was the embattled Russian punk band, Pussy Riot was the headlining act on Sunday. Their founding member, Nadya Tolokonnikova is a conceptual artist and activist, specifically when it comes to global women's rights. More recently they have been vocal about their opposition to Russian President Vladimir Putin and his policies. They have been around for over a decade, making their protests known, heard, and felt throughout the world. Palm Springs Pride was no different.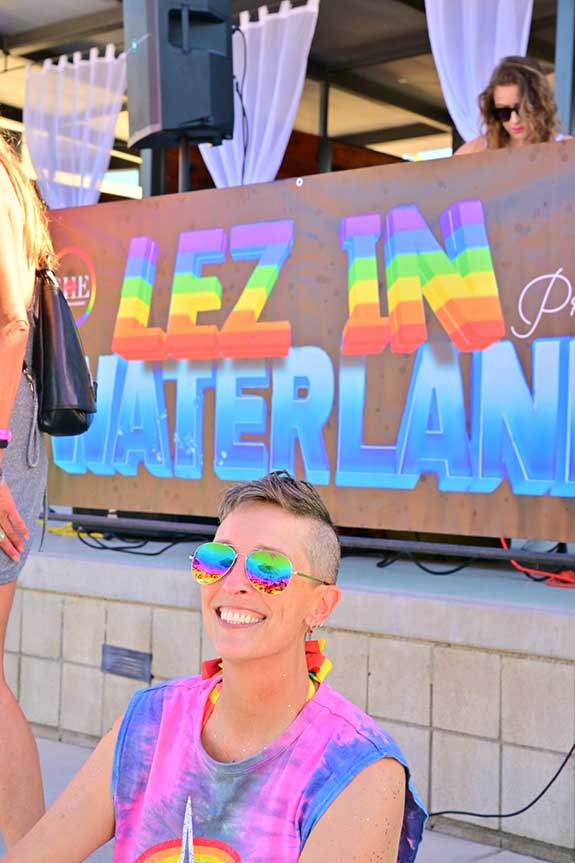 Finally on Sunday, Lez in Waterland, the only exclusive women's pool party took place. The two people responsible for Lez in Waterland are Gina Ballesteros and Kimberly Meyers, who make up their female own LGBTQ event company called, She Entertainment.
She Entertainment just came off the tail end of their successfully executed pool party for San Diego Pride that got hundreds of women through the door. Ballesteros and Meyers were hoping to bring that energy and follow-through to Palm Springs. With a killer venue, and a great entertainment line-up headlined by the famed Jennifer Corday, or Corday as she is known to her fans. Corday has shared the stage with Melissa Ethridge, Joan Jett and Pat Benatar. Her sound can be described as, "Sheryl Crow and Janis Joplin drink wine and get tattoos." Watching her performance, that's a perfect depiction of her style, sound, and swag.
Corday's performance gave way to an incredibly stacked line-up of powerhouse DJ's. Sterling Victorian started the day off hosting and DJing. Her fast-paced set gave way to Palm Springs local DJ Ay-Lex Song who crushed her set and kept us moving all day. Finally, DJ Gracy D took over with her twerk-forward, good time set that later included her partner T-keys on percussion to put some flare to the set. Sexy gogo's anchored each DJ set, and kept the vibe up all day.
As event producers, She Entertainment wanted to bring an exclusive space to women in Palm Springs, a historically male dominated Pride. They continue to strive to make inclusivity, community, and having a good time paramount in their overall goal of any party. Moving into 2023, She Entertainment has parties in San Diego, Los Angeles, and they are heading back to Palm Springs. So, when you start putting your calendars together in the new year, make sure She Entertainment, and Palm Springs Pride are on it.