GLCCNV and Cox Business Present $10,000 in Small Business and Educational Grants
By Las Vegas PRIDE Magazine Staff
Zandi Salstrom Schlegel of Inspired Life Therapy in Reno and Brian "Paco" Alvarez of Psionic Art Works in Las Vegas each received $5,000 from Cox Business as the 2022 Cox Business and Gay and Lesbian Chamber of Commerce Nevada, GLCCNV, small business and educational grant winners. Both were recognized at the GLCCNV's September Membership Mixer held in the Vista Cocktail Lounge at Caesars Palace Las Vegas.
Zandi Salstrom Schlegel plans to use the $5,000 small business grant to support Inspired Life Therapy's Queer and Now initiative to expand outreach to the LGBTQIA+ community in Nevada. The nonprofit's services support mind, body and spirit with queer-affirming therapists who create safe spaces for gender expression, gender identity and sexuality.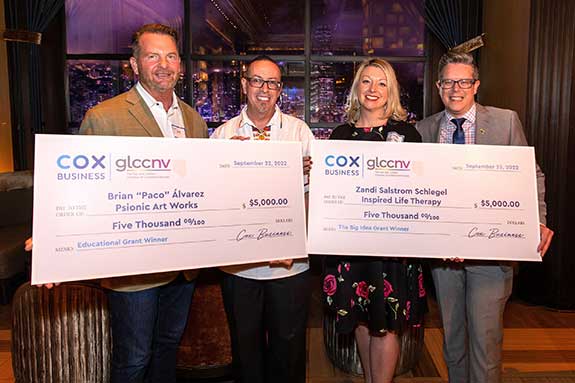 Tim Haughinberry, Paco Alvarez, Zandi Salstrom Schlegel, Cody Sims
Brian "Paco" Alvarez plans to use the $5,000 educational grant to pursue a Diversity and Inclusion Certificate from the Cornell University Certificate Program, which will enable Psionic Art Works to enhance its cultural diversity leadership training for individuals and businesses, allowing for better understanding of the needs of their LGBTQ+ employees and customers.
"The high-level of submissions we received from entrepreneurs and small business owners in Nevada is a testament to those working to enhance the LGBTQ+ community throughout the state," said Chamber President Tim Haughinberry. "Our partnership with Cox Business marks a continuation of our corporate alignment that's helped us towards our goals of membership growth and the creation of partnership opportunities."
"We are honored to partner with the GLCCNV to recognize and develop innovation through this entrepreneurial and educational grant program. Our support reflects our company's longstanding commitment to building and nurturing a culture of inclusion, diversity and equity," said Cox Business Senior Director of Field Marketing Cody Sims.
The Gay & Lesbian Chamber of Commerce Nevada (GLCCNV) is a U.S. not-for-profit advocacy group that aims to expand the economic opportunities and advancement of the LGBTQ+ business community. Visit www.glccnv.com.
###
Cox Communications is committed to creating meaningful moments of human connection through broadband applications and services. The largest private telecom company in America, we proudly serve nearly seven million homes and businesses across 18 states. We're dedicated to empowering others to build a better future and celebrate diverse products, people, suppliers, communities and the characteristics that makes each one unique. Cox Communications is the largest division of Cox Enterprises, a family-owned business founded in1898 by Governor James M. Cox.