Binary Code: Rio Antone
Article By Jennifer Howe (They / Them) // Photography by Gina Barbara Photography
I recently met Rio Antone in person at the Las Vegas PRIDE festival in early October. I hired them to emcee the PROUD & Kinky stage and they did not disappoint. The amount of effervescent love, energy, and joy that this human radiates is truly a spectacle. Adding to this, is their style and unassuming ostentatiousness that often accompanies them when they walk into any room. Their style is always evolving and trying to define it wouldn't do them, or you for that matter, any justice.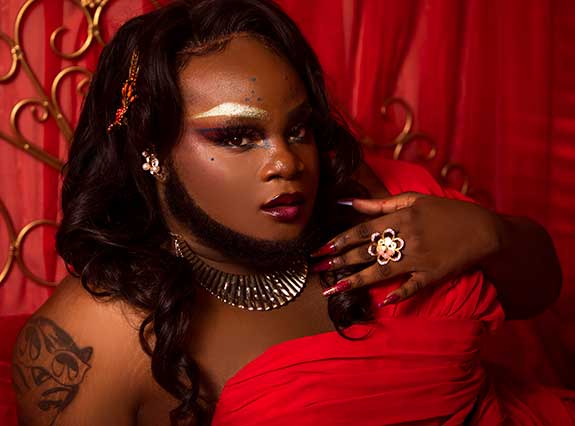 Rio has described themselves as a "short frumpy queer kid." I feel as though they have outgrown this description of themselves and are befitting of something more magnanimous. This is one of the reasons I wanted to capture Rio through the lens of an old Hollywood glamor photographer for this piece. Rio is short, with a neatly trimmed chin style beard that allows their face to be perfectly framed when they use their makeup artistry to bring to life beauty and drag looks. They wear their hair in different styles, but often in long braids or curly extensions. Rio has full lips that cover part of their teeth when they smile big, which they do often.
Interviewer: What is your gender identity and pronouns?
Rio: My gender identity is non binary. Pronouns are she/her, he/him, they/them, [They smile wide as they finish the sentence] or that bitch. My pronouns to me are a sliding scale because I believe there is no cap to who we are and how we identify.
Where are you from and how long have you been in Las Vegas?
I am originally from Flint, Michigan and I have been in Las Vegas for 7 years. I came down here on a bus with a backpack, a tote, a wish, a dream, and $150.00 in my pocket. Not too soon after I found myself homeless, maybe about a month and half later. From there, I found myself sleeping in quarter spaces and bathing inside of a bathroom of the casino I worked at, inside of Bally's.
You shared that when you initially arrived to Las Vegas you became unhoused. How did your circumstances change?
When I became unhoused, it was probably one of the most interesting yet beautiful situations that ever happened to me. I was trying to look for housing and I stumbled across the Shannon West Homeless Youth Center.
The Shannon West Homeless Youth Center was already fully housed and had all rooms completely filled up with the exception of one emergency shelter housing. From that point I went in and hoped that I would be able to get the spot and I found out that I did. It was only supposed to be for three weeks and three weeks turned into me being able to be there for almost two full years.
I was able to do magnificent things. It was very much a culture shock because I was with a ton of different individuals, who were there for multiple reasons. People were there for mental health reasons, drug reasons, probation, and then there were people like me who were there because of chronic homelessness. It opened my eyes to the reality of people and the beauty of people even amongst the struggle.
In there is where I found my fighting spirit to be able to just kinda like, conquer the world. The opportunities that have been presented to me were amazing. I was able to go to school free of cost, because of them. I went to cosmetology school, and I also did phlebotomy school. From there I was able to literally take the network and connections that I was able to make and squeeze every inch of what they poured into me, into the next step of my life. I found myself being able to get a job and working at The Center as the non medical case manager for the HIV and prevention field, and it was phenomenal.
How did that experience shape the work you are doing today?
I think the experiences of my life have shaped me to become the very person that is a doer, than just a sayer. I am very active in the community, in all parts. I am on the board of directors for Gender Justice because I believe the only way to create change is to change the laws surrounding all of the things that oppress us.
I also am a speaker head, for what I would call, the sub millennial generation on tik tok. I have been able to garner a following because of the fact that I am honestly being myself and posting about the conversations that people find to be the most polarizing. Really shedding light on it and bringing it to the forefront. I have dedicated my life to being a full time educator, I am a national certified cultural competency trainer. I teach about diversity, equity, and inclusion; not only to businesses and organizations but also doctors, lawyers, and any non-profits. I am helping to change the narrative to people who are not used to what the LGBTQ+ culture has to offer in all of our fullness. I am shedding light in places that have been dark for a long time. [Rio slows down and their tone changes and becomes more soft] I am unapologetically and with full audacity, walking into spaces being my full self, because I want people to know we exist and not only do we exist, but we thrive.
What are you excited about, what are you looking forward to?
There are so many things to be excited about, I feel like one of things I am most excited about coming up is literally the opportunity to expand. I feel like there is no limit, so I feel like there are things you can look out for, so many projects I have my hand in.
I had a podcast I am creating, called Periodt! Podcast. It is partnered with Gender Justice Nevada and this podcast is circling and centering around amplifying the voices of the trans and queer community and bringing and shedding light in all portions of it. So this is not just from an organizational or community standpoint but this is from a behavioral standpoint. This is gonna be from an entertainment standpoint, there are going to be so many variously beautiful people on there that are enlightened to bring knowledge, and we're just gonna have deep conversation and I am excited about it.
Other than that, it's just the opportunities for me to just spearhead every gift that I have to be able to bring it to media, still posting videos and still creating content that allows me to be able to reach more of a broader audience. Put myself in spaces, to where, even uncomfortable, you're gonna have to see my mother fuckin' face. [They snap and as they roll their r's] Perfff.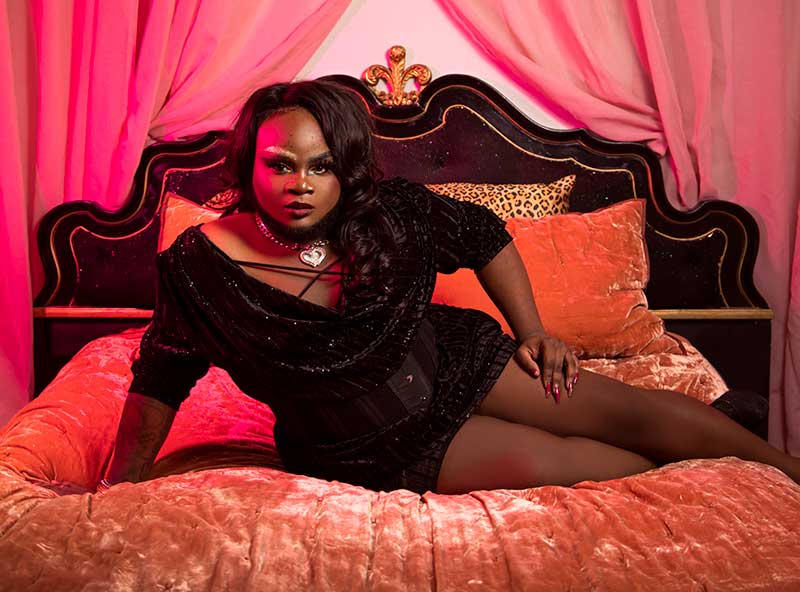 What brings you joy?
Dahling, what brings me joy is the idea that every single morning without fail I have the ability to choose my happiness. [They ball their hand and lightly punch their other hand accentuating their points] Because happiness is an executed choice and action and I choose every day to get up, to pay attention to all of the beautiful people that support me, all of the love that I have received throughout the years and to disregard all of the hatred. To just be my best self, even on the days where I don't feel the best, because happiness is a choice it's a decision and I honor myself in that way of allowing myself to be that at all times.
I also find joy in seeing people be unequivocally and unapologetically themselves. I get joy genuinely from seeing a kid walking down the street in the outfit that is a little bit outrageous or crazy; [They give me direct eye contact and a knowing look as they say] or seeing somebody in all their audacity with all their beautiful hair colors. I find joy in seeing people not second guess the fact that they are uniquely made and that the world needs to see it.
You can find and follow Rio Antone and learn more about their podcast and upcoming project on Tik Tok & instagram @rioantone
Photos by Gina Barbara Photography
@ginabarbaraphotography on Ig
Article by Jennifer Howe (They/Them)
Associate PRIDE Board Member
@Ladycoquine on IG
jhowe@lasvegaspride.org
Please reach out if you are an enby person in the Las Vegas area and want to be featured.