Take a Little Trip with DRAMA
PRIDE Festival Headliner Spotlight by Joslyn Hatfield
DRAMA is the multicultural collaboration between producer Na'el Shehade's chic Chicago house-infused production style, and vocalist Via Rosa whose soulful delivery is inspired by the improvisational nature of jazz and playful patterns of hip-hop and bossa nova. The duo play to the complementary dynamics of their unlikely pairing by blurring the lines between R&B and dance-pop, heartbreak and bliss.
Rosa grew up in a musical household; her parents played in a reggae band and toured as a family, homeschooling Rosa into her early teens and limiting her listening primarily to Sade, oldies, Brazilian and Afrobeat music. She kept poetry journals and by high school started writing songs and making beats. After moving to Chicago in 2010, Rosa connected with THEMPeople, a collective at the center of the city's sprawling hip-hop scene.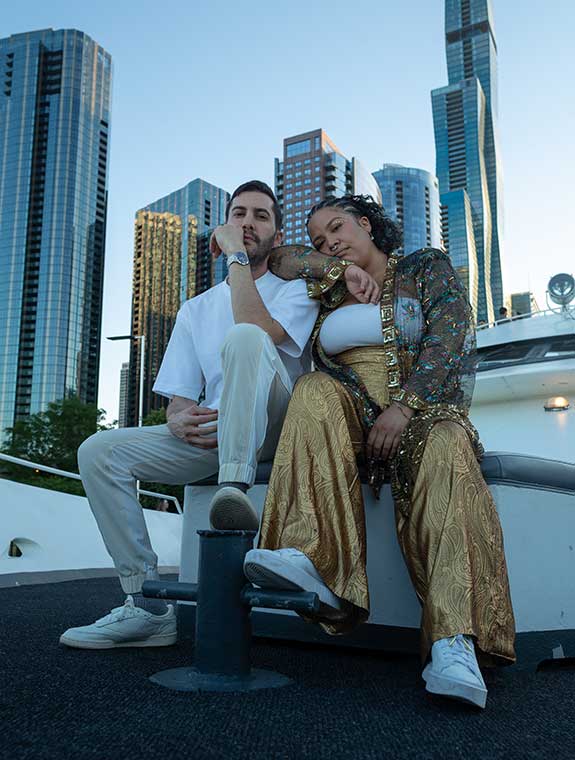 Meanwhile, Shehade inherited a strong work ethic from his immigrant parents. Born in Chicago, he fell in love with DJ culture as a kid and took up music production and engineering; his interest eventually led to professional opportunities, including early studio work with Chance the Rapper, Kanye West, and music projects for MTV and Bravo. Since a chance meeting in 2014 lead to the creation of DRAMA, the duo has bootstrapped a subtle rise on their own terms, self-releasing several EPs and mapping multiple tours with Midwestern grit.
In early jam sessions the chemistry was clear; Rosa's soulful delivery interlocked with Shehade's chic Chicago house-infused production style. A lovesick sound emerged over two EPs, Gallows in 2016 and Lies After Love in 2018, and continued on to their debut album Dance Without Me in January 2020.