Babes & Blues: Burlesque with a Twist
Article & Photography by Megan Williams
Ten days before the world shut down in 2020 Babes and Blues made their fateful debut. Not knowing the show would be put on the backburner for the next year and a half. When Babes and Blues was originally created by Isabelle Marie, a distinguished burlesque performer herself; she had the notion of combining neo-classic improvised burlesque with a live saxophone and heavy jazz band. But she was met with pushback at every turn. In 2020, Las Vegas wasn't ready for that type of burlesque. She found it hard to find venues, and even harder to find performers pre-covid.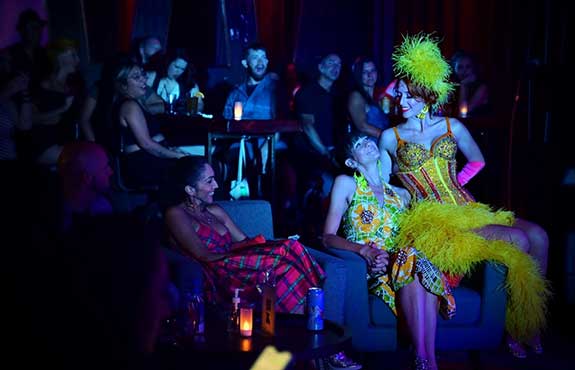 Cut to July 2021, and everyone was open to hosting burlesque at their venues and more performers came out of the woodwork than ever before. Suddenly, the prospect of live music mixed with completely improvised burlesque was ingenious. The Usual Place in downtown Las Vegas was just the place for the uniqueness of Marie's vision.
One Tuesday every month you can find Marie and her crew of incredible burlesque performers from all over the world take the floor. According to Marie, "Stage presence, the ability to improvise, the ability to stand still in front of the audience, make eye contact, dance abilities and presentation…" are all the blueprint of her rotating babes' lineup. As a spectator you can expect unfiltered erotic power, amazing live music, humor, and high glamour mixed with a observer friendly venue where every seat in the house is the best place to be. The cohesiveness between what we as the viewers see and feel from the performers and what they give to their acts is special and nuanced. Considering we live in the entertainment capital of the world, where these types of acts are currently saturating the market. Something as unique as Babes and Blues is crucial in keeping this brand of burlesque relevant.
The main take away from any Babes and Blues show is their layered inclusivity. The first layer is of course the inclusive feeling of their space for their audience. People from all walks of life, genders, ages and sexual orientation come to the Babe and Blues shows. Vegas is full of adult entertainment, as Marie explains, "Not everyone feels comfortable in strip clubs, especially in Las Vegas. Hell, I work at one and I don't always feel comfortable there. Babes and Blues has top notch sexy entertainment and a variety of ways to enjoy it with a variety of budgets. You can sit at the bar and enjoy from afar, you can get up close and personal in our lounge and VIP seating, throw cash hoot and holler etc. It's a safe space for couples, singles, friends…We even have people who bring their parents with them to our shows. There are not many places in Las Vegas where you can get that kind of experience. I think creating an inclusive space must be more about just doing the damn thing and asking yourself how can I create something that is palatable to a wide variety of people without sacrificing quality and diversity."
Marie wants to continue providing and safe spaces for her audience and performers alike. Looking to the future she is consulting on a large project she cannot talk about just yet, but it's set to open in 2023. The rumor is, something monumental is coming to Las Vegas. Keep a close eye on her personal social media pages: @missisabellemarie. Be sure to follow all the incredible acts that come through Babes and Blues at: @babesandblues. And lastly, be sure to attend a show, throw that cash, share in the energy of the palpable live beats, and tell your friends. Babes and Blues needs to be around for a long, long time.