New York Pride Recap
Article and Photography by Megan Williams
The one word to describe, the vibe, energy, love and community of New York Pride is electric. From Friday June 24th to Sunday June 26th millions of LGBTQ members and ally's flocked to all different parts of New York City. On Friday, the world got word that Roe v. Wade was overturned and our entire community felt the full force of devastation. Pride started as a riot by black trans women, in the heart of New York, and we would all be damned if we stood in the same place and didn't make our voices heard. Later in the weekend the Pride parade quickly and deliberately turned into a march. With heavy boots hitting the ground and even heavier hearts we screamed and yelled and collectively raged our dismay at our crumbling world.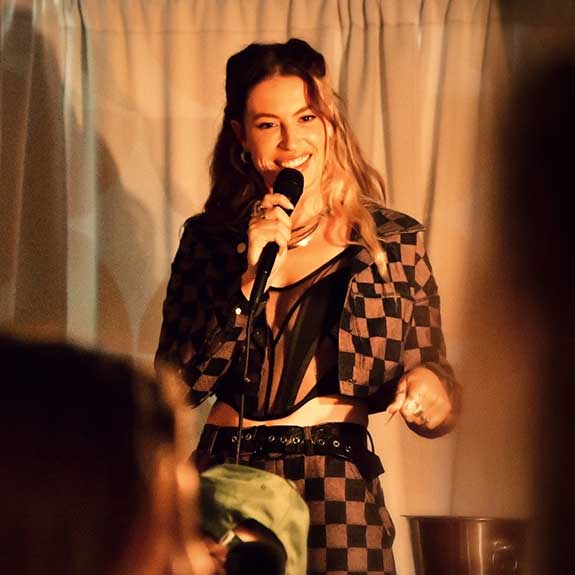 Every performer, dancer, drag queen and host with the ability to get on the microphone and shout their truth, support and love loud and proud, did. And once again a room full of marginalized people came together to make some noise.
The brightest parts of the weekend were within the parties where we let loose and let love guide us. On Friday, Henrietta Hudson's, the longest standing lesbian bar in the country, hosted superstar and queer icon Fletcher for her final stop of the "Meet Her at the Bar" tour. With a venue of a little over 110 people jammed into Henrietta Hudson's we got an intimate concert that included Fletcher's most recently released single, "Her Body is Bible". A celebration of a woman's body. The irony wasn't lost on any of us.
From Henrietta's, I made my way to the iconic Hot Rabbit party, the first of three parties they threw that weekend. Hot Rabbit has been going strong since 2011. They are best known for a unique immersive experience in queer music, performances, and dancers. You will never experience the same party twice and the best part about these parties is how they are "..geared toward the entire LGBTQ community, endeavoring to ensure that any and all queer person can walk in the room and feel like they belong." In a day filled with court rulings rooted in hate, this felt like home.
Saturday was jam packed with another Hot Rabbit party that was the official afterparty of the annual NYC Dyke March. They packed 3 Dollar Bill, a queer-owned and operated nightclub in Brooklyn to the gills and danced the night away with a different set of dancers, performers, and DJ's.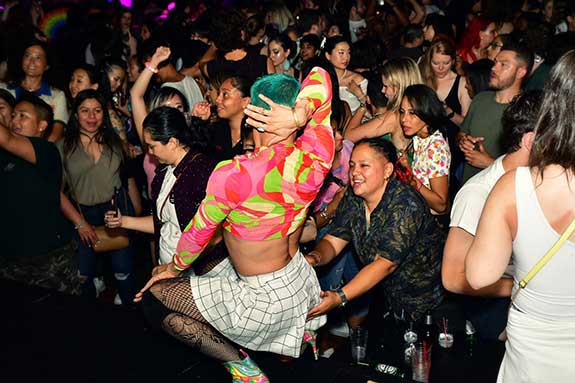 On the other side of town, Torture Garden, the world's largest international fetish club made it's New York debut in style. Pairing their kink and BDSM forward style with the likes of Dances of Vice who is responsible for the boundary pushing fantasy and nightlife parties around town, you have a wildly successful freaky ball. The more scantily clad the better, the extra whips, chains, leashes, masks, lingerie, latex and leather the more you fit in. Taking place at Capitale off of Bowery Street, the venue itself was something to behold. A refurbished bank with high vaulted ceilings gave us just enough space to put on a show of a lifetime. Complete with pole performers 30 feet in the air, a sexual aerialist pair, a fireplaying duo, a pair of latex and armor fashion shows, a jaw dropping performance by a suspension artist who was hoisted by just piercings through her back, an intensely visceral performance in burlesque and wax-play from the iconic LouLou D'vil, and of course the always provocatively stunning Violet Chachki as the headliner. Leather, lace, and latex ruled the evening, but it was the New York queers who won day two.
On Sunday, there were two parties that deserved our attention. The first was Hot Rabbit's third and final party of the weekend at Elsewhere the wildly popular rooftop of this performance and event venue. Dancers, voguers, drag queens, performers and electric DJ's took the stage throughout the day party. As day turned into night the crowd got bigger, the place got busier, and the sun came down over the Elsewhere rooftop. Bringing the Hot Rabbit pride weekend to a loud, loving and incredibly fulfilling end.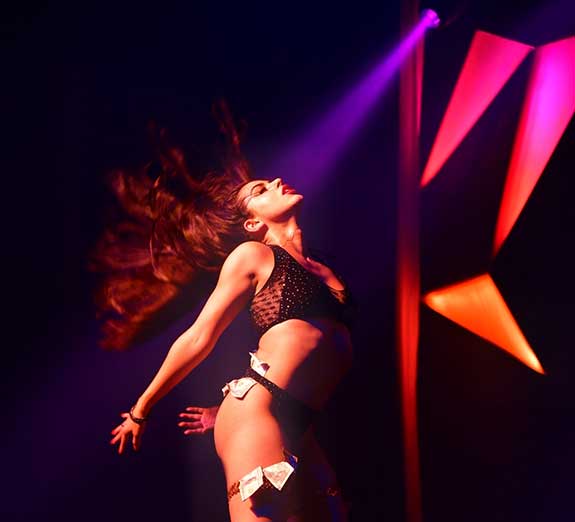 About ten minutes away, in Hell's Kitchen, powerhouse promoters Cynthia Russo, Stacy Lentz of Stonewall, Kate Frawley of LovergirlNYC, and Lori Torres of LasReinasNYC put on a packed party at HK Hall they lovingly call Reunited. The sexy, welcoming, and energetic party is aptly titled that after COVID kept us all apart for so long. Much like a reunion after many years, the vibe and feeling of Reunited was palpable with the sights and sounds of people itching to be together again. Russo and her partners have been producing the largest NYC Pride events cooperatively for many years and their reputation precedes them.
If these women are involved normal the best type of mayhem and mischief happen. Not only do they have some of the biggest NYC Pride parties, but Torres and Russo produce a monthly Latin night, and pop-up parties along the way. This coming year they are looking to promote burlesque and comedy brunches, a Formal Affair in Autumn, and fund raisers as well. One thing remains clear, if you go to one of their party's, they are going to entertain you. You'll leave their parties already looking for the next.
All in all, New York Pride seemed to have an air of community and deep-rooted love and care for each other around it. Whether it be because it was simply pride and we were all pointed in the same direction with the same goals of just having fun and enjoying each other. Or if the uncertain times we are living in reassured all of us that we must cling a little tighter to our safe spaces, people, communities, and celebrations. We are in for a rough ride, stick together and maybe next June I am writing about triumphs and celebrations rather than strategies of finding small moments of love, joy, and happiness. Happy Pride, go make some noise friends.