Chelsea Gray
More Than An Athlete
Article & Photography by Megan Williams
Location: Tailgate Social
The stats speak for themselves. Averaging an impressive 12 points and 6 assists per game for the Las Vegas Aces, Chelsea Gray, the point guard (or point Gawwwd as she is also known) has helped the franchise stay atop the rankings of the WNBA Western Conference this season.
As I sat down with the starter at Tailgate Social it was easy to see why Gray has found success in the WNBA. Her height and physique hint at her status as an elite athlete and leader, but it quickly becomes clear that she has the brains to back it up. It would be easy to attribute her success to her physical strength and natural talent, but as a point guard it's her intellect that's gotten her to where she is on and off the court.
Gray, originally from Hayward, California played college basketball at Duke where she was a force to be reckoned with. The WNBA took notice, and she was drafted 11th overall by the Connecticut Sun in 2014 and she hasn't looked back since. After a few seasons in Connecticut, Gray played for the Los Angeles Sparks for five seasons, and finally landed in Las Vegas with the Aces last year, where she made an immediate impact. She has big plans for her time in Las Vegas, "More hardware. I see a championship…anything less than that is not what we want for our season. We are constantly looking to grow and get better."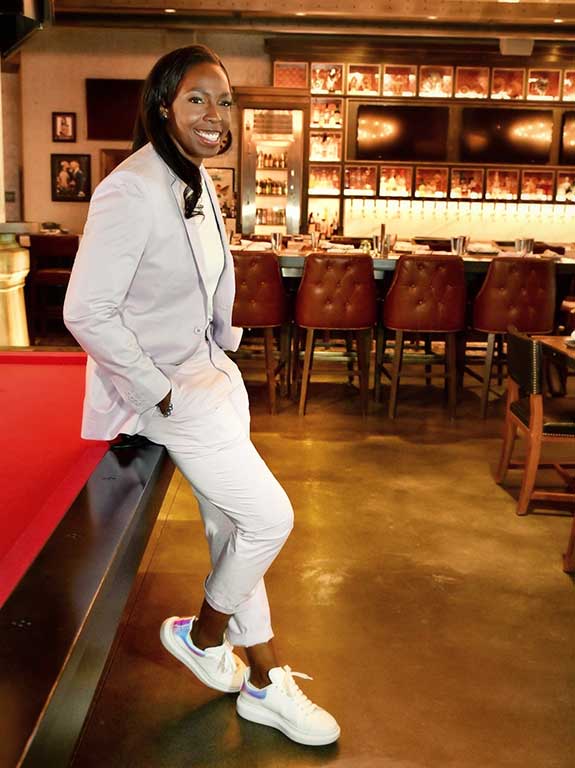 Chelsea Gray at Tailgate Social
The interview with Gray unfolds much like her games, professional, succinct, and cerebral. Her ability to think (and play) one step ahead is striking and she approaches the interview with thoughtful albeit calculated responses, all business, all the time.
That is, until Gray's wife Tipesa walks into the room, dressed to the nines and fresh out of hair and makeup. In an instant, Gray's demeanor shifts, as though a weight has been lifted. Gray ooh's and ahh's over Tipesa and her once pensive brows give way to a bright beaming smile. It's impossible not to notice how the pair looks at one another.
Gray met Tipesa, a talented athlete in her own right, by chance at a Long Beach State open gym. A friendship blossomed between the two and four days later they ran into one another on the stairs at a Los Angeles Sparks game. They kept in contact after that, until Chelsea's college basketball team Duke played at Long Beach State where Tipesa was the Director of Basketball Operations and the coincidence was too uncanny to ignore. They have been inseparable ever since and married for three years. The love surrounding them is palpable, joyous, and so much fun to experience.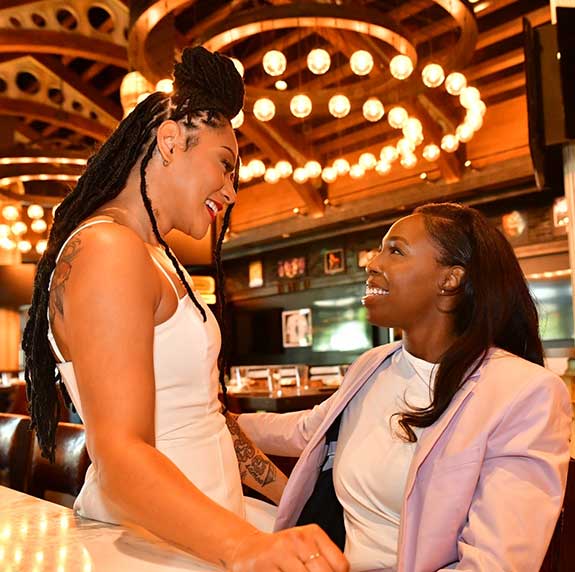 Chelsea and Tipesa at Tailgate Social
Gray's career is incredibly important to her, but as she puts it "there is Chelsea the athlete and Chelsea the businesswoman." She is trying her hand at venture capitalism, has partnered with the wellness drink Barcode, is an ACC network anchor in the offseason and hopes to create generational wealth for the family they will start together. When asked what she would say to her younger self, it's no surprise she said, "I would take more risks and be more of my authentic self and sooner."
Considering the state of the world we talked about what it means to Gray to be a black woman, OUT in the WNBA. For her, existence is resistance. She is a woman, she is black, she is gay. Those three things by themselves are ostracizing in our current world. When you put them all together it's clear, she believes it is important to be a good example for the next generation to understand that they too can be themselves.
Representation is important to Gray. She knows it is critical that she is a person little boys and girls like her can see on the TV, someone who looks like them. "It's important to do the work now, lead the way now, push through boundaries and stereotypes, and marginalized areas socially now," said Gray. "So, the generations behind us can reap the benefits."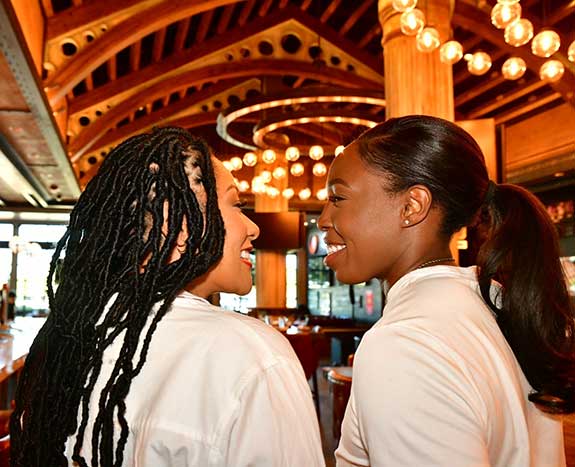 Gray intends to leave the WNBA better than she found it. The league has been paramount in pushing the envelope on social justice. In fact, during their time in the "wubble" the WNBA hosted a clinic teaching players and coaches how to push for change effectively, efficiently and with the volume on full blast. In a climate where "picking a side" or taking a stand is taboo, the WNBA has defied traditional logic and paved the way for future generations of change makers.
The WNBA is no stranger to advocating for social justice. From reproductive rights to the Say Her Name movement and the recently shedding light on the dire situation of WNBA player Brittney Griner unjustly detained for months in Russia facing serious consequences.
Griner was detained for nearly a year before being convicted and sentenced to nearly a decade in a Russian prison. Grinder's legal team is currently appealing the conviction. Many believe the starting Center for the Phoenix Mercury is a political prisoner held for leverage against the United States government. Griner's detainment has spurred additional conversation on pay equity for female professional athletes and begs the question, "why must female athletes assume the risk of playing in politically unstable regions to supplement their contracts in the US?"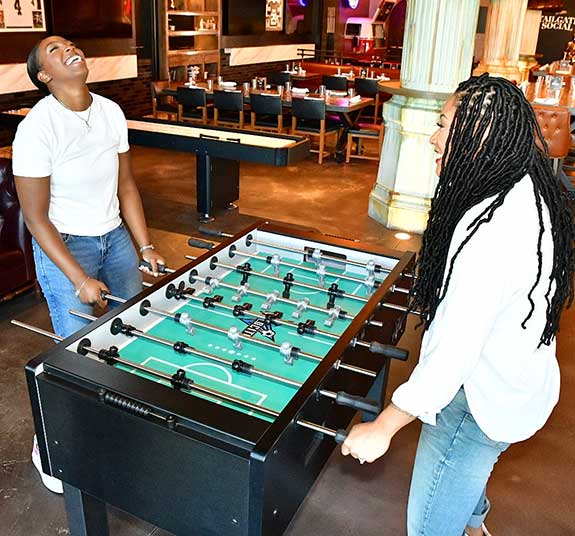 For Gray, it was hard to believe they were getting ready to start the WNBA season in May and they didn't have Griner amongst them. When the Aces played the Mercury early in the season and didn't have to scout for Griner, it hit Gray especially hard. "I'm away from my wife for two weeks, and I'm like, I have to get home. I can't imagine being there for that long with no contact," she said. "I hope for her safe return, I hope she is in a good mental space. I saw a picture recently of me and BG playing on the USA Basketball team and I can't believe she's not here. I miss her."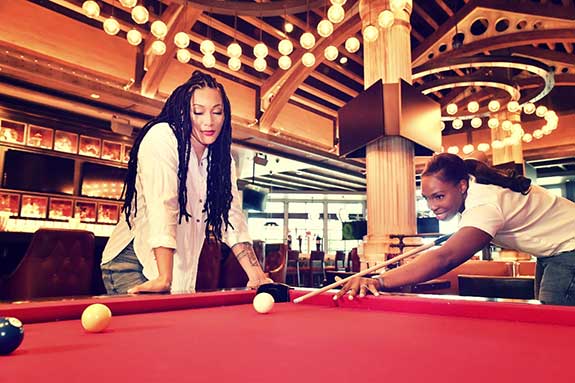 As we were finishing, I reflected on my time with Gray absorbing the interview. And I kept coming back to her intellect and ambition. It is no wonder she has built a successful career in the WNBA. I find myself most excited to watch her off the court ventures come to life. Whether in basketball or business, I suspect we will be hearing Chelsea Gray's name for many years to come.
Finally, the love between Chelsea and Tipesa generates its own warmth. The couple quietly goes about the business of building a life together and becoming role models in the process. They are a walking embodiment of love and mutual respect and I can't help but think someone will see them on tv, in a magazine, in public, or at an event somewhere and will be a little less afraid or apprehensive to be unabashedly themselves. It proves love has an impact far surpassing anything else. Even in this complicated world.